Glass Buttes & Prineville/Madras Areas
Oregon
May 22-23, 2004
By Dan Kelley
dkelly4819@aol.com
Hi All,

Well, we made it to Glass Buttes and the Prineville/Madras areas. It was a great trip! Of course, too short, as always. All in all we came home with about 600 pounds of goodies. Now, I have to try and remember what all we did. Here goes;
We left about 6 am on Sunday Morning, it was raining pretty hard as we got out of town, but the forecast called for better weather. Plus the Cascades provide a major rain shadow, and we live on the West side (wet) and we were heading for the East side (dry). A lot of times as soon as you cross over the summit of the cascades, the weather clears, almost like magic, but not always, guess we will see. As we approached the pass the rain got even harder, starting to think it may be wet on the East side to. Well, right on the money, 5-miles over the pass, the weather broke, and blue skies, with a few high clouds, greeted us. OK, this is looking better. Anyway, after an uneventful drive to Glass Buttes, (saw 3 antelope) we proceeded to get our allotted 250 pounds per vehicle. Glass Buttes is set aside by the BLM as a rockhounding area, it is free, and is just a couple of smaller mountains set aside for Obsidian gathering. There are numerous pits, some 15 miles from others, and each area has different types of Obsidian, like, Gold Sheen, Rainbow, Peacock, Silver Sheen, Mahogany, etc, etc... They allow for a private rockhound to gather 250 pounds per vehicle. There is so much Obsidian, it is never a matter of finding it, it is a matter of high grading. Quite a bit of fun.

Here is a shot from just outside my truck, this is the parking area, most of the pieces are about softball sized.

Here is another shot from a parking area, those light colored areas on the background hills are old cinnibar mines. You can find Opalite with Cinnibar there, and some agate, and of course Obsidian.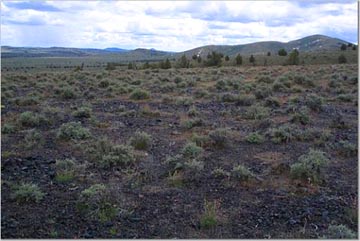 Well after spending several hours there, and actually locating the Rainbow pit, (Yippie!!) which was up a very long, narrow, steep, and bumpy road, I might add, we headed back to Prineville, already loaded with 250 pounds, this was only the first stop.
Well, after a relaxing evening in Prineville, we awoke the next morning and headed out for Eagle Rock. There is supposed to be plume and angel wing there, but had heard the road is a real bear getting to the digs. This area is also BLM land, but is not really set aside for rockhounders. Well, as we neared the road heading to the digs, we noticed that, the road was now blocked by some big boulders, (not gem rocks, only basalt), I walked up the road, and I mean UP the road, and decided that it was going to be too much of a pack in and out, as we wanted to make the Thunder Eggs digs later in the day. We did find a small amount of float, Jasper, and Agate. So back to Prineville, so we could gas up, and stop by Elkin's rock shop for directions to the free public digs. They are the info source for the public areas, also the fee areas. Well we silver picked some Picture Jasper, and Agate, and headed to White Fir, Jasper filled Thunder Egg area. This is a site set aside for rockhounders to, it has mostly plum sized eggs, that are filled with different shades of Jasper, there was also a lot of jasper float laying around that will cab up nice.
Here is a shot of a small section of the digs at White Fir: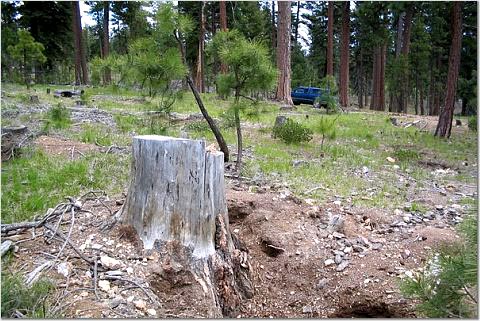 After White Fir we headed to a spot to see if we could find any Vistaite, they said in the book that it was rare, and they weren't kidding, we found two pieces of low grade about the size of a quarter. We did however see 3 coyote pups in the middle of the road as we were driving through the woods, we stayed in the truck and looked for momma, didn't see her, (I'm sure she was there somewhere) we tried to get the camera out, but of course it was buried, and they trotted on up the hill.
Well, back to Prineville for more, food, rest, and relaxation.
The next, and last day, we headed for Richardson Rock Ranch, it is about the biggest show around this area, by far. They are most famous for there fee Thunder Egg digs, but also have hard rock Jasper ledges, and Opal Eggs and a HUGE rough selection, and rock shop.
First we went to the Red Bed, as to avoid a 75 children school group that was loading up heading for the Blue bed. When we got to the Red Bed, there were only two other people digging, so it was almost like having the place to ourselves. When you arrive at Richardson's, they give you a map with the different digs labeled, and tell you have fun, they bulldoze the digs every so often to expose more goodies. The digs were about 7 miles from the shop.
Here is a shot of the Red Bed:

Here is closer shot of the ledge, Becky's not letting them get away, ;-)

We had gotten our fill of the Red bed, so off we went to the Opal Bed. This is up one steep road, and hairpins that you must stop, back up, and turn more, then continue, one narrow, winding, steep road. We had the Opal bed all to ourselves. This place has, clear, cream, red, honey, and a really nice Blue Opal. Here is a shot of the Opal ledge; Those are little Opal Eggs, Quarter sized.

Here is a shot of the Blue Opal Eggs, broke in half;

Here is a shot of a teardrop I freeformed from the Opal;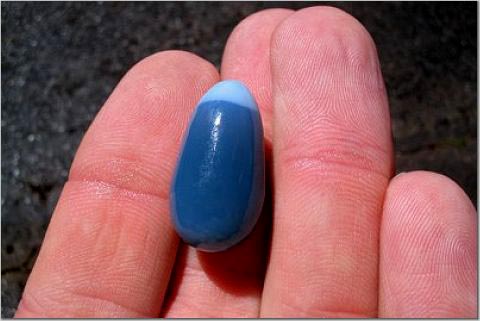 Then if you hold it up to the light, it becomes transparent, you could read through it;

Well, time to leave Richardson's and make the 4 hours back home. We ended up with about 60 Pounds of Thunder, and Opal Eggs, about another 60 of silver picked rough. All in all about 600 pounds of goodies, can't wait to do it again. Now we just need to make it back over the pass with the truck loaded down;
The 3 Sisters mountains, we live on the other side of those.

And, Last but not least,

THE LOOT!!!

It was a wonderful trip, relaxing, scenic, wildlife, and of course lot's of rocks,
KOR,
Dan
CLICK THE LITTLE MINER TO RETURN TO THE FIELD TRIP PAGE