Calumet Iron Mine
Salida, Colorado
September 2004
By Dave Bruess
dbruess@txucom.net
Having seen the comments on the Calumet Iron Mine in the Colorado Trip thread I thought I would prepare a location report, as I have considered it one of my better places to prospect for some neat mineral specimens for more than 10 years now. Most of the better mineral specimens in my experience are found in place over a wide area of the mountain, and not in old mine tailings. There are plenty of prospective parts of the mountain that have yet to be seriously worked.
Located near Salida Colorado this mine is a premier source of some of the better Epidote crystals to about 2" found in North America.
This is your typical better specimen of about 1 1/2"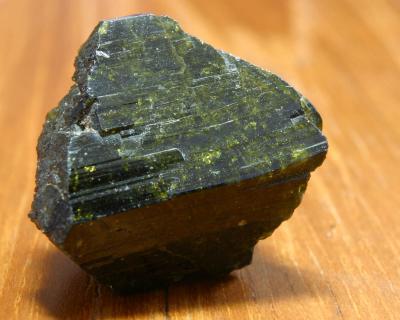 epidote
It was originally mined long ago for iron ore by CF&I (Colorado Fuel and Iron) Steel of Pueblo Colorado, which at least when I took a high school field trip in 1975, was still the largest steel producer west of the Mississippi.
The Calumet Mine has also produced massive magnetite, actinolite, calcite, blue corundum, pryrite, and fine gem grade quartz some included with epidote or chlorite, among other minerals. The blue corundum is the only occurence of note that has been elusive for me, though I have found some small nail head sized pieces.
It is not difficult to find plenty of interesting specimens to take home with you at the Calumet Iron Mine, though if you want to find the best this location has to offer, like some my finds below, be prepared to do some hard rock mining. There is nothing quite like opening up a new pocket of great mineral specimens that have never been seen before.

Double terminated quartz on epidote

Epidote and Quartz
I believe this is Actinolite w magnetite as it has the same radiating acicular crystals, though it is not the usual green color.

actinolite

Magnetite

Calumet quartz with inclusions

Calumet quartz with inclusions
Larger copies of the photos above and a couple dozen others can be seen at my complete Calumet Iron Mine Photo gallery on Pbase at the follwing link:
http://www.pbase.com/bjorn_b/calumet
(click on above link)
Salida Colorado is a great central Colorado location for a Colorado rockhounding vacation. There are at least half dozen good day trips that can be made from this area. My suggestions for any interested in this area, among many available other choices, would include Mt. Antero (aquamarine), Tarryall (topaz), Lake George (amazonite), Kremmling (pet wood), win Mountains (Agate including geodes) and Bonanza (gold).
Mountainman (aka Dave B)
KOR
---
CLICK THE LITTLE MINER TO RETURN TO THE FIELD TRIP PAGE