Northwest Chapter of the Friends of Mineralogy
Utah and Nevada Collecting Trip
June 21-26, 2004
By Doug Merson
d.merson@worldnet.att.net

In June I joined the Northwest Chapter of the Friends of Mineralogy on their field trip to Nevada. I left Port Orchard, WA. on Saturday, 19 June. Heading south into Oregon, I crossed the Cascades on Santiam Pass. At the higher elevations the forest was full of blooming bear grass and rhododendrons. I am sorry that I did not get a picture of them but I did not have my camera ready - batteries.
Arriving in Bend, I did my food shopping at Fred Meyers and then headed for Burns where I spent the night. Between Bend and Burns I spotted a bald eagle sitting on a nest nor far off the road.
Sunday morning I left Burns and headed for Winnamucca where we were to meet on Monday morning. Wes Gannaway, his wife Deb and grandson Josh caught up with me just north of Nevada line. We stopped for snacks and decided to see what we could find at the Mayday Mine. This was worked for gold. I did find a couple of rocks with some bindheimite on them.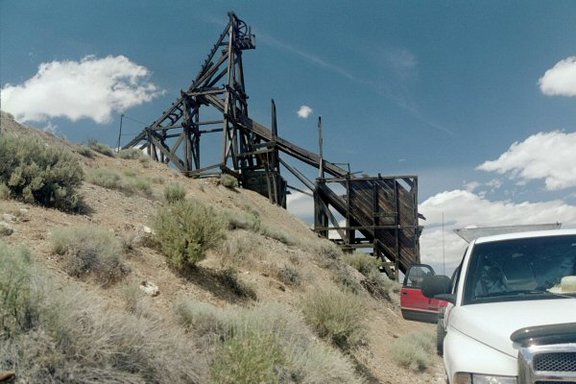 Headframe at the Mayday Mine, Humboldt Co., Nevada

Wes Gannaway collecting at the Mayday Mine
Arriving in Winnamucca, we found Bob and Sue Campbell from Kelowna, British Columbia. We headed for dinner and then to bed.
Monday we were joined by Leo Plas and headed east to the Silver Coin Mine. This was operated for silver and has a good selection of phosphate minerals and a few other interesting species.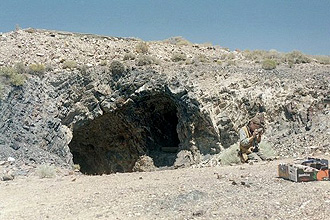 Silver Coin Mine, Humboldt Co., Nevada and Leo Plas inspecting specimens.
The listing maybe seen on Mindat. Arriving at the mine we found Lanny Ream and his son, Jonathan. Some of spent most of the day working underground. Cool but lots of mosquitoes. Other chose to brave the sun and worked on the dumps. The area was overrun by Mormon crickets.

Our camping spot just below Silver Coin Mine.
After dinner we found it necessary to turn in early to avoid the hordes of mosquitoes intent on having us for dinner.
Tuesday morning it was off to the Willard Mine near Lovelock in Pershing County. Willard was an open pit gold mine of the Carlin type.

The Willard Mine, Pershing Co., Nevada.
There is one section that produces excellent wavellite along with variscite, fluellite, crandellite, cacoxinite, and a few other species. I made the find of the day when a boulder I was working on split and revealed an excellent seam of wavellite sprays on quartz with crandellite.

Collecting at the Willard Mine. About 100 degrees and no shade.
Wednesday it was off to the Chalk Mountain Mine west of Fallon in Churchill County. We were looking for vanadinite, descloizite, and wulfenite. I found a quite few very good vanadinites and descloizites and a couple of representative wulfenites.

Chalk Mountain from Highway 50, the loneliest road in America.

Collecting at the Chalk Mountain Mine, Churchill Co., Nevada.
Left to right Deb Gannaway, Josh ( Gannaways' grandson), Wes Gannaway,
Sue Cambell, and in background Lanny Ream.
This was our "formal dinner" night. Lanny Reams' son is a chef and always does one meal during the trip. He fixed a whole pork shoulder in the grill with his special barbecue sauce and a Copper River salmon with dill. He made cucumber cups and filled them with curried cucumber and toasted bread slices with veggies. The meal alone made the trip worth it.

Leo and Josh waiting for dinner at Chalk Mountain.

Dinner is served - Copper River Salmon, barbequed pork shoulder, and fixings.
Courtesy of Lanny Reams' son.
Shortly after dinner we had a very strong wind try to blow us off the dump. We were busy trying to hold things down. The awning on Lanny's' camper was the only major casualty. Glad it happened after dinner and not during.

Bob Cambell, Wes and Deb Gannaway relaxing after dinner at Chalk Mountain.

Local wildlife at Chalk Mountain.
Thursday it was off to the Linka Mine in Lander County. There we found pottsite, clinobisvanite, bismutite, junoite, molybdenite, grossular, vesuvianite, and epidote. The Linka Mine is the type locality for pottsite. As this was mined for tungsten a blacklight reveals scheelite in the rock.

The Linka Mine, Lander Co., Nevada, the type locality for pottsite.
About noon the rest of the group headed for the Gold Hill Mine, Tooele County, Utah. I headed back west as I wanted to attend the Northern California Mineralogical Association meeting in Pollock Pines.
I arrived in Pollock Pines about dinner time and got a room so I could clean up after four days of camping and collecting. I met my friend Don Howard at the motel so we shared our collecting experiences from our trips to Pollock Pines.
Friday morning it was off to the Senior center to help setup for the meeting. In the evening Sugar White gave a presentation on Whats New in Minerals. This was followed by presentations on some of the material that would be available on the give away table Saturday and Sunday.
On Saturday, Bill Wise gave a presentation on the Minerals of the Silver Coin Mine. The rest of the day was spent sharing minerals, tales, and going through the material on the give away tables.
Sunday Joe Marty gave a presentation on the Hidden Treasure Mine. A CD was available with both presentations on it as well as photos of the from the presentations on the give away material. About noon the meeting ended and it was time to head for home.
I stopped in northern California to get some apricots - excellent. Spent the night in Dunsmuir in the shadow of Mount Shasta. On Monday I was supposed to get home. About twenty miles south of Albany, Oregon the truck quit. Has to get towed in to the shop and have the fuel pump replaced. This added a day to my trip so I arrived home Tuesday evening after a 2100 mile trip.
My wife did not make this trip as she went to our condo in Whistler, British Columbia. As she took the digital camera I had to get out the Nikon F3 and find film. What is offered today is sure different then what I was used to just a few years ago.
If you are every out around Pollock Pine the last weekend of June you should stop by the mineral meeting. It is known for its generous give away table, good programs, and great people.
Our Friends of Mineralogy chapter may be having a field trip to skarn localities in Montana and Idaho next year. This is the theme of our symposium this September. Anyone is welcome to join on the trips. I will post info when it is available.
Doug Merson
CLICK THE LITTLE MINER TO RETURN TO THE FIELD TRIP PAGE