Round Mountain Rockhound Area
Duncan, Arizona
December 28, 2004
By Junesse Farley
genejockey@cox.net
Those of you who happened to be on Mindat earlier this week may already know that I was looking forward to a rockhounding trip on Tuesday. A couple of weeks earlier I had been at a small mineral show sponsored by the Tucson Gem and Mineral Society. While there, I picked up an excellent guide to Arizona collecting sites written by Neil Bearce. I have been poring over this book trying to figure out where I could go next and how to get there. Although I only have a minivan, a girlfriend of mine just recently purchased a Ford Expedition. As she is the mother of twin boys, I thought Christmas vacation would be the perfect opportunity for a rockhound trip to keep her boys and my boys busy.
I decided on a trip to Round Mountain Rockhound Area that sits on the border of Arizona and New Mexico, near Duncan, AZ. This location is known for its chalcedony, particularly fire agate. But the guidebook I just got gave directions to get to the far corner of the area, where a more diverse mixture of material could be found. What particularly attracted me was the presence of geodes. Ever since I watched Timmy and Lassie find a geode in one of their episodes, I have always dreamed of finding a geode. Yes, I have found some mini geodes in my patch of desert, but I wanted to find a really large honest-to-goodness crystal lined one all on my own. Apparently I'm not the only one who was fascinated by the thought, because when my friend Dee's husband heard we were going hunting for geodes, he decided to go along also.
I found myself the organizer for an expedition of three adults and four boys. We left a little after 6 am and arrived at about 10 in the morning. The whole time we were traveling, accompanied by a chorus of "how much longer" and 'how many more turns do we have to make" I was praying that the site would be worth the time and trouble of getting there. Especially since I knew that the kids wouldn't be that keen on doing a lot of digging or hard rock work. In fact, earlier that morning, my eldest informed me that "nobody asked ME if I wanted to go, and I don't". At thirteen, my oldest doesn't think hanging out with his mom and little brother collecting rocks is cool enough for him.

Round Mountain Panarama (Photo by Jim Flora -February 18, 2003)
As we drove along the rutted dirt road, I felt my fears starting to fade. There was so much chalcedony on the ground that it looked as if there was a light dusting of snow on the ground. But would there be geodes? We stopped in the foothills at the end of the road and started out. I had gone through a small "show and tell" session with my friends about how to spot a geode. In this location, it was entirely unnecessary. Within about fifteen feet of the car, I spotted my first nodule. Unlike most geodes, these were mostly smooth, weathering out of little air bubbles in the decomposing basalt of the Peloncillo Mountains. They varied from pea-sized on up to 4-5 inches across and for the most part were snowy white. Best of all, they were just lying on the ground. I was like a kid in a candy store.

Round Mountain (Photo by Jim Flora -February 18, 2003)
I had picked up about six or so while the kids were looking at me wondering what to pick up. These egg and teardrop-shaped white globs didn't look like much. So I gathered the boys up and picked up a nodule that was particularly light for its size. I hated to do this with a perfectly good saw waiting at home, but I figured a demonstration was in order. Wielding my pick gingerly, I tried to just crack the nodule. Unfortunately, it broke into about four pieces. One glimpse of the perfectly clear quartz crystals and the boys were off like hounds after rabbits. When I caught my teenager arguing with one of the three nine year olds over "I saw it first", I knew that the trip had been a success.
After about only an hour and a half, we needed to go back to the car to unload backpacks and eat some lunch. The twin's father had found a really stunning chalcedony rose about the size of his hand with thin walls almost three inches tall surrounding a druzy-lined central cavity. All of the boys were chattering about their finds. I know I probably picked up way too many small white nodules during this time and I resolved to be a bit more choosy after lunch.
When rockhounding, I have trouble sitting down to eat lunch. I usually stroll while eating my sandwich, with my eyes glued to the ground. As I walked in the other direction, I noticed a piece of basalt with traces of copper secondaries coating one side. Hmmm. A little further uphill, I found a piece of bubbly chalcedony with some thin green layers. And then I found my first blue-green nodule. It appeared to be coated with a layer of malachite. So, for the next couple of hours I focused on traces of green, although I didn't pass up any of the larger white nodules. I finally came to an area where the basalt was filled with tiny pockets of copper secondaries. With the kids there, I didn't want to try any serious digging or rock-breaking, so maybe that'll have to wait for another trip. Although the guidebook says that the collecting area stretches for about a mile and a half, I doubt we got more that 200 yards from the car.
On the drive back, from the back seat I spotted a greenish rock. Fortunately, my friends were willing to stop. It turned out to be a greenish flattened nodule about seven inches long and about three inches thick. In one area there seems to be a ribbon of gem silica showing, but it is surprisingly light for its size. How I'll tackle this monster, I don't know.
When we got home, I started sorting through our treasures. My youngest son tended to pick up more crystal clusters and broken geodes than whole ones. I suppose when you are nine, it's harder to believe in the crystals that you can't see than in those that you can see. After a rinse in the sink to remove the worst dirt, I popped these into the top rack of the dishwasher. While removing his finds, I noticed that one of his crystal-lined broken geodes contained a small quartz scepter. Who would have guessed?
I've cut open about 25-30 nodules so far. Most of them are layered in various shades of white. Many are solid. Some have common opal layers. Some are bluish chalcedony. Some are swirled. A number have horizontal layers instead of rings. My friend's husband is already talking about going back. All in all, a very successful trip.
Photos of Round Mountain Rocks and Minerals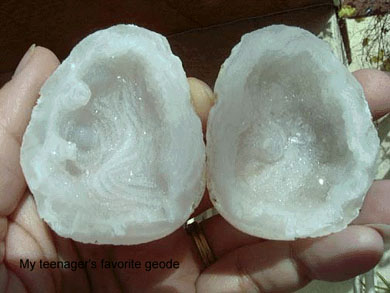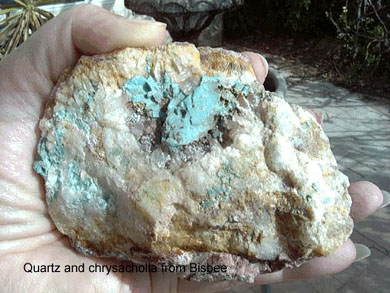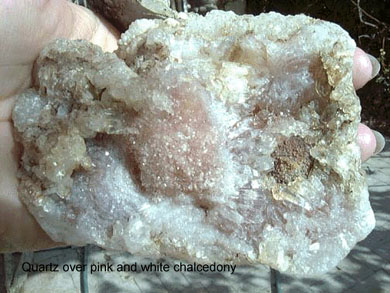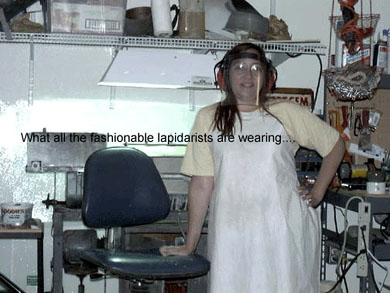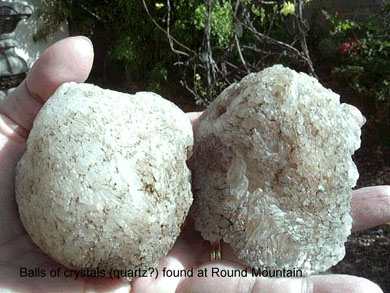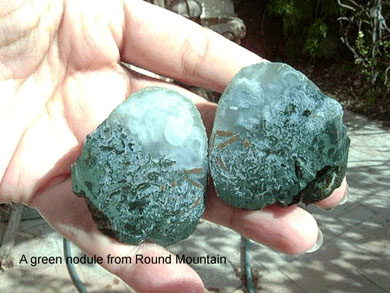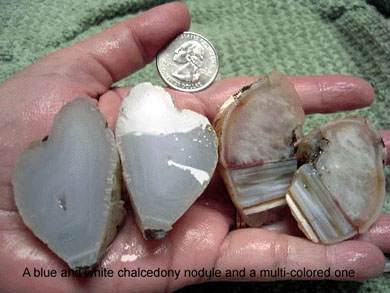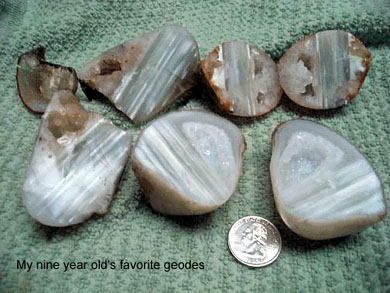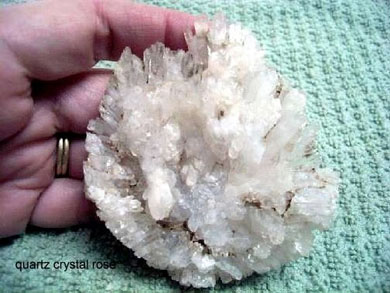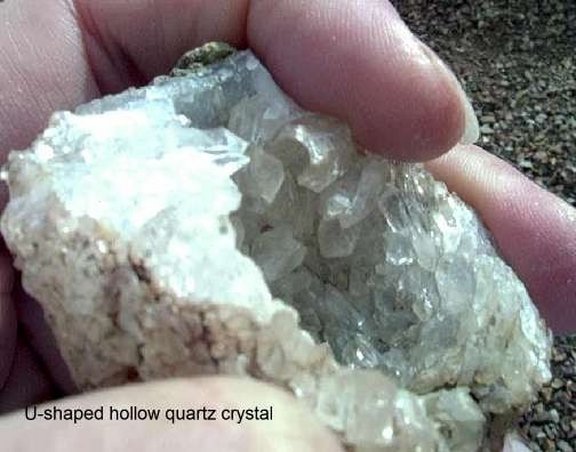 CLICK THE LITTLE MINER TO RETURN TO THE FIELD TRIP PAGE