During the week of July 5th, 2004, Chrissy, Opal and I headed up to Charlevoix, Michigan in northern lower Michigan for vacation and to visit my family. On Tuesday, July 6th, we headed up to the Keweenaw (pronounced Keewinaw) Peninsula in Michigan's Upper Peninsula. Even though I was born in Charlevoix, I had never made the 7-hour drive all the way up to the Keweenaw's famous and historic copper country, so the area would be new to us all.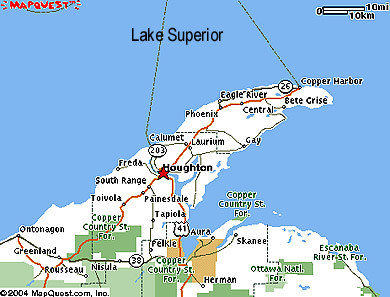 Keweenaw Peninsula of Upper Michigan (from Mapquest.com)
We arrived in Houghton around 1:00 PM and were greeted by dark skies, fog and rain. Undeterred by the weather, we proceeded to the Phoenix mine about 1/2-hour north of Houghton and just off Hwy-41. I broke out our new Tesoro metal detector, making sure to cover the electronic housing with plastic, and started sweeping the spoil piles. We were able to find a little bit of copper and some small specimens of prehnite as it seemed that the area had been well picked over.
The following pictures are of prehnite and copper specimens that we recovered from the Phoenix mine dump.
Prehnite in matrix


Close-up
Native copper in
matrix (vein copper)
(click on above pictures to enlarge)
We spent nearly all of a rainy Wednesday at the Central Mine. We had heard that a portion of the massive spoil piles were being excavated and removed for local construction activities. When we arrived at the site that morning, we saw a trackhoe sitting idle near a disturbed area at the foot of the Central Mine's spoil piles nearest Hwy-41.

Chrissy standing at the
base of the spoil piles
Chrissy and Opal
strike a pose
I used the metal detector to sweep the disturbed area near the trackhoe. We found loads of native copper in a very short time. After about 45 minutes, a large dumptruck rumbled up and parked next to the trackhoe. The driver got out of his truck and climbed up into the trackhoe. So, we quickly scurried out of the way. The driver fired up the trackhoe and began loading the dumptruck with spoil pile material. In the process, he opened up plenty of fresh material that we found ripe for the pickings - lucky us! It took only about 10 minutes for the man to fill his truck after which he drove away with his heavy load. We hurried over to check the fresh material and found lots more native copper. We collected for about 20 minutes until we heard the dumptruck coming back. Again, we got out of the way until the driver filled the dumptruck and left. This coming-and-going process would continue until late afternoon, so we always had fresh material to sort through without having to lift a finger - yippee!
During the middle part of the afternoon, a few local rockhounds showed up as the word was out that someone was hauling rock that day. One rockhound started pulling down loose rock on the unstable slope that caused sections of the fresh rockpile to slide. No big deal - it was in the area where the trackhoe was digging anyway so there was no harm done. I started causing my own mini-landslides where you could spot larger pieces of copper - no metal detector was required during this activity! After coaxing one landslide, Chrissy from a safe distance below hollered up to me and pointed at an obvious piece of copper. I scampered over on the steep slope and grabbed the piece just before it got buried by more falling rock. It was a good thing that Chrissy has such a sharp eye because this specimen was a good one - it is composed of highly sought after crystallized copper (see pictures below).
The following are pictures of a few of our many Central Mine copper specimens.
Native copper crystals

Native copper crystals
(opposite side)
Close-up
Click on specimen pictures to enlarge
Native Copper (highly oxidized)
Native copper
At around 5:00 PM, we decided to venture to the upper Central Mine tailing pile just to look around. These spoil piles that rise high above the surrounding countryside providing an excellent view, albeit wet and gray that day.

Mike at the Central Mine's upper spoil piles
That evening, we went for a walk along Lake Superior beach on the western shore of the Keweenaw near the campground where we were staying. We hoped to find some elusive Lake Superior agate. A driving rain with heavy winds pounded us, but this helped keep down the monstrous mosquitoes and wetted the all the rocks, making their patterns easier to see. We didn't find any Lake Superior agate but did find plenty of pretty stones with thompsonite, prehnite, calcite and quartz, to name a few minerals.
Typical Lake Superior stones and driftwood
Click on above picture to enlarge
We woke up Thursday morning to find that the rain had finally left the area. On the horizon over Lake Superior we could see a clear sky making its way toward us. We found it somewhat ironic that it rained cats and dogs for our two previous collecting days and cleared up only on the day that we had to leave - but we weren't complaining. We decided to take advantage of the nicer weather to do some sightseeing before we left the area.
View northward from
Brockway Mountain
Lake Superior at Eagle Harbor
By early afternoon, we began the 7-hour drive back to Charlevoix. We made it just in time to catch a beautiful sunset over Lake Michigan. It was a good omen for our next and final day in Charlevoix.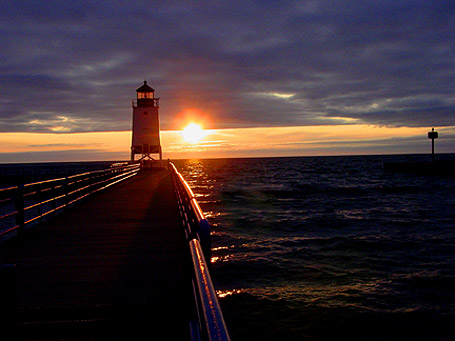 Charlevoix pier and lighthouse at sunset