Lookout Point, Oregon
January 10, 2004
By Dan Kelley
dkelly4819@aol.com
Hi Everyone,
Here is a hounding trip Becky and I took this last Saturday.
The day started out a bit foggy which promised better weather up higher in elevation. So we grabbed our rockhounding stuff and headed out for Lookout Point Lake. It is only about a 35-45 minute drive from town, so a pretty short drive.
The clouds started breaking up just a few miles out of town. The weather was looking better, and we were getting excited. I have to note that most people on that day were digging out and cleaning up from the ice storm we had here last week. We had been house bound for a few weeks because of the weather, so needless to say, we were ready to collect about anything, as long as it was outside.
Here is a view of the collecting area from near where we park. A whole lot of ground to cover. There is never enough time!! I looks like it is all grass, but there is a lot of dirt showing in between the grass clumps.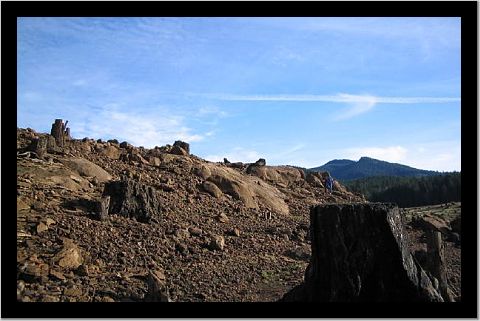 This area had Pet-Wood laying around all over, and still a lot in the matrix. But most of it was of lower quality, not much silica content. It was fun just to poke around here and see the way it was deposited. Becky is busy looking, I don't think she even knew I took this one. (I'm in trouble now)

Another View of the Pet Wood area.
We spent about 3 hours out there, the weather actually turned warm, (50's) and we had to start peeling away layers. But it sure was a fun time getting out of the house and finding some nice samples of Pet-Wood, Jasper, and Agate.

Here is a view looking towards the West, (towards town).
Just so much area to collect in, and too little time.

Some examples of what we got that day (above)
We probably got 20-30 pounds total that day, and we were high grading. And some more, mostly Pet-Wood in this one.
We had a really great time, finally had some good weather, got some fresh air, out of the house, and got some nice rocks. A day that is hard to beat.
Hope you enjoyed the report,
Dan
CLICK THE LITTLE MINER TO RETURN TO THE FIELD TRIP PAGE