Kentucky Geode Hunting Field Trip Report
August 31, 2003
By Mike Streeter
mcstreeter@charter.net
Hey Gang,
The following pictures were taken Sunday, August 31, 2003 on a creek in Kentucky that was literally choked with 1" TO 24" diameter geodes. The geodes are filled with quartz crystals and/or chalcedony. This was one of several geode locations where we were able to collect.
CLICK ON EACH PICTURE TO ENLARGE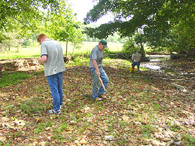 &nbsp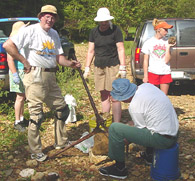 &nbsp
&nbsp
Geodes smaller than a soccer ball could be cracked with a pipe wrench. A crack or sledge hammer and chisel were required to split open larger ones.
As you can see, Virgil and his family came all the way from Broken Arrow, Oklahoma for the weekend. I'm sure he'll tell you when he gets a chance that it was well worth the long drive.
Many thanks go to Harry Polly for organizing and leading a terrific field trip. We could not have asked for a better leader, rockin' buddy and new friend!
CLICK THE LITTLE MINER TO RETURN TO THE FIELD TRIP PAGE