Cranberry Iron Mine, Avery County, North Carolina
Nantahala Talc and Limestone Mine, Swain County, North Carolina
August 16-17, 2003
By Mike Streeter
mcstreeter@charter.net
Hey Gang,
On Saturday, Chrissy and I went to Cranberry Iron Mine in Avery County, North Carolina and the Wilder Hollow Mine in Tennessee. We walked around a couple metal swinging-type gates to get to the Cranberry mine. As always, there were no postings but the gates were locked. There is a brand new 8-feet tall barbed-wire fence that blocks entrance to the underground workings. Curiously, there are no signs on the fence but I understand that its purpose is to protect the bats living in the mine. I find it ironic that this attempt to protect the bats' habitat is in a man-made mine. I wasn't surprised when I noticed that the bottom of the fence (gate) has been sprung indicating that people have been crawling under it to get into the mine workings. We collected in the plentiful dump piles outside the mines and brought back a couple buckets of the usual suspects but also found some nice large-grained hedenbergite crystals. I also found some tiny pyrite crystals in a hedenbergite/magnetite matrix.
The following are a few old pictures from our website of the Cranberry mine and materials.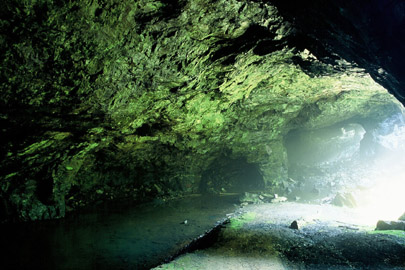 inside adit

epidote, magnetite, feldspar, hedenbergite and quartz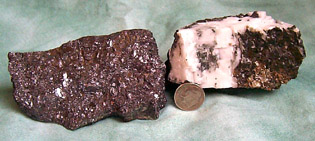 magnetite (left) calcite, pyrite and hedenbergite (right)
On Sunday I went to the Nantahala Talc and Limestone mine (Chrissy spent the day helping her parents paint - yuck (about painting - not the inlaws)! I was doing some recon work for a field trip that I will be leading there this coming Saturday. I was asked to lead a group from the Carolina Association of Engineering Geologists for their summer meeting/educational field trip. I chose the Nantahala mine for its good group access capability, excellent collectable material and for its beautiful setting. I brought back a few pieces of banded marble, soapstone and some small but beautiful dolomite crystals on marble to show the group what to look for before turning them loose to collect.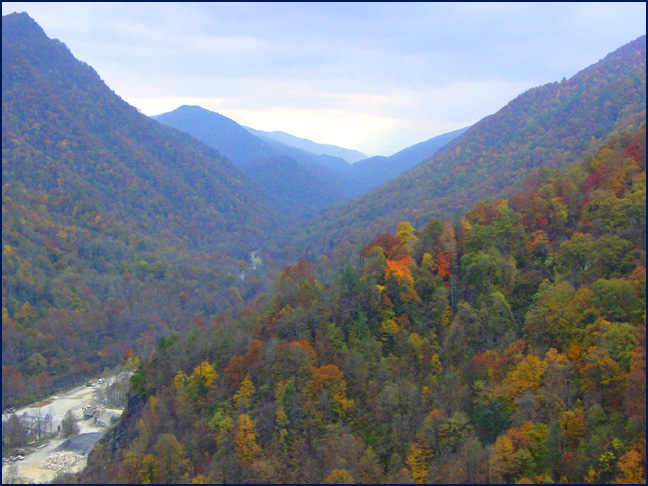 view of the Nantahala gorge from the Nantahala Quarry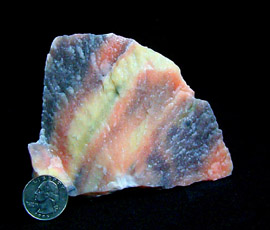 banded marble
While I was out in that neck of the woods, I stopped by a road cut on a new four-lane road on Highway 28 past Almond to look for pyrite cyrstals in meta-siltstone/slate that a fellow Southern Appalachian Mineral Society club member was nice enough to tell me about. I walked up, down and across a somewhat steep cut slope covered in broken rock in search of pyrite crystals or whatever else I could find. I collected a few decent pyrite crystals in matrix -the two best were 1" cubes that are heavily coated with iron oxide. I'll have to figure out a way to get the oxides off the crystals (any ideas would be helpful!!!). I also found a rock/vein that contains a metallic platy mineral that is most likely ilmentite.
We enjoyed a busy and fruitful weekend. As usual, we dragged back lots of yard rocks and plenty more to give away.
KOR
Mike
CLICK THE LITTLE MINER TO RETURN TO THE FIELD TRIP PAGE