Kilbourne Hole
Doņa Ana County, New Mexico
February 21, 2004
By Dave Timpany
timpany@earthlink.net

Kilbourne Hole is a volcano crater west of El Paso. It is known for its gem quality peridot. This is found in clay balls on the inner side of the rim. The trip to here is rather rough. About 20 miles of dirt desert road from El Paso. Road signs are seldom, and if you find one it is so shot up from the locals they are unreadable.
Above is the quad-runner trail leading up to the rim. It is sandy and difficult footing. The crater is 1.5 miles across.
Above is a pan of the clay balls containing peridot. Research says peridot from here is better than gem quality from San Carlos, but finding facet size material is difficult. Everything I found was less than 1/4 ct. Mostly sand size that fell right through a 1/16" screen.
This is a very desolate spot. The picture below is looking up at the rim from the crater floor.
The crater floor is scrub desert.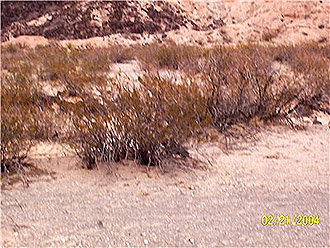 Sometimes GPS co-ords and gov. surveys match. This survey marker was right on in the crater floor.
The climb out was sorta tough with a pack and bucket full of meterial. Thank goodness it was cooler weather instead of summer. Finally at the top a rest and reflection looking back down.
After the rest at top I found a jeep trail leading to the spot I climbled down. I could had driven there!!! daa!!! There were also quad runner tracks in the crater. Apparantly there is a better trail into the crater.
I would like to go back and camp in the crater for a few days. There is soo much area to explore and try to find larger peridot. I have no doubt there are larger pieces. With a rim of 1.5 miles across and with all of the rough sides there remains over 5 miles of baseline to prospect.
One word of warning is to take a 4 WD to this place. The roads are rough and sand drifts across them a lot. Another toy to take would be a quad runner to pack in your gear. These ol' bones just don't work like they used too.
CLICK THE LITTLE MINER TO RETURN TO THE FIELD TRIP PAGE