Artifacts from the Arkansas River near Tulsa, OK
July 2003
By Virgil Richards
virgil.richards@att.net
While my wife was at a wedding shower for her sister, I decided to gao and check out the conditions on the Arkansas river south of Tulsa and one of my favorite collecting spots for artifacts. This usually means walking a couple of miles of sand and gravel bars staring at millions of rocks and hoping to pick out that one in a million that has been crafted by my ancestors. Each trip here has rewarded me with some small find that to me is always just like the first. Sometimes it takes hours before finding something worthwhile. Saturday was no exception. Since there is a sand dredging operation at this particular place, the sand bars are constantly changing and the dredging operation leaves the riverbed scoured. When the corp of engineers releases water from Lake Keystone, new material is exposed, especially along the riverbank where there is typically several feet of sandy shoreline. The dredging operation also stirs up new material, although I hate to think how many hundreds of artifacts are sucked up by the dredge along with the hundreds of tons of sand and gravel they remove from the river.
It didn't take long to find something resembling a small scraper within 50 yards of the dredge along the newly created shoreline. Slipping this into my pocket, I continued downstream of the dredge, my objective being a large gravel bar further on. The river being nearly a quarter mile wide at this point, the dredge was almost up to the cutbank on the south side, with the plant being across the river. As I cut across the river bottom about a quarte mile east of the dredge and dropped off the six feet to the water level, I found myself on a section of shoreline that had been recently washed over. Walking towards a large log on the shoreline, there, lying flat on the sand was what I had come searching for... A fully intact projectile point, 1 1/4 inches long. Any day I find a good artifact on the river is a good day, on this day I found two. Along with a possible third fragment of knapped flint.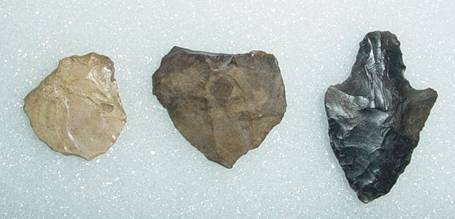 CLICK THE LITTLE MINER TO RETURN TO THE FIELD TRIP PAGE