Nantahala Talc & Limestone Quarry
A Dixie Mineral Council Field Trip
Swain County, North Carolina
November 5, 2005
By Mike Streeter
mcstreeter@charter.net
Some photos by Jeff Deere and Jim Flora
Page 4
While we were on the second bench, Jeff Deere took the opportunity to look out over the incredible fall vista ripe with colors.
After the talc was distributed, those who were interested either walked, drove or were driven up the rough steep 4-wheel drive-only road to the top of the quarry. The view of the upper Nantahala gorge was breathtaking.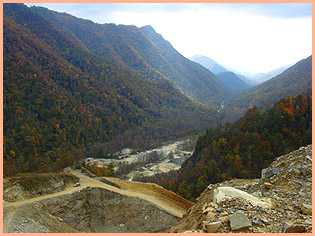 Upper Nantahala Gorge from Quarry Top
A group of diggers had assembled to dig out pockets in the meta-sedimentary rock that contain fantastic white and water clear aragonite crystals.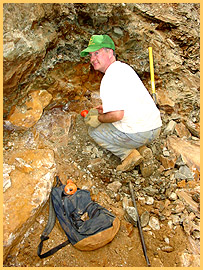 Jeff Deere
Rome Georgia Gem and Mineral Society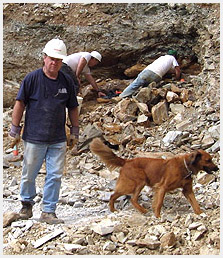 Wayne Dodd - Georgia Mineral Society
and Opal Streeter (SAMS)
Photo by Jim Flora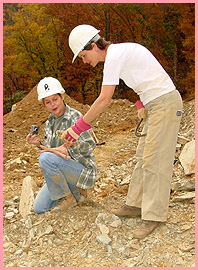 Barbara Rees & Chrissy Streeter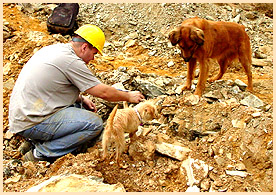 Greg & Neko Grieves and
and Opal Streeter (SAMS)
The following pictures show some of the specimens that were recovered from upper quarry area.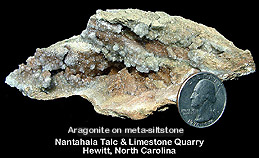 (photo by Jeff Deere)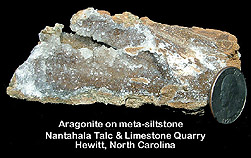 (photo by Jeff Deere)
Click on each specimen picture to enlarge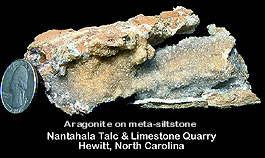 (photo by Jeff Deere)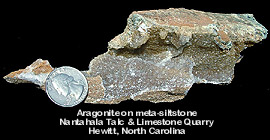 (photo by Jeff Deere)
Report continued . . . . . . .