Hi Everyone,
I learned about the Copper Country Mineral Retreat on my first visit to the Copper Country Rock and Mineral Club's website. When I followed that link to the Mineral Retreat's website my fate was sealed. This was something I couldn't miss. As an added bonus, the Ishpeming Rock and Mineral Club was having its rock swap and field trips the weekend before.
The trip up to Ishpeming on Thursday August 3rd was thankfully without problems, unlike the day before, when as I drove into work the breaks on my van started scraping for the very first time. Bob, the manager of the antique mall helped me out, and I was able to get the breaks ( all four of them ) fixed while I was at work. It's a good thing considering the road down to the Caledonia Mine, but I'm getting ahead of myself.
Friday August 4th
It was a nice sunny morning when the group met at the Pamida in Ishpeming for a field trip to the poor rock piles of the Breitung Mine in Negaunee.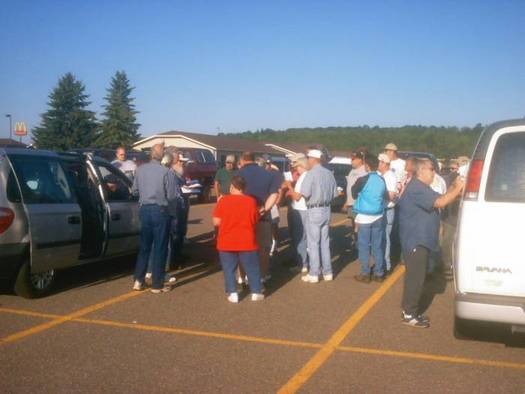 Quite a few people showed up for this field trip, we all checked in and paid our $5 fee, and then our long caravan wound down Hwy 41 and through Negaunee to the southeast side near the Lucy Hill and Tracy Mines. We were given access to the poor rock piles of the Breitung Mine and right near that was an old elevated train path that was made from rock from the Tracy Mine. Some folks hunted there.
Here I am searching for any interesting rocks I can find.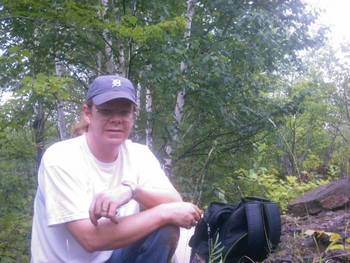 The mine dump piles here are overgrown and quite extensive. At one point the rockhound on my right had set his bucket down on top on a bee's hive which stirred them up. He later told me that he got stung 5 times. I thought I would try and help him out by borrowing someone's "treasure scoop" to hook the handle of the bucket and pull it away, but as soon as I made contact with the bucket a little yellowjacket shot out like lightning and got me on the forehead. It didn't take long to get over the sting, but I think the bucket is still there today. I gave away a couple of pieces to folks who hadn't been lucky as me. I understand that the find of the day was a larger piece of Botryoidal Hematite with a hollow geodized center. I never actually saw it, but I was told it had a crystalline interior.
And here are some of my keepers; Botryoidal Hematite, and Nodular Hematite.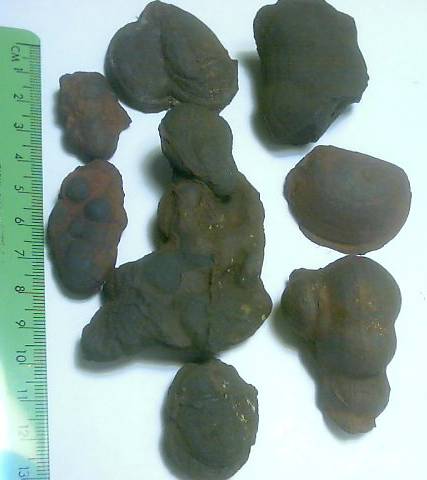 The field trip finished at around 12:00 noon, and so I drove to the Cliff's Shaft rock lab and got my new Jaspilite clock from Doug Trudell. We talked and swapped stories until around 1:30 when I needed to get some lunch, after that I returned to Van Riper State Park for the night.

Saturday, August 5th
I was up early and made it to the Ishpeming Rock and Mineral Club's sale shortly after it opened. There were lots of great mineral dealers with specimens from all over the world both outside and inside the Elk's Club hall. Attendance was very good, and it didn't hurt that there was a Renaissance Fair across the road. The whole area around the Cliff's Shaft and the Elk's Hall was packed and parking was scarce. I had intended to use the new memory card for my camera to make short movies of this trip. It seemed to be going ok as I walked through the vendors area "filming" as I went. It wasn't until the next morning that I realized there was a problem.
I came very close to buying a used Lortone polishing wheel for $100 (or best offer), but I didn't know how my finances would hold out, so I let it go. It did sell later in the day. Inside, I was able to register and pay the $5 for the Lindberg Quarry field trip coming the next day. I ended up buying a new version of the Estwing "Treasure Scoop", and this nice Selenite "Desert Rose" specimen for my collection.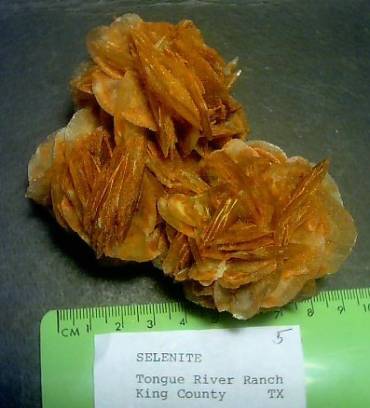 I stayed around the Rock Show most of the day, crossed the street to check out the "Ren Faire" once, had dinner and then located the Negaunee Township Hall where we would gather for Sunday's field trip. After that I returned to a quickly filling up Van Riper State Park to rest up before the night's presentation at the Elk's club hall.
At the Elk's club there was a good crowd gathered to hear about the ancient meteor strike that hit the Sudbury, Ontario area around 1,850 million years ago. Our speaker was Gene LaBerge, a retired geologist from the University of Wisconsin, who said that fallout from this meteor strike had been found as far as Marquette County. This meteor was apparently about the same size as the one that made the Dinosaurs extinct, but at the time this one hit there was only microbial life on earth. Mr. Laberge pointed out that there have been several such mass extinction events (7 or 8, I think he said) in the past, and we should expect it in the future as well. We saw slides of different rock formations caused by this event, and I found the talk very informative. After this presentation the club had a benefit voice auction. Even though I didn't buy anything, the auction was fun to watch. Throughout the sale the auctioneer teased the audience and hinted that there might be gold in this, that, or the next thing. A certain club member with handlebar mustache named Donny showed his sense of humor and generosity by topping his own bid, twice! The crowd got a good chuckle out of that. At around 9:00 I returned to camp to get ready for what I knew would be a long Sunday.
Sunday August 6th
Having a few hours to wait for the day's field trip to Lindberg's Quarry, I remembered Friday morning's crowd being told about Negaunee opening up part of the Jackson Mine Old Town area for hiking and bike riding. Here you can still see the old foundations of the school and residences, which are marked with stakes that have the names of the families who lived there. At one point I had walked up an old staircase that led to a foundation on "Snow Street" and was pleasantly surprised when a nearly tame fawn walked within 20 or 25 feet of me and stayed right there as I fumbled with my camera (this is when I learned about the memory card failure, which caused me to quickly pull the card out of my camera and aim for this shot.) The fawn stayed there and watched me the whole time.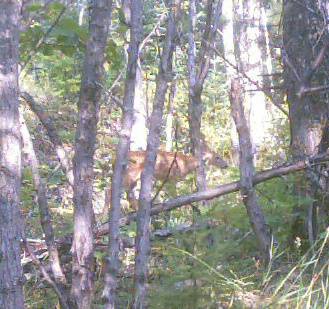 After snapping a couple of pictures of it, I turned around and went the other way. This wooded area is very close to town and I didn't want the little guy to bolt into traffic. After my hike it was time for lunch and to gather at the Negaunee Township Hall to sign in for the Lindberg Quarry field trip. There was another good sized group that gathered in the parking lot, and at around 1:00 we all left for the Quarry. Here is a panoramic shot of the big pit at the Lindberg Quarry.

I got a fellow club member to take this picture of me in front of the big slope of Kona rock. It's not a rock wall, and I was in no danger. Even though I was prepared with a hard hat and steel toe boots, they weren't required.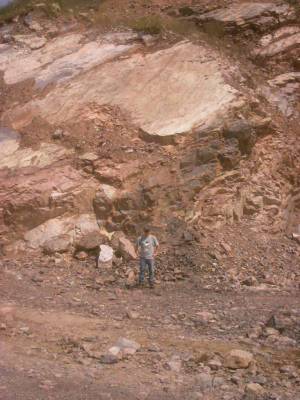 I was able to find some great cutting material for the future, and here's a photo of what I brought home. Knowing that I still had 4 collecting days ahead of me, I limited my Kona Dolomite to one bucket and some other pieces that I fit on the floor of the passenger side of the van.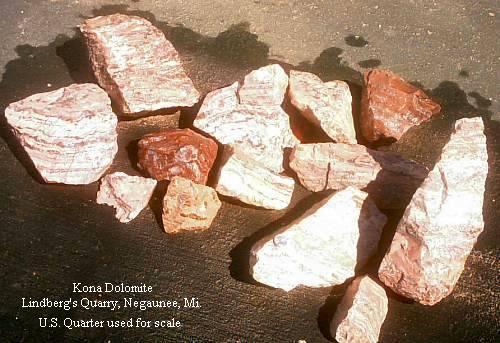 At around 2:30 I decided it was time to leave for the next leg of this journey, a drive up to the Keweenaw peninsula and Houghton Michigan. On the long drive up I and the cars around me had to slow way down for a beautiful large buck with a full rack of antlers that was trying to cross the highway. I'm pretty sure he made it across safely. In the town of Chassell I stopped at an old lady's antique "shop". It was a packed garage and connected room completely full of stuff. She said that she was trying to sell the shop, contents and all for $200,000, and it could be all mine if I was a millionaire! I told her I was like a kid in a candy store in places like that, and I would have loved to take about a week and dig through her stuff, but as it was, I didn't have the room in my van for the two pieces of furniture I was interested in, and she wouldn't be there on Thursday when I was coming back through town, so we were out of luck.
I moved on to Houghton and the campus of Michigan Tech to get ready to register for the Copper Country Mineral Retreat.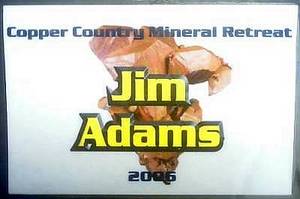 The Seaman Mineral Museum is accessible only by elevator, and I and several others felt like yo-yos riding the elevator up and down until the fifth floor finally opened up at 5:00pm. The Mordenite specimen of John Cornish is right there to greet you as you step off the elevator. If I had one word for this museum it would be overwhelming. I'm going to have to go back when I have more time to appreciate all the fine specimens. After registering and getting my itinerary straightened out I left to find McLain State Park. It's no wonder that this park was full up with campers. It's a very nice, modern camp right on Lake Superior. I registered at the camp office and found my site, right near the water supply and bathrooms. That night I attended George Robinson's talk on the minerals of Canada. The small auditorium was standing room only and I was glad that I chose a seat close to the door. George had a slide show which included photos of the world's finest this and that; Canada has most of the known minerals plus some that have yet to be identified. About 40 minutes into the talk, the stuffy room had gotten to me and I decided to call it a day. I returned to McLain State Park and rested up for the coming day.
Monday August 7th
I was up early, had breakfast, and followed the directions to the Mohawk Mine, north of Mohawk, Michigan. I was the first one there and found a good spot to park the van. It wasn't long before the rest of the group showed up and we got our instructions.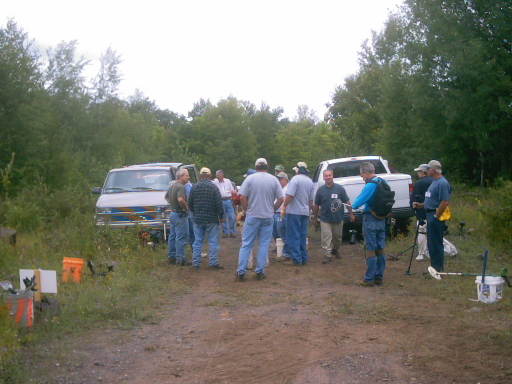 We were searching the large pile on the left/north side of the road. This was my first experience with a large group of people with metal detectors. I wish more people had head phones with their detector. All that beeping can be a bit annoying, but I got used to it over the next few days. One of my more interesting finds at the Mohawk includes this untreated Copper piece with a Calcite crystal in a void. I decided to leave this one as I found it so the Calcite crystal and Epidote on the surface wouldn't be damaged. I still don't know what the bluish mineral on the top/front is.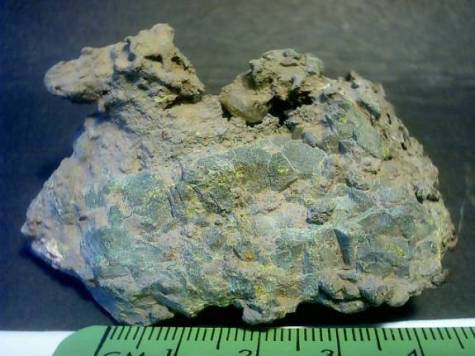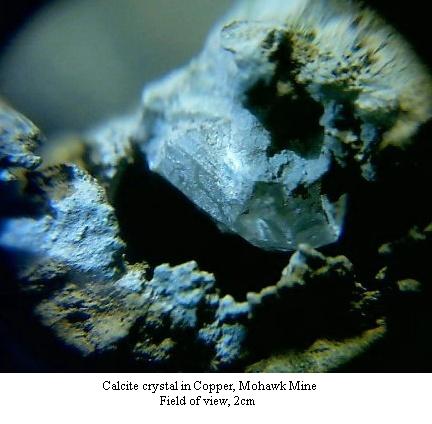 Here's me in standard detecting pose at the Mohawk Mine.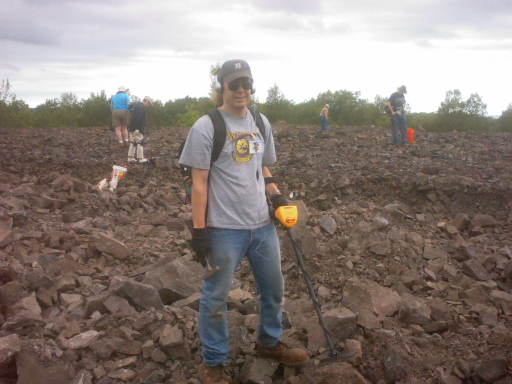 I also found what at first I thought was a Copper/Silver "Half-breed", but considering the grainy texture I now think it's Mohawkite.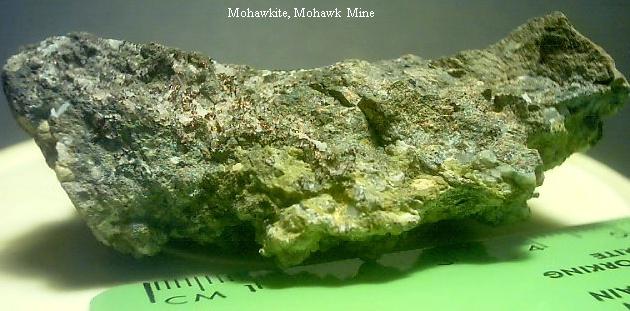 Report continued . . . . . . .