Hi Everyone,

Last weekend I drove a total of 1,023 miles in three days in what I can honestly describe as an endurance test, for a field trip with the Ishpeming Rock and Mineral Club to the Republic Mine, in Republic, Michigan. As an added bonus, on Sunday the club was given the first shot at buying items from the collection of H. T. Dryer, a local collector.
Friday, June 23
Packing for these trips is getting more routine now, and I was ready and on the road by 8:30am. The cloudy skies cleared as I drove north of Alma, Michigan. I stopped in Gaylord for a personal pan pizza at Subway and continued on. Part of my windshield trim came loose and was flapping all the way, but otherwise it was a smooth trip. I arrived in Ishpeming around 3:30. My first stop was the local Ace Hardware to see if they had a good heavy sledge hammer with a fiberglass handle, and I was in luck, there was one left. Next I drove to the Cliffs Shaft Museum and bought a booklet on local mining history, which came in handy during the rainy periods to come. I then drove the 15 or so miles to Van Riper State Park and got in line to check in. Van Riper is located west of Champion, Michigan's horse pulling capitol. This weekend horse pulling contests were being held, as well as mud drag races, and the park was much more packed than it was on our last trip. After checking in, and finishing my pizza, I went to the Champion Mine for a little hunting. There I met another collector, and mentioned I was a new member of the IR&MC. He said, "Are they still going?" He wondered who the current President was. He was a bit upset with the club because apparently he is in charge of keeping up their website, but he doesn't get any credit for it. I didn't mention that the last time I checked the website, none of the links worked. He said that he was just there looking for landscape rocks with Schorl (Black Tourmaline), and showed me one nice example he had found. I mentioned I was looking for Almandine Garnets and he pointed out one likely rock for me. He said that Marquette County is like Michigan's "Tsumeb." He explained that the Tsumeb region in Africa is a place where you can find just about anything. He also called the Champion Mine "Specular Acres." I went to work on this rock and he hauled his heavy find up and around back to his truck. In fact I did find some nice little micro Almandine crystals with good color in that rock. I also picked up a few pieces of bright Specular Hematite.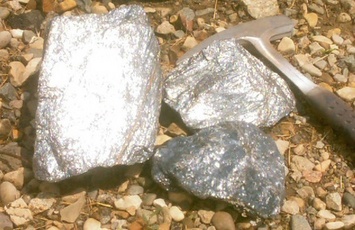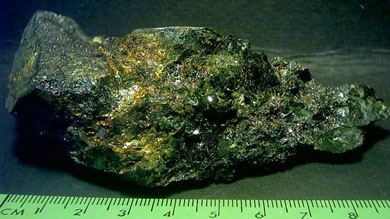 This one little piece of rock contains Almandine, Schorl, Pyrite, and Hematite and maybe others I've missed.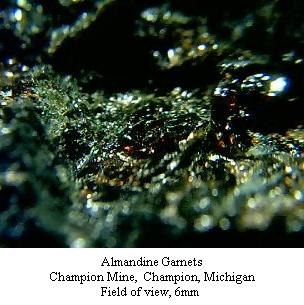 I returned to Van Riper for the night and had to put up with neighbors and their loud stereo two camps down. Now, nobody likes rock music more than me, but there is a time and place for everything. I'll never understand why someone would go out into nature camping and then intentionally block out all the sounds of nature. To me, the singing birds and wind in the trees are all part of the experience. After asking nicely they turned it down at least to the point where I couldn't recognize the songs. One pesky mosquito had found it's way into the van, which I located and eliminated. There were rain showers over night.
Saturday, June 24
I awoke to a nice mostly sunny day, had breakfast. I had a couple of hours before we needed to show up at Cliffs Shaft to sign in for the field trip, so I did a little exploring. I located the entrance to the path which leads to the Michigan Gold Mine, north of Greenwood Michigan. There was an old gate with a worn "Danger, Do Not Enter" sign. I had been told that these old signs were put up by now out of business companies for liability reasons. Since I only wanted to know the location of the mine, I already did, and didn't need to go any further, so I turned around and drove to Ishpeming. With a little extra time I went to the turn around below Ropes Gold Mine and took a picture of the real estate "For Sale" sign there. Anyone want to buy a gold mine? I won't post the photo, but if you're interested I might pass on the number. I will however post the photo of the nice turtle sunning itself on the road that led to the Ropes. It was a good size, 6 or 7" long.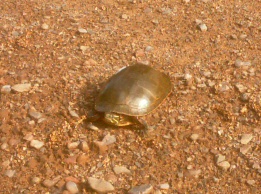 By now it was time to meet up with the rest of the group, so I returned to Ishpeming and the Cliffs Shaft. There I greeted fellow member Doug Trudell who said he didn't expect me until August, and I said that I couldn't miss this field trip to the Republic Mine. I signed the appropriate forms,and at 10:00 we both left Ishpeming for Republic. I don't know if it's just me, but people up there seemed to drive faster than I'm used to. For such hilly, twisty highway roads lined with rock outcroppings, people move up there, and if you're going 65mph you tend to get passed. Suffice it to say that the trip to Republic didn't take long. It was good to see the normally closed gates now open for the club. We drove our vehicles just inside the gate and waited for the rest of the group. When everyone arrived, we got our instructions, and agreed to wrap up by 1:00, which gave us about 2 hours to collect. We were told that the old crude ore pile had been spread out around the old foundations to make things safer, and that's where we would be collecting. We drove our convoy up the long bumpy road to the old silo area. When I got out of the van I noticed Banded and Specular Hematite everywhere. Right away I found pieces with pockets of quartz crystals, and started loading up my buckets and boxes. I think I may have over done it on one large Specular Hematite boulder. For this one, I drove the van over right next to it, and hefted it onto the floor of the passenger side. Oh well, that rock is mine now, and um, I'll heal. I made two panoramic photos at the Republic, the first is our collecting area.
The second is looking back over the large open pit now filled with water. The observation deck would be on the right side of this view.

I used the timer on my camera to get this shot of me in front of one of the huge silos.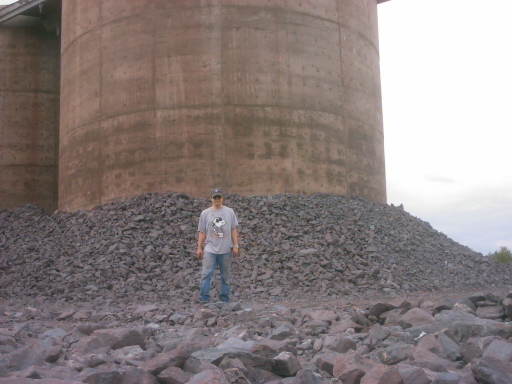 And now for the photos of my finds. First a shot of some of the larger pieces I brought home.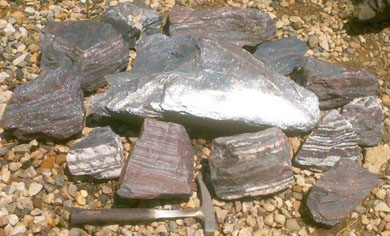 With the help of my lovely assistant Litha, I've been able to get some of my best close-ups yet using nothing more than a 10x jewelers loop and my digital camera.I focus the loop and camera, and she clicks the mouse. What I found surprised me. The first specimen is a vug of Aragonite on Quartz.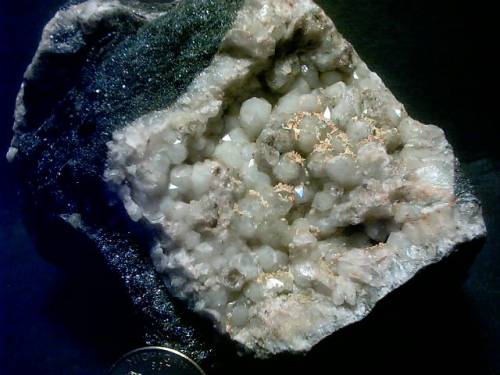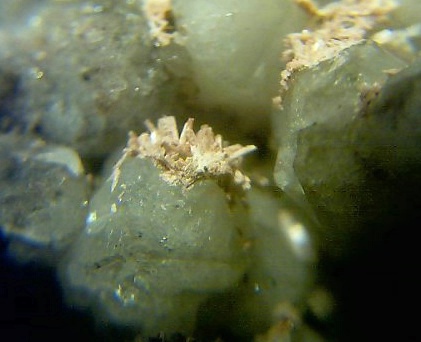 On this next one I found tiny Hematite spheres on Quartz.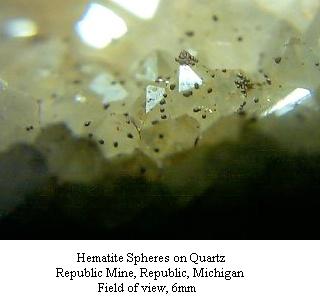 Report continued . . . . . . .