Hi Everyone,

This past week was our most involved and rewarding rockhounding adventure ever. It started back in March when I contacted, and joined the Ishpeming Rock and Mineral Club. I also purchased a gold pan on eBay just in case I came across any areas of black sand while on the beach. Then two weeks before the trip, we had a yard sale to help unload some of my surplus (things that wouldn't sell in my booth) antiques, and make some extra money. Every little bit helps.

Sunday May 14

Having done most of our packing the day before, we left the house around 8:00 am. A low pressure system had stalled over Lake Michigan and was pulling bands of cold rain down from Canada and New England. We drove through solid rain all the way to Gaylord, where we waited 1/2 hr. for Jay's Sporting Goods to open. I wanted Litha to be able to join me out in the water, so we got her some good insulated hip boots, and headed north.

The UP performed it's magic, and the skies cleared shortly before reaching Whitefish Point, where we had sunshine and smooth water for rock hunting. There were several others there combing the beach and we decided to go way down and work our way back.




Litha took her turn trying out the "Adams Aqua-view", but to no avail. I don't think we found any agates at Whitefish Point. I did get my first chance to try panning gold. There was an area of concentrated black sand down the beach. We noticed metalic sparkles in it, but found no flakes or nuggets. We did see little red grains that may have been garnet.




Litha found this larger piece of quartz with a silver metal showing throughout. It was later identified as mica, but I'm not so sure, instead of flaking off, I got some to peal off like foil.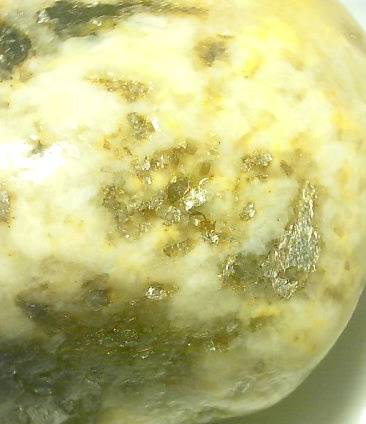 After collecting there for a couple of hours, we moved to Andrus Lake State Campground to stay the night. Thankfully, we were prepared with bug spray. The black flies were active and hungry.

Monday May 15

We got up early, and found the Shelldrake Dam for photos. You could see the Lamprey cages at the base of the dam to help protect our fish.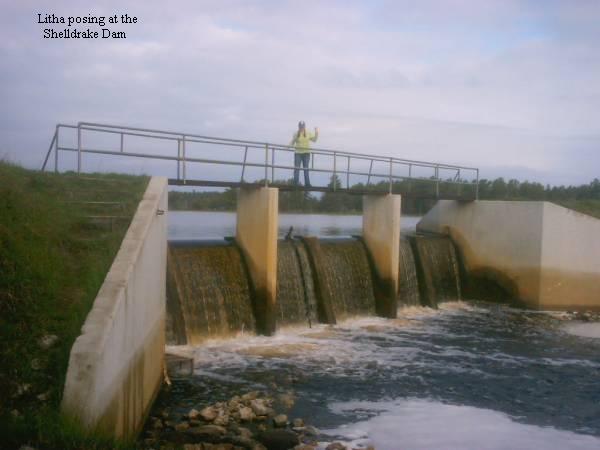 In my research I had found a spot on the map called Vermillion. From the map it looked like a village. I did a web search on Vermillion and found out there was an old lifesaving station there, and on the map, Vermillion road which led out to it looked like a good road. Well, we both would have felt more comfortable in a 4 wheel drive, because much of the two track road was a combination of soft sand and muddy ruts that made it a bit of a white knuckle drive. When we finally got out there it turned out to be a private wildlife preserve with no beach access.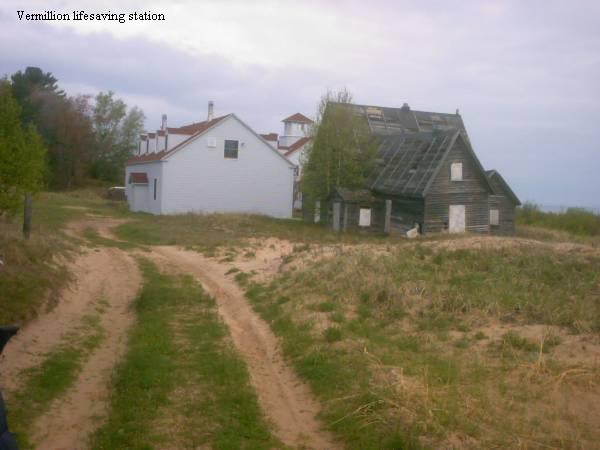 Out across a marshy area you could see a beach covered in stones, but no way to get there, so we headed back down the only slightly less white knuckle road eventually getting back to pavement with no problems.

We drove to Paradise for some groceries, but when we got there at around 9:30 the only store was closed. As we were leaving the owner pulled in and motioned for us to wait. She was late because she had to stop at the school and see how the kids new t-shirts looked. We got what we needed, and headed for the mouth of the Two Hearted River. I had been there once before with my Dad and Brother on a fishing trip. Remembering all the rocks on the beach, I knew that this should be a good stop on our trip. On the way Litha saw the arse end of a black bear trotting into the woods. I missed it.

At the mouth of the Two Hearted River we had a mix of sun and rain. I took a photo of the layers of sand and rock where the river mouth had eroded.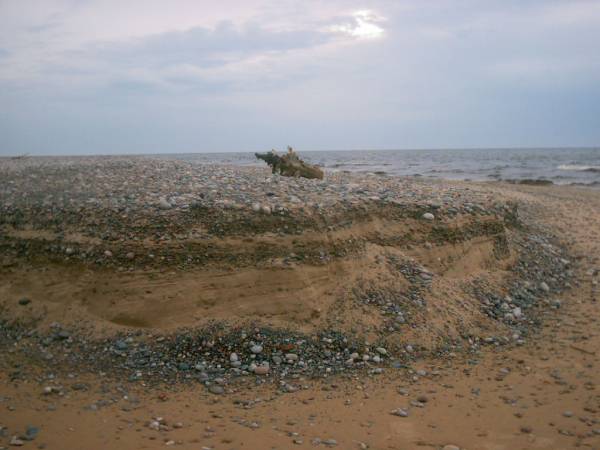 We collected beach rocks until dusk and returned to camp. We found some nice banded chert, but no agates.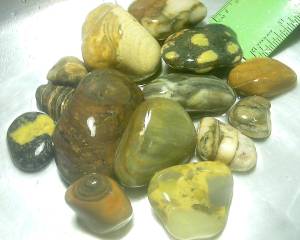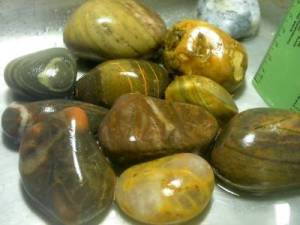 Tuesday May 15

As we were getting ready to leave, a red squirrel came right up to Litha,and put it's hands on her shoe looking for a handout. Tame little buggers. We were the only ones in camp when we left.

Our next destination was Lake Superior State Campground, but before we got there, we came across a spot in the road where there was a pull-off and beach access. So we put on our hip boots, grabbed the back pack, and set out. This beach was similar to the Two Hearted with beach rocks all over. The waves were large enough both here and at the Two Hearted that we couldn't use the Aqua-view very well. Even though my homemade underwater viewing device foats, it doesn't help when breakers are crashing right where you stand. We went north on the beach unil lunch time and I made a spot mark in the sand where we stopped so we could continue there later. We returned to the van for lunch. After a quick lunch we came back to the mark I made and continued north, collecting for about an hour, then we slowly moved back towards the van, searching all the way. After reaching the van, we decided to find Lake Superior State Park. We only drove maybe a mile south and there it was. We camped on the south side of the park this time, which wasn't hard since no one else was in the campground. I paid the $10 nightly fee, and we got camp set up.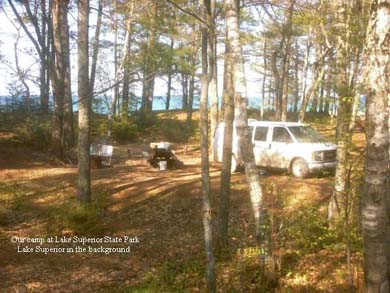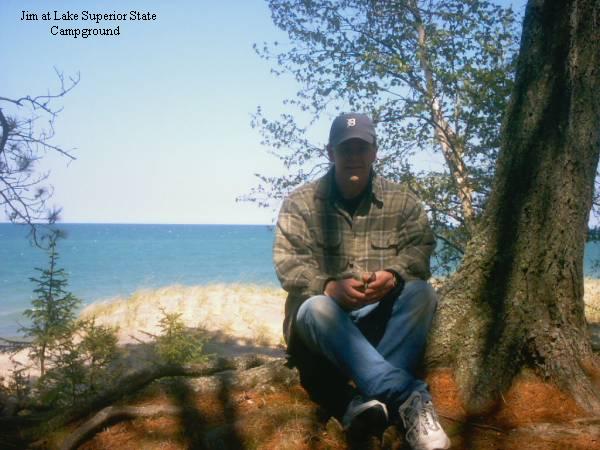 This time we collected south of the park and then returned to camp. I made a little fire, and we had dinner. We could tell it would be colder there near the lake, but we were protected some by the dunes, and we did alright. We collected a little more after dinner and called it a night. Here's a photo of some possible agates we found there.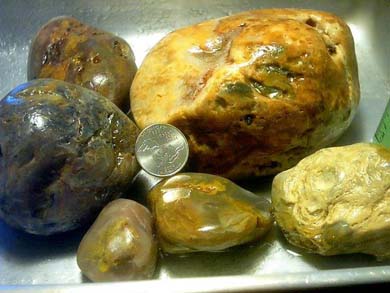 Wednsday May 16

We headed toward Marquette County, stopping at Sable Falls for some photos.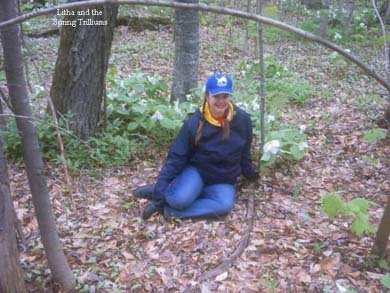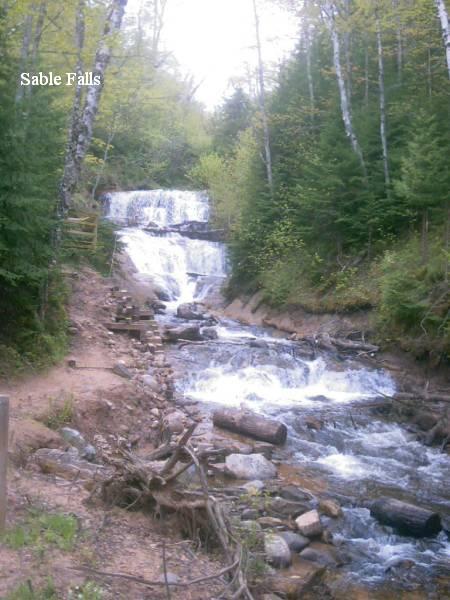 Ran into a detour on H58 on the way to Munising, loggers were burning in the road making it impassible. We drove for miles down a two track county logging road to meet back up with H58. Luckily we encountered no oncoming traffic.

We arrived in Marquette around noon, stopped at the local Chamber of Commerce for info on area mines and bought some Subway subs before moving on to the Ishpeming-Negaunee area. We stopped at a local park where this monument is located. It commemorates the Jackson Mining Company's discovery of iron ore in 1845.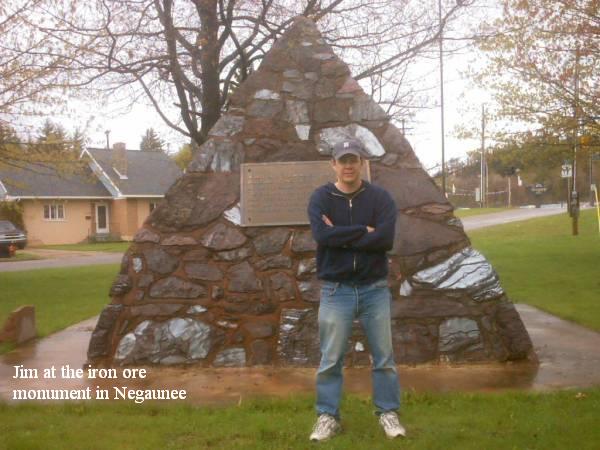 From there we drove around Negaunee a little until we found another city park and ate our subs. Our next stop was Jasper Knob, an area in a hilly neighborhood where you can collect a banded Jasper and Hematite called Jaspillite.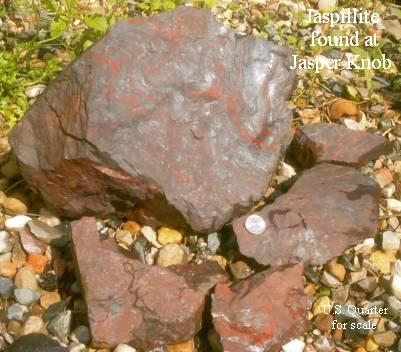 After avoiding the poison ivy, and collecting some nice specimens, we drove into Ishpeming and located the Cliffs Shaft Mine Museum, headquarters of the Ishpeming rock and Mineral Club, and introduced ourselves.




The members here turned out to be an invaluable resource. For the first time we saw the club's "rock room" collection which has minerals from all over the world as well as local. After talking with a few of the club members we drove to Van Riper State Park and made reservations through Monday. After that we drove around Lake Michigamme searching for the Staurolite collecting spot - no luck. We then located the nearby Champion mine dump and collected a few Hematite ("hem" as in the "hem" of a piece of cloth) specimens as well as quartz.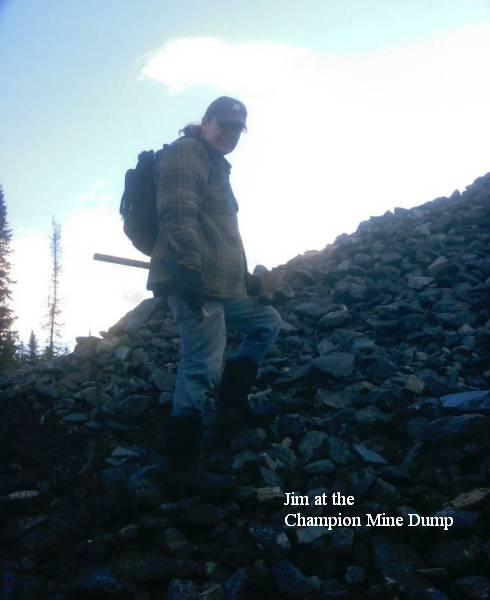 It was getting dark, so we returned to camp.



Report continued . . . . . . .