Caspersen Beach
Florida Gulf Coast
February 2006
By Joe Dunleavy
I just got back from our Winter retreat into the sunshine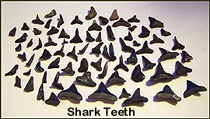 state. We had great weather and a great time. We visited friends and had great eats, the Oysters are great in Florida. My wife and I can polish off a few dozen without even trying. We even visited "Mels Diner" a few times for breakfast and dinner. No trip is complete without visiting "Sharky's" on the beach a few times for the greatest sea food around.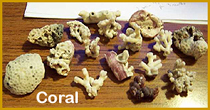 We visited Venice, Florida for a few days on the beaches and visited friends and relatives in Port Richie and Mount Dora. I spent 4 days in the Gulf, even though the water temperature was in the high 50's, and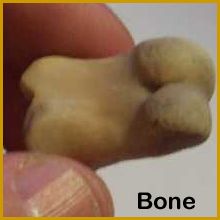 collected shark teeth one day and coral the next. The first two days we just enjoyed the beaches. I settled into Caspersen Beach and found everything I was looking for except that "Meg" tooth.
I found a bone that looked like a huge tooth but then again it looks more like a tiny leg bone, maybe from a turtle. I collected over 70 shark teeth in 4 hours and plenty of coral the day before. I found another worm shell and even an old rusty nail that came from an old pirate ship in my dreams. I gave away lots of "purty" shells and even parted with a few shark teeth to a few lovely young ladies and some small children. It's never as bright out as when you give a small child something that puts them into rapture and lights up everything and everyone around them.
Following are some more pictures of my finds.
---
CLICK THE LITTLE MINER TO RETURN TO THE FIELD TRIP PAGE