The following pictures show some of the many selenite crystals that we recovered in the 1-1/2 hours that we spent on site.
Sunday morning found us in Oklahoma heading north on the Muskogee turnpike toward Broken Arrow, home of Virgil Richards (AKA Dances with Snakes). Our ultimate goal that day was to reach Jet, Oklahoma, where we would spend the night and collect hourglass selenite in the Great Salt Plains National Wildlife Refuge. Prior to our trip, I had told Virgil that I'd let him know when we passed through his town, although I wasn't sure at that time of exactly when this would be. If we were running behind, I told him that he and his entire family could, at least, stand on the side of the road and wave at us as we drove by. Virgil told me in that case, he'd be there alone to give us his extra special one-fingered wave.
As it turned out, we had ample time to visit Virgil and I gave him a cell call when we were about 1/2-hour from Broken Arrow. We met with him and his son, Brandon, in town, where we sat down in a grocery store cafe and had a proper visit. Virgil was generously ready with a few nice rock and mineral gifts. pulling them out one at a time from various pockets. Naturally, we returned the gesture by giving him one of the Tennessee selenite crystals that we had collected the day before. As luck would have it, both men had cleared their schedules for the day and, before you know it, we were on the road following them to a special collecting location northwest of Tulsa. Their choice of sites was fortunate for us because it was in the exact direction of Jet.
We made out way out into the hilly and brushy countryside to a little known location off a dusty back road that contains petrified wood stained and impregnated with blue and green copper sulfates. After Opal managed to rub her face in cow pee, we spent about 1-1/2 hours surface collecting and scratching in the dirt for specimens.
The ground was littered with small and colorful pieces of petrified wood, fossils and barite concretions. I managed to find a nice partial log that was buried in the soil. The following pictures show a couple pieces of wood that we found.
Click on each specimen picture to enlarge
No visit with Virgil would be complete without being entertained by a few of his big gulp tales.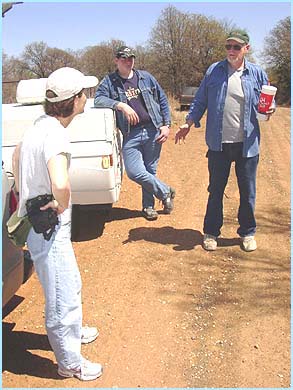 The Big Gulp Kid and Son
By mid-afternoon, we bid farewell to the Okie boys and made our way northwest to Jet. Many thanks to Brandon and Virgil for their generosity and friendship.
Report continued . . . . . . .