Rocktoberfest in Keokuk Iowa was a blast. The country was so beautiful this time of year. I ended up hunting at sites in Missouri, Iowa, and Illinois. Docia and I stayed at the Chiefs motel. It was ok. Only thing was the air conditioner just didn't work very good. Docia taught me one night how to make a gem stone tree. Very pretty. I just wish I had more time..more energy...and more money...lol
I went to my first sight called St. Francisville. This area probably had the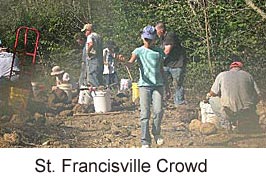 best geodes around. (my opinion) This is a new site and this was the first ever field trip to it - I hear there use to be a mine in that area but that it has been shut down for some time now. I heard that the owner is talking about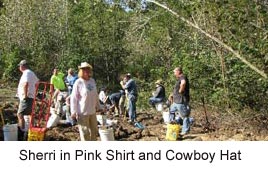 possibly opening it up as a regular fee mine area. The charge for this site was higher as they were finding a lot of pink calcite - saw a couple large geodes that were cracked there that had nice large calcite crystals. Right now the digging area is very small - in fact too small for the 25 car loads they allowed the first trip - after that they started getting the # in each party and limiting it to 25 diggers - I'm sure that was much better.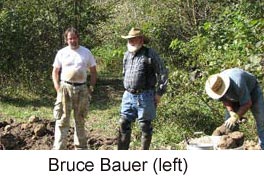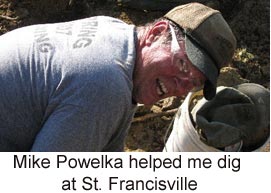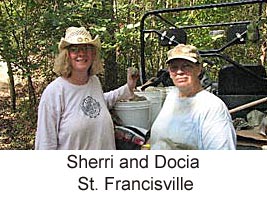 The Channel 10 news came around (Click Here for Video Shoot). I am the one in the cowboy hat with pink shirt. Docia and I both went to St. Francisville. We started digging in the shale..and I gave that up real quick. Found out that you could actually dig a hole and find geodes in the mud. Really nice ones came out of there. I have opened only two and they were both very pretty with lots of crystals. When I got home, I opened 2 from the ST. Francis area. They are perfect hollowed out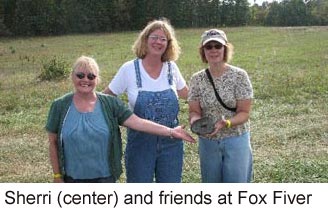 and completely lined with quarts crystal.
The next place we went was the Fox River trip. You literally walk up the river and just feel for the geodes. A lot of folks were having great luck with this. I found I had to find a place were the water was moving fast and I just sat down in it. Water came up to my neck, but I could feel around and I found a lot of geode that way..lol.
Well after that Docia and I went back took showers and returned to the tents in the HyVee parking lot. They had a lot of nice things for sale. Several pipe cutters there if you wanted to pay to have your geodes cracked.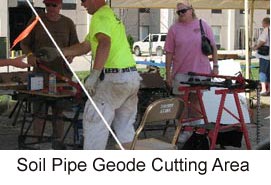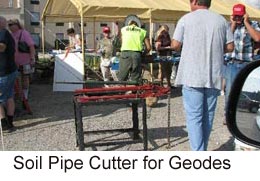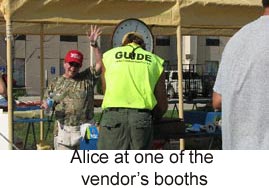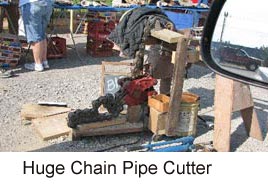 Next day I was going to go on one more hunt and then had to start home. We decided to go back to Fox River and try it again. I found some really nice coral. It was beautiful around the river and everyone had so much fun. The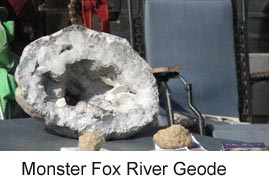 guide and I would push the flat bottom boat up to folks and load their rocks in. I was suppose to go home after that one...but even though exhausted, decided I would try one more and went to Evans Sites.
The Evans property is in Illinois near Jacob's. This was a great site too. Dried up creek with muddy and soft shale walls all up and down. You would dig into the wall and almost immediately out would pop marble to golf ball size. If you kept working it you would get bigger rocks. Unfortunately by then I was totally spent. I had a long drive home so I packed it up. Docia said that the couple that I was sitting right by and talking to got a really rare geode. I think she said it was called a dew drop, the 2nd most rare form for the area. The geode was already cracked and came open when they removed it from the sand/mud - one side was clear but the other one was filled with dirt/sand etc. I went back to the Evans site for my final dig this morning, it was hot and extremely humid and the mosquitos were intense, but I still managed to fill a couple more buckets. Mr. Evans told me that his property is available all year - don't know if any of you have been to his place in the past - they have lived in Florida for the past couple of years. Before they had moved he kept the brush cleared so that there was the possibility of some air movement down in that gully and he plans to work on clearing it out again to make it a more pleasant location to dig. He also has geodes all over his yard that his son hauled up over the years and dumped around flower beds etc. and they are available to going thru also. He says that the prettiest one he ever opened - and he didn't open many as he said rocks are just not his thing - was filled with copper colored crystals that he gave to a neighbor who was terminally ill to help brighten her final days.
I had a blast and I am looking forward to the McRocks trip next spring (sure hope there is one) to go again! Hopefully the weather will be better - it was in the low 90's the last 2 days and HOT! Made some new friends, saw a couple I haven't seen in a few years, and had a lot of fun. Plan to get together with a couple friends in about a week and have a geode opening party - will let you all know how that goes.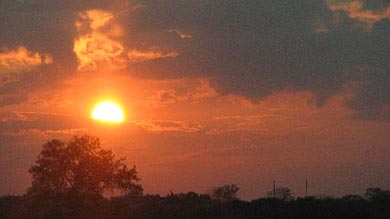 ---
Hey was great meeting Docia and Sherry at the Keokuk Rocktoberfest, while wading in the Fox River on Saturday morning. Luckily it never did get more than top of the knees on us, but Sherry evidently likes to sit on the river bottoms and get really wet. the geodes that came out of the Fox River have a black skin to them and most of the ones we were pulling from the bottom were bowling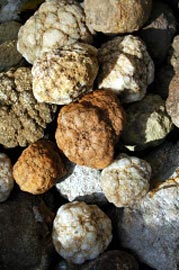 ball size geodes, some heavy and some light, hard to tell. Some people who have hunted there before, were picking them up and trying to rattle them near their ears, trying to hear water sloshing around inside. I was just trying to judge by the weight of them. There was a lady on Friday afternoon that picked one up and it had a hole in it already, water and mud came pouring out of the hole and she decided to take a chance on it, brought it back to the HyVee tents and had it cracked open with a pipe cutter. When it cracked open, it sounded like a small explosion/firecracker, and when they opened it up, it was very beautiful smoky crystals inside, she had a very big and beautiful geode to take home. She evidently found hers near the Beaver Dam, whereas most of us walked upstream about two hundred yards from there, to a newer area on the river. However there were several people saying they found several geodes on the bottom at the base of the dam, too.
I went to the St Francisville dig on Friday afternoon, shortly after arriving there, and it was very hot and humid. Walked around the side of the hill, there by Hwy 27 just south of the Des Moines River and the property owner had dug a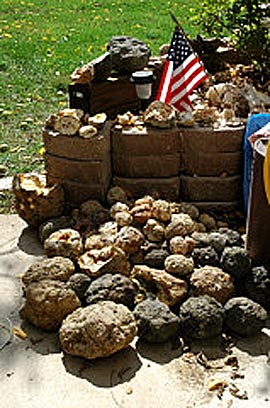 small short trench in the shale, which is where the morning diggers had started, til someone started up the hill in the dirt hillside and began digging and finding them laying in shallow depths in the soil. Once that discovery was made, several others apparently relocated as well and several geodes the size of bowling balls and larger were soon being found. I walked in Friday afternoon with a large group and most of us began digging in the dirt as well and soon several of us were hitting good size geodes. Despite drinking lots of gatorade, I overheated and sat down for awhile, and watched as a lady from Colorado dug up a geode, that required the assistance of our guide, TJ, and three other men with shovels and a pry bar, to remove the geode from its resting place. After thirty minutes of digging around it and prying with the bar, it was finally unearthed and required two men to lift it out of the hole. It was placed into the front end loader and taken to the property owners garage to be weighed, and came in at 273 lbs, which cost her seventy cents a pound, since it wouldn't fit in the buckets she had. Supposedly there was another geode that came from this area that weighed around three hundred pounds as well.
I didn't get a chance to check on any other sites while there, that I had some information about, due to the height of the Des Moines River. Several storms up stream had dumped a lot of rainfall on the state of Iowa and the Corps of Engineers were releasing a lot of water from the dam at Des Moines so it was flowing pretty good while we were there. Once my contact lets me know that its back down again, I plan to return and check out some areas upstream. Between my Kentucky geode trip and overheating on Friday, I left Saturday afternoon, after the Fox River hunt and came home to rest up. It was great meeting Docia and Sherry, and many other new rockhound friends there, some even from my area, and working with Bruce and Kelly as well.
---
The following photos are of one of the big geodes found at St. Francis (I'm the one in the dark blue shirt and tan pants by the tractor). The last three pics are of the geode crackers. Hopefully we will be attempting to crack the big one in the near future as my brother works as a fireplace/stone worker and has the proper tools to cut stone.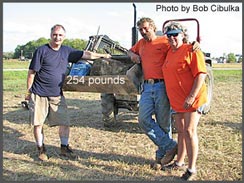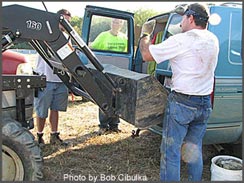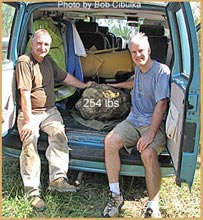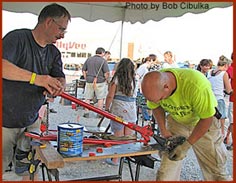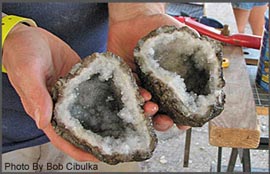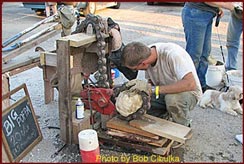 ---
My butt is tired! I'm the one in the video that is pulling a bowling ball one up out of the top soil with a pick and the wife is picking it up. The news crew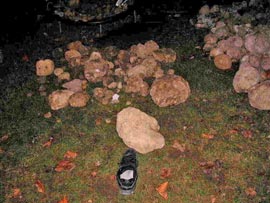 had just started filming were I was digging and everyone else was in the hard shale pit blasting away with picks and hammers. I remembered what the guy told me last week about them just picking them up from the dirt so I started a hole away from the other by about 6 yards from the pit they had started. With in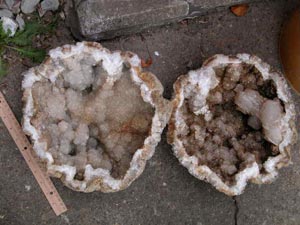 about 15 minutes I had 8 bowling ball hollows pulled out and lots of smaller ones (potatoes) EVERY hit with the pick turned up nice geodes. The news crew stuck by us and I asked if they had any of that yellow caution tape in the new van because I knew it would be long before I would have company. The hunt leader came over and picked up one and held it high and yelled out "who wants to feel what a big hollow geodes like". That pit cleared out like they hit a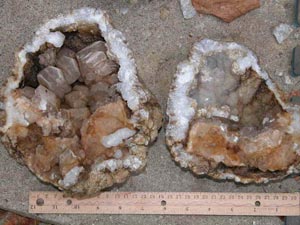 pocket of bad air I tell ya. This was after an hour of walking around finding nothing at all worth keeping so I was real happy for everyone that I found that top soil area. There wasn't one person in the pit within a few minutes of the guide yelling out. Looked like a WWII bombing field by the time we left a few hours later. I pulled 8 buckets out of there and one that didn't fit in a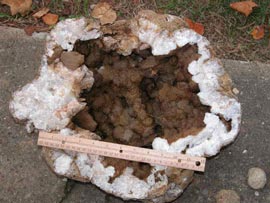 bucket. Later that day they said a 275 pounder came out 3 feet from where I was digging and the next day I helped them pull out a 250 pounder from the same place. The huge ones were deeper, about 3 feet down but and in a clay layer. Hardest darn geodes to clean up I have ever seen. The biggest one is not in the picture (would have to use a fish eye lens to get it all in the picture... snicker snicker). I didn't do worth a darn at the Fox River hunt except for that nice softball size in the shale plate I found, it was almost my favorite geode of the whole trip. Most of the fox river stuff I have opened was solid, I think that fast water area we were working was solids and the light stuff would probably have been laying just past that where the river had slowed down. I have no clue how it stayed together rolling along on the bottom of the fast moving water.

As you can see its a crazy thin matrix and a softball size geode. I had my arms in the water to my elbows moving shale and rocks around to find geodes and i picked this plate up to throw it when I saw the geode stuck in it. Would be fun to try to take the cap off of one side. The bottom of the shale plate looks like it was cut to sit perfect.
---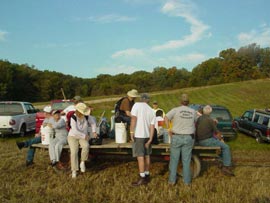 It was indeed a good time although the temps hit record highs Saturday for the area and possibly Sunday too - Friday was only about 2 degrees below the record high for the date. I met several who will no doubt come visit this area in the future for a druse hunt - I had taken some samples of various rocks/minerals to Sherri from this area - she couldn't believe that everything I had with me was for her but you know I love to share.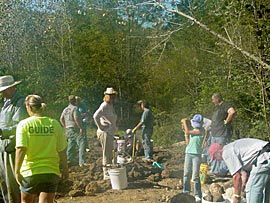 The crowd digging in the St. Francisville dirt area that Bruce located.
I have my buckets all unloaded from the back of the blazer and everything is either on my wire mesh trailer or in milk crates so that the exteriors can be cleaned of some of the clay and/or mud. Those found at the Evans site are even harder to clean then those from St. Francisville - gray clay which makes them even harder to tell if they are light or ???? and it sticks like glue!
Met and exchanged email information with several new rockhound friends and am thinking of joining the rock club there so that I have the option of joining them on field trips in the future too - gives more chances to find one during one of the weeks that my husband, Floyd, is home to go along.
Bruce - you missed one person who did not race to the dirt area at St. Francisville, I only headed over there once the crowd started thinning out and I'm sure that I missed out on some good digging but I hate to crowd in on someone else's find - let others get pretty much what they wanted and then got in there. Most of what I got was from goose egg to softball size but that is fine with me. Have a couple larger ones, one of those came from over in the shale area and rattles. I make gemstone trees and I think that I will get the copper tubing as for refrigeration use or look at hardware stores for some very heavy, yet flexible, copper wire and make one with the small geodes - perhaps make it more of a flat wall mount type item.
Again it was great meeting Sherri, Bruce, Kelly and James - what a blast we had.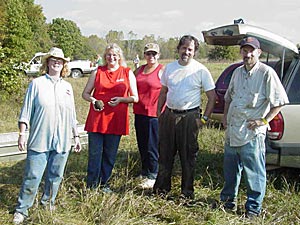 Left to right - Sherri, Kelly, Docia, Bruce and James
Also and I think the name is Bob or Rob - who said he had just found this the McRocks message board recently and has been lurking - he was also at Fox River and recognized Sherri by her red flyer wagon story. Look forward to seeing you all again and meeting lots of the other posters next time.
---
CLICK THE LITTLE MINER TO RETURN TO THE FIELD TRIP PAGE