28 members of 4 southeastern rockhounding clubs banded together for a fine day of collecting at the Nantahala Talc & Limestone Quarry in the picturesque Nantahala Gorge of Swain County, North Carolina. Represented were the Southern Appalachian Mineral Society, Georgia Mineral Society, Rome Georgia Mineral Society and the Catawba Valley Gem & Mineral Club. The weather could not have been more cooperative; the temperature reached the comfortable mid-fifties under a mostly clear blue sky. The beautiful Fall colors were a compliment to the quarry's colorful banded limestone.
On hand to greet us at the quarry was Jack Herbert, President Emeritus, and former owner of the quarry. Jack and his family sold the quarry late last year and he was kind enough to give of his time and energy to join us there to represent the new owner. He had foregone some important family stuff to be with us so we were especially grateful for his willingness to hang out with a bunch of silly rockheads.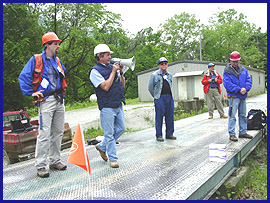 Jack Herbert (with blow horn) at May 2006 42nd Forum on
the Geology of Industrial Minerals Nantahala Field Trip.
(see 42nd Forum Field Trip for more)
After filling out the necessary waiver forms and receiving a brief historical perspective and safety lecture from Jack, we caravanned from the office into the heart of the quarry. We parked along the lowermost bench and everyone headed off in various directions in search of rock and mineral treasures.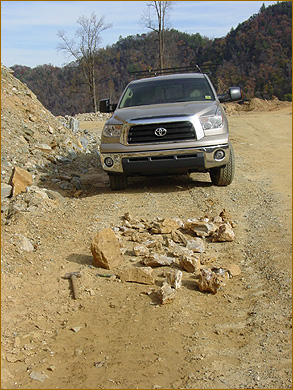 Those of us with the skill and tenacity to match their 4-wheel drive vehicles drove the steep rocky road that led to the upper reaches of the quarry. Jack pointed out an area near the top with significant calcite crystallization that the new owner had asked that we not disturb. Naturally, we were only to happy to oblige as we were thankful to simply be allowed in the quarry and there were plenty of other rocks on which to bang.
It didn't take long before Chrissy, Jeff Deere and I discovered another area that also seemed to be ripe with calcite crystallization. Drusy and dogtooth calcite crystals covered many surfaces and pockets within the weathered limestone. With a little careful banging and prying, it didn't take long for us to assemble a mess of specimens. There were plenty of extras to go around as we were soon joined by many of the other rockhounds who were thrilled with the mineral abundance and fantastic scenery.
Lee McDaniel & Joe Enderle
Joe Enderle
Chrissy with banded limestone
The following pictures show some of the fine drusy dogtooth calcite specimens after a good cleaning with a pressure washer that Chrissy and I were thrilled to take home.

Click on each specimen picture to enlarge

Click on each specimen picture to enlarge

Report continued . . . . . . .