I have been itching to take a crack at the Corydon Quarry ever since I saw specimens that were collected there during a Dixie Mineral Council sponsored field trip hosted by the KYANA Geological Society of Louisville in April 2004. However, access to the quarry is strictly limited to local area clubs who have developed good working relationships with the quarry owners and managers. One such club that has been permitted periodic access to the quarry is the Three Rivers Gem & Mineral Society (TRGMS) of Fort Wayne, Indiana (
TRGMS Website
). We were indeed fortunate when we were invited by TRGMS President, Byron Thomas, to join him, his club and the Tulip City Gem & Mineral Club of Holland, Michigan on a field trip to the Corydon Quarry on Saturday, May 19, 2007. A big thank you to Byron for allowing us to tag along!
The Corydon Quarry contains a great variety of minerals that are found in pockets and vugs contained mostly within the Mississippian-age Saint Genevieve Limestone. Perhaps most impressive are large crystal lined vugs that contain white to yellow blocky, rhombohedronal, scalahedronal or dogtooth calcite crystals that are often found adjacent to or on a bed of pink to yellow bladed dolomite crystals. We would find all of the above on our morning spent there.
Since we were to meet at the quarry at 7:00 AM Saturday, we made the 6-hour drive to Corydon from our home near Asheville on Friday. Upon arriving at the Super8 Motel where we would spend the night, we saw our pal Everett Harrington and Steve Garza in the parking lot. It was a typical site; one rockhound showing another rockhound his finds from an open car trunk. Everett and mother Celia had spent most of Thursday and Friday collecting geodes in the Harrodsburg, Indiana area. They had done quite well and I'm sure that you'll be hearing more about their trip when he completes his own report. While we were standing around looking at specimens and shooting the bull, none other than Mr. Jay Loch and his lovely wife Diane pulled up. This was a pleasant surprise for us, as we had not heard that they were coming.
As is often the case before a big dig, I didn't sleep all that well the night before. Our falling asleep wasn't helped by what sounded like an Irish River Dance troop practicing in the room above us until well after midnight. But, exhaustion finally took over and we managed about 5 hours of sleep before getting up around 5:30 AM. After a quick biscuit and gravy breakfast with the Harringtons and Lochs, we made the 5-minute drive over to the quarry entrance where the mine manager was sitting in his truck. Since we were the first to arrive, we started a line on the entrance road and proceeded to wait for the rest of the rockhounds to arrive.
After a brief safety meeting and the obligatory signing of liability release forms, we were led into the quarry. We parked at various locations on the expansive bottom level and headed off in various directions to attack the huge boulder piles. Sledges, large and small, were the tools of choice to break the pocket-containing limestone.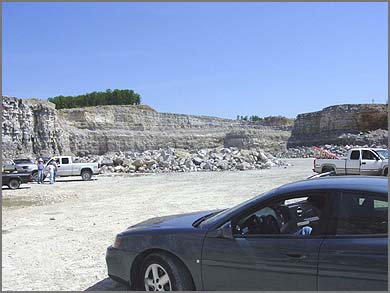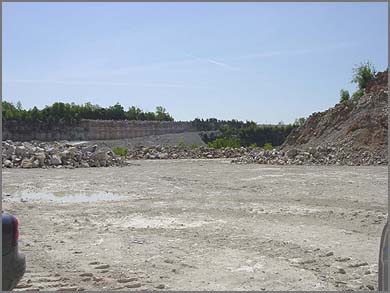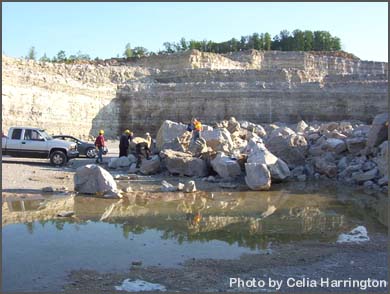 Despite the heat, Jay stayed well hydrated due to Diane's unbridled enthusiasm for small bottles of ice cold water.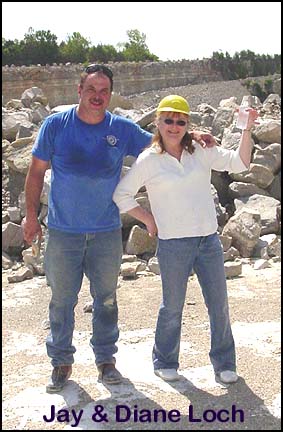 As the morning progressed, I found a few keepers, but nothing to write home about. This is not to say that tons of quality specimens had not been recovered by other rockhounds; Chrissy had managed to find some elusive fluorite specimens, both yellow and deep purple. I knew that I had better get on the stick, because we only had until noon to collect.
During earlier reconnaissance, I had noticed that Jon Mull with the Holland club had found and was working a couple very large boulders that contained some decent sized crystal lined pockets. By mid-morning, I made my way over in that direction to see what else could be found in that general area, as it seemed that where you found one pockety rock, you'd tend to find others. I soon discovered a large boulder that appeared to contain some smallish pockets. Just as I was setting up to take a mighty swing at the rock with my 16-pound sledge, Jon approached me to tell me that he had all but given up working his spot and that I would be welcome come and take over if I wanted. He said that he had done about as much as his limited tools would allow and he had plenty of fine specimens to show for his efforts.
I made my way over to Jon's spot to inspect the boulders that he had been working. It appeared that the remaining vein/pocket system on one of the large boulders was in a tough spot in terms of realistic specimen recovery and I could see why Jon had all but given up. To make matters worse, the rocks were somewhat precariously perched on a sloping spoil pile. It was obvious to me that it would take some careful rock moving and busting to retrieve any specimens - just the sort of challenge that always seems to find me . . . I quickly went back to my truck and retrieved the proper tools for the job, including my 6-pound sledge, an assortment of pointed and flat chisels and a large prybar. After all, time was quickly waning and I had lots to do before the noon whistle blew!
It didn't take long before I realized that the quarry limestone was surprisingly cooperative. Applying enough force with a pointed chisel and sledge along the rock's natural fractures tended to make it break right where I needed it too. With Everett and Jon's help, I managed to recover lots of excellent specimens. Some of the rocks that broke loose were so large that it took all three of us to carry them down to the quarry bottom where they could be properly cobbed. As it turned out, this single boulder produced enough specimens to more than satisfy Jon and me and there was plenty of material left over to be picked up by a few others. A big thanks to Jon for allowing me to finish off his rock and to Everett for his most valuable assistance!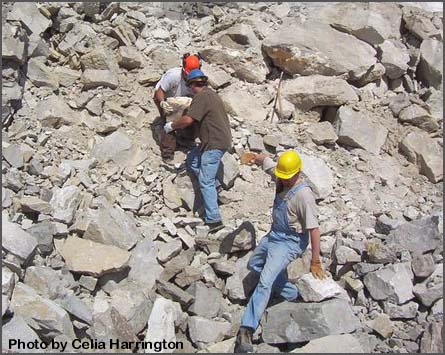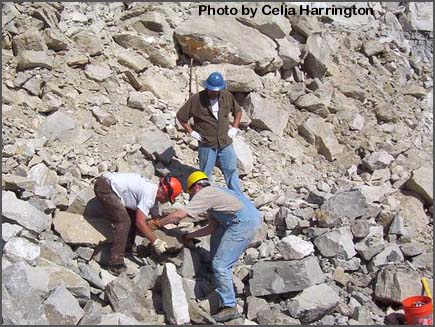 About the time that I had finished working the boulder, Chrissy came over to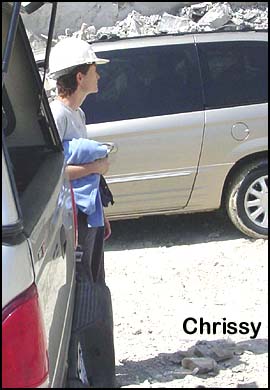 tell me that she had found a decent sized pocket that contained large calcite crystals on a bed of pale-pink dolomite. Knowing that I had yet to pack all the specimens that I had recovered from the big rock and barely had enough time to do so, I hurried over to her rock to take a look (actually, Celia Harrington drove me as time was running out and it was clear across the quarry). Sure enough, it was NICE! But, the pocket was on the bottom-half side of a very large boulder and it looked like it would be a real bear to recover intact - and that was if it was possible at all. Knowing that time was of the essence, Chrissy told me not to worry about it. But, after seeing the beautiful pocket and being the obsessive person that I am, I said that I would allow myself only 5 minutes to recover it. Like a man possessed, I started banging away with sledge and chisel. I'll be darned if that rock didn't split perfectly so that we were able to recover about 90% of the pocket - and with 2 minutes to spare! The rock gods were way too kind to us that day! Again with loyal Everett's help, we were able to get all the specimens wrapped and stowed, along with all our tools and Opal, in the back of the Dodge.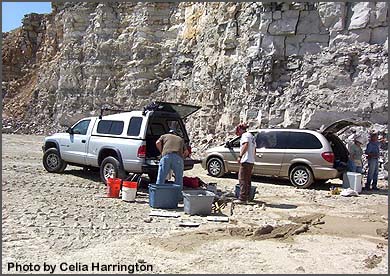 We all proceeded to make our way out of the quarry by around 11:45. An abundance of quality specimens made for many happy faces, although there are certain individuals who never seem to like having their pictures taken.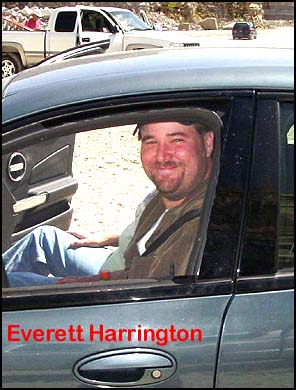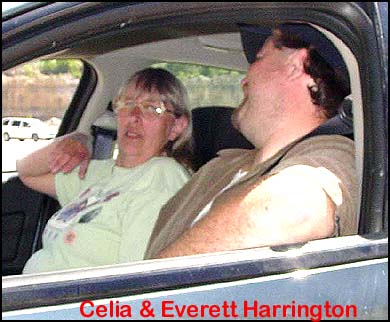 The following pictures show some of what Chrissy and I recovered that morning.
Click on each specimen picture to enlarge
Click on each specimen picture to enlarge
Remember that access to the Corydon Quarry is restricted to local area clubs who have developed good working relationships with the quarry owners and managers. You may be able to work something out on behalf of a sanctioned (SFMS, AFMS, etc.) club with Byron, but please don't attempt to telephone the quarry yourself as doing so may risk access for everyone.
---
CLICK THE LITTLE MINER TO RETURN TO THE FIELD TRIP PAGE