Planning for this trip began in February of 2008, when after a quick search I found the website of the
Boulder Creek Amethyst Mine
. It was a fairly new mine, and by the look of the photos, the owners Chuck and Linda Anderson were finding some really nice Amethyst with excellent deep purple color. After a couple of emails I didn't hear from Chuck for a while; it turns out Chuck is a very busy guy who does prospecting for other companies as well. Still, Litha and I prepared for our coming trip to Canada by getting our passports well ahead of time.
About two weeks prior to our planned trip I sent Chuck an email to find out if we were still on for our visit to his mine, and he responded back confirming our plans and giving me his new phone number. I tried to call several times over the next week to find out the details of where we would meet but had no luck with the phone. Then finally on a Tuesday morning with less than a week to go before the trip, as I was getting ready to leave for work in the morning the phone rang; it was Chuck on the other end. He said we would meet at the Pass Lake truck stop on Thursday the 22nd at 9:00am. My day was made even before I left for work. We were goin' to Canada!
After our return from Canada, I planned on looping through Michigan's Keweenaw region for a few days of copper collecting before returning home.
Knowing that this would be the longest rockhounding vacation we had ever attempted, I had the van checked out by our local mechanic. I got a tune up, oil change, even had a belt replaced that was cracking, and everything was go for our trip. It just goes to show that you can't plan for everything.
Monday May 19th
This turned out to be a great day for driving, with sunny skies and not a lot of traffic. We made good time and crossed the Mackinaw Bridge into the UP in short order. We stopped at one over priced garage sale and moved on without making a purchase. Our campground for the night was at Gene's Pond near Norway Lake, a favorite of ours since there are usually few other campers if any. The black flies were on the hunt, so we stayed in the van and rested up for the next day's driving.
Tuesday May 20th
Since we were so close, my first planned shopping of the trip would be at Kingsley North for some lapidary equipment. I had located two addresses, one in Iron Mountain, and the other in Norway just a few miles east of Iron Mountain on US2. Iron Mountain was closer so I decided to stop there first, but I hadn't taken into account the fact that this little 'corner' of our state is actually in the central time zone, and instead of 9:30 am it was 8:30 and the office wasn't open yet. Instead of sitting there and waiting I decided to head east to Norway and try my luck there. We got there just a few minutes before 9:00 (or was it 10:00??) and the office was open. Inside I told the receptionist what I needed and she got out the latest catalog to get the item numbers. While waiting I had a look around the rock room and saw one nice little piece of Zoisite with Ruby. Knowing that I would have to bring anything I bought here back through customs, I decided not to complicate things, and just bought the equipment I needed. It was my first time stopping there, and I'm sure it won't be the last. After that we drove back west through Iron Mountain into the hilly country of western Michigan and Wisconsin. That's when I noticed the first problems with the van's engine, laboring on the hills. Still I drove on hoping it wasn't anything serious. We continued through western Michigan into Wisconsin and stopped at Amnicon Falls Park to rest and get some photos. This is a great park with some beautiful falls and interesting geological history. This park marks the location of the Douglas Fault, where you can see two distinctly different types of rock depending on where you look.
After a short hike and some photos we continued into Superior for some supplies. Having made such good time so far that day we decided to see how far we could get into Minnesota before finding a campground for the night. We drove over the big 'Blatnik bridge' and into Duluth, with the van still struggling with the hills. Going north through Duluth, the multiple tunnels were quite an experience. One observation we made was Minnesota's apparent obsession with pies. Pies stands and shops everywhere. My guess was it must be good land for growing berries. We made our way north along the western shore of lake superior on hwy61 and as the day moved on one of the highlights of the trip was seeing a big cow Moose grazing in the ditch next to the highway. It was the first time either of us had seen a Moose in the wild, and Litha wanted to turn back around and get a picture, but with the van driving as it was I didn't want to slow down. We finally stopped for the night at Cascade River park. I got us registered and we took our spot in the campground. With the camping area elevated high above the highway and lake and exposed to the wind, this would be one of the coldest nights of our trip.
Wednesday May 21st
We got up early and continued north on hwy 61, bought gas in Grand Marais, then went north to the Canadian border. Our first big surprise was when we had to give up our two small cans of pepper spray, which is apparently banned in Canada. After being cleared by immigration we stopped quickly at the welcome center for better maps of the Thunder Bay area and continued north into Ontario's mountainous Lake Superior region, with the van continuing to labor up the hills. It wasn't long before we made it to Thunder Bay, where we found a bank and exchanged our US funds into Canadian. After that I decided it would be wise to get the van looked at. We located the local GM dealership and lined it up to get looked at. I didn't want the van to break down on us while we were out in the Canadian wilderness the next few days. While waiting we went next door to the 'Friendly Bar and Billiards' to get some lunch. After that we returned to the GM waiting room. Luckily I had brought along the latest Rock and Gem magazine, and spent some time reading that. After a while we were offered a loaner car. We learned that the closest shopping mall was the Intercity Shopping Centre, so there we went to burn some time. We had doughnuts and soda at Tim Horton's and looked around for a while, then returned to the GM dealer. We didn't wait long and the van was 'done'. Apparently all they did was switch a couple of spark plug wires which had been incorrectly installed earlier in the spring, and now the van drove like normal. We drove north on hwy 11/17 and located the Pass Lake truck stop where we would meet Chuck and Linda Anderson the next morning. Right across the highway from the truck stop is the road to Pass Lake, and the Sleeping Giant Provincial Park where we had reservations. This is one of the biggest parks I have ever camped in. It took us more than ½ hour to drive from the highway to the campground, and at that time of the day there were lots of deer, thin from a hard winter, grazing along the roadside. We drove into the campground and confirmed our reservations, then headed to our campsite. This campground is inhabited by lots of very tame deer.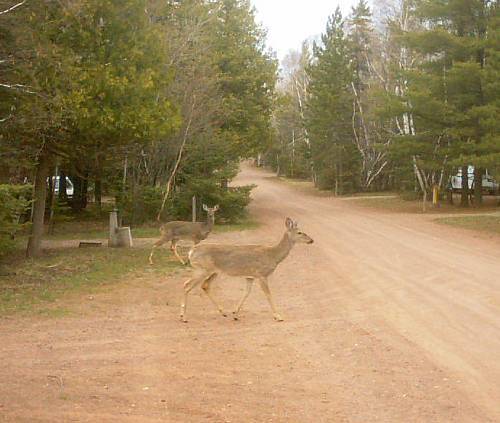 One came within 10 feet of Litha and I, obviously looking for a handout, but feeding the wildlife is discouraged by the park, you don't want the deer to get dependant on an unreliable food source, so we didn't give it any food and it moved on. Next I plugged my razor into the campsite outlet and had a shave. While doing so, the lady in the camper across the way walked by and asked where we were from. I said Michigan, and she remarked that we had come a long way too. She said she was from Ottawa, Ontario, and she was going all the way to Banff, British Columbia, near Calgary. Now THAT'S a long way. I hope her pop-up van performed better than our Savanna did. After that we settled in for a peaceful night, hoping to hear Wolves howling but it wasn't to be. I worked on this report until it was too dark to write, then climbed into the sleeping bag.
Thursday May 22nd
We got up and had our Raisin Bran breakfast and left to meet Chuck and Linda at the truck stop. We got there a few minutes early, so we went into the truck stop restaurant where we got some pie and soda. While eating Chuck came in and introduced himself. He said that he figured we must be the Americans because we were the ones eating 'cake' for breakfast. That got a good laugh from us, and he said he would wait outside, and to take our time. We finished quickly, paid our cheque (in Canada it's a cheque, not a check), and went outside to meet Linda. Next we hopped in the van and followed them north on 11/17 through some road construction and to the two track that led to their mining claim. It's on a steep hill, and you can see the Calcite vein going up the hillside which contains the Amethyst.
There were broken pieces of Amethyst scattered all over the hillside, and I followed Chuck up the hill. He showed me three different levels where I could collect. There were a couple of deep cavities where Chuck needs a ladder to enter, but I wouldn't be collecting there this trip. Linda told Litha that they had to cover the cavities in the fall to prevent them from filling with snow. Down in the cavities the snow would last for a long time, preventing them from mining. My collecting would be closer to the surface. I got out my 3 pound sledge and chisels and found a nice group of Amethyst crystals to try and liberate from the calcite. This was actually my very first attempt at retrieving crystals from the host rock, and I broke quite a few nice crystal points loose before getting a cluster to break away from the calcite. Later I regretted not picking up those points for use in lapidary projects, but, live and learn. While chiseling away I smacked my left hand with the sledge several times bruising it pretty good.
Meanwhile Litha took photos and collected some nice pieces right on the surface. Here's a picture of one of the nicest she found that morning.
At some point in the morning Chuck returned from his 'walkabout' at the top of the claim with a few unexpected surprises. He found a rock with Malachite and Azurite and let me keep some. Here are the photos.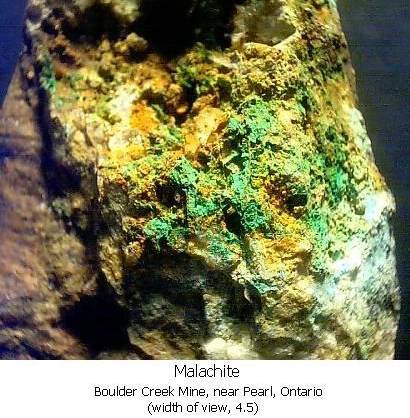 Apparently this area contains Copper and Silver, and you can occasionally find related minerals like Malachite, Azurite and Galena. Many of the specimens I collected contained Galena crystals, not cubic like you've seen else ware, but shiny silver pieces often showing a blade like structure. While up there, Chuck said that he saw a pile of fresh Bear crap and heard a thud nearby that made his heart race, but it turned out to be a deer.
We collected until about 1:00 in the afternoon and stopped to eat some sandwiches. After that Chuck and Linda took us to their second claim where nice 'yard rocks' were spread out near the two track. I again followed Chuck up the hill where he showed me a pit that was the old shaft adit to a Silver mine from the 1800's. There was still snow in the bottom, and I got Litha to pose next to the pit, but you can't tell from the picture how deep it really was. She was quite safe, keeping a tree and several feet between herself and the pit.
At one point Litha got Chuck, Linda and I to pose for this nice photo.
We continued collecting until about 3:00, and toward the end of collecting Linda found a huge boulder on the other side of the two track with calcite and Amethyst. Chuck broke off a few nice plates and handed them to me to keep. Here's one of the clusters with deep purple crystals.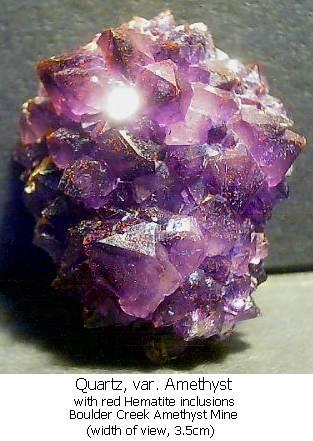 Here's a picture of the nicest piece I personally collected. It was from the second claim, and the crystals were covered in a red iron oxide mud, but I could tell it would be a nice one. Super Iron Out cleaned it up pretty well.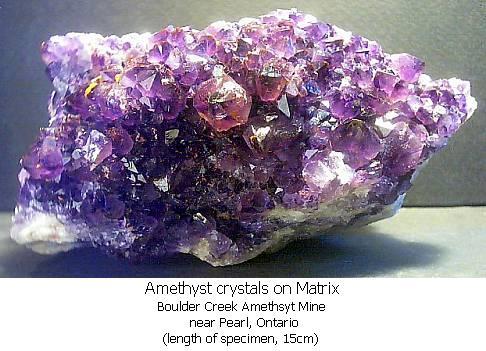 I set aside a few larger 'yard rocks' to take home and prepared to settle up with Chuck. Since I didn't have exact change, Chuck said, "take another rock." While looking over the rocks that were spread out, so hard to decide between so many beauties, Chuck handed me the nicest specimen I would take home on this trip. It's a piece Chuck collected on the first claim, and I'm very proud to have this one in my collection. I didn't realize until photographing it that from a certain angle it looks like a big fish head. Maybe a rainbow trout?
Here are more pictures of what we took home that day including a specimen with a beautiful caramel colored vug of Citrine, and a specimen with some unusual Quartz phantom crystals.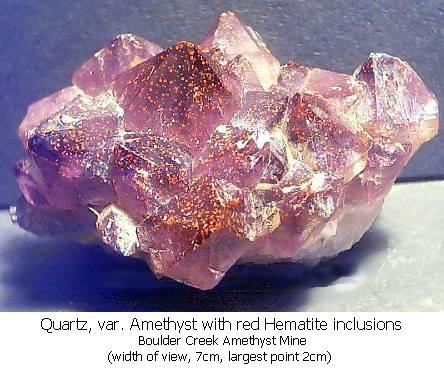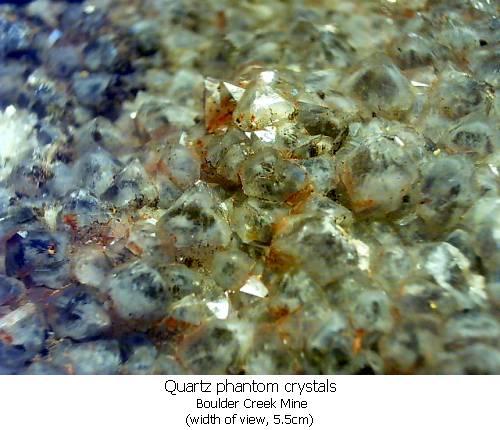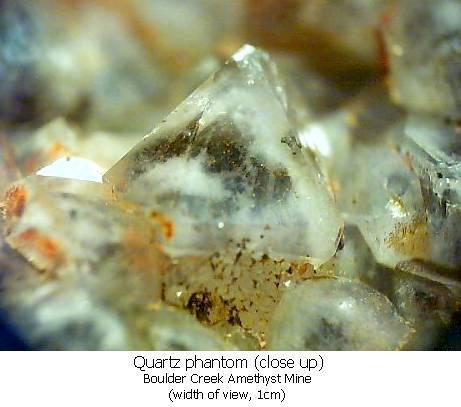 Chuck prepared to leave and I thanked him for the great experience. He asked if I could find my way back to the highway and I said yes, so as I was wrapping up my finds, Chuck and Linda drove off. After wrapping up all our goodies and situating them in the van we left the collecting site. On the way out I took a right when I should have turned left. We drove until we came to a big dump truck that was blocking the two track road. We knew this wasn't right, so I carefully turned the van around, got back to the intersection and headed in the right direction. At one point we noticed something black beside the road ahead. At first I thought it was a black timber wolf, but we were shocked when it stood up to look at us, and it was a baby Bear! Instantly I said to Litha, "ok, where's the mama?" The bear cub ran across the two track near a small stream, and I slowly approached in the van. As we got there my question was answered. Off in the brush, but in full view was a female Bear and two cubs. I was able to get a couple of pictures and then slowly drove off, not wanting to disturb the little family. Here's the best picture I got. The mother Bear is in the center, the dark spot between her head and the stump is one of the cubs, and the dark spot covered by the pinkish bush to the right is the other cub.
What an absolute thrill, and something we'll never forget. But that wasn't all. As we continued down the two track, there appeared another black spot next to the road. This time it was a single adult Bear, which stood up to see us and ran off into the bushes before we could get its picture. Wow, two Bear encounters on one two track road! This, and the great Amethyst we were taking home made this whole trip worth while, and it's a good thing, because our van troubles weren't over. We had considered contacting another mine owner and collecting more the next day, but our boxes were nearly full already, and I still planned on returning to Michigan's Keweenaw peninsula for a few days of copper collecting before we returned home. We made it back to the highway and returned to our campsite, bought some firewood, and cooked some veggie dogs over the fire for dinner. When finished we climbed into the van, and Litha did some reading while I worked on this report until dark. It was a great day, and though my left hand was bruised and battered, I'm sure I slept with a smile on my face that night.
Friday May 23rd
This day we decided to return to the US, but there was one hiking path we wanted to see first which led to an old cemetery. We checked out at the park headquarters, bought some ice, and got directions to the path. When we got to the area we were told to park at, it seemed a lot farther in person than on the map, so we turned around and looked for the actual entrance to the trail. Driving down this road gave us another surprise. It actually led to the small but famous mining village of Silver Islet. I had read about the great Silver found here, but never thought I could drive right to the village.
When we got there the old store was closed, so we turned around and headed out of the Sleeping Giant Park. On our way out we saw several Porcupines and something with a bushy tail that looked like a gray Fox. Back at highway 11/17 we stopped at the Pass Lake truck stop and bought a t-shirt that says, "Canada Rocks, Thunder Bay." Then we left for Thunder Bay and ate some fast food, and continued on to the American border. There we got in the line of cars, mostly trucks towing fishing boats, and when it was our turn, I drove up, handed the border guard our passports, answered a few questions, handed the guard our keys so he could look inside the back door of the van, then he returned our keys and said, "Have a good day." We happily headed into Minnesota and continued south. We stopped at one beach north of Grand Marais to look for lake agates but had no luck. Then we stopped in Grand Marais to exchange our Canadian cash into US funds (with a 4% surcharge for exchanging cash, this was a losing prospect on both sides of the border). Next we stopped at the local grocery store and got some supplies, then continued south. We didn't stop until we got to Duluth, where I missed an exit and had to turn around. Back on track we drove over the bridge to Wisconsin, coincidentally catching the 5:00 rush hour, and stopped at a rest stop in Wisconsin to eat some dinner and let the van cool for a bit. After that we drove into the hilly country of northeast Wisconsin, and I noticed the van begin to act up again. We made it to Ironwood Michigan, which is right on the border with Wisconsin, and stopped at a McDonalds to let the van cool and have some ice cream sundaes. We left Ironwood, but the van problems continued, struggling up each hill that we approached. We finally made it to our designated campground, Bobcat Lake campground near Marenisco, and registered for the night. Sometime in the night I came to the conclusion that with all these van problems we should just head in the direction of home. The Keweenaw would have to wait until August.
Saturday May 24th
Before leaving Bobcat Lake I added water to the coolant reservoir and we left in the direction of Iron Mountain. As we were driving east on US2, a sweet little goldfinch flew up and was killed instantly, its little neck wrapped around our antenna. It was as if nature was saying, "May the bluebird of happiness splat on your windshield!" I slowed the van down and the poor bird dropped off. Heartbroken, we continued down US2, with the van laboring up each hill and slowly getting worse all the time. In the town of Crystal Falls we saw an older lady just putting out a yard sale sign, and I figured the van could use a breather, so we turned around and looked through her stuff, buying a few things for resale in my antique booth. After that we continued down US2 and made it to Iron Mountain to have some lunch. While sitting in the Wendy's parking lot we were surprised by a Memorial Day parade of motorcycle veterans, with everyone honking horns and waving, it was quite inspiring. After lunch was finished, we continued east on US2 and stopped at the Iron Mountain Iron Museum, hoping to get to take the mine tour, but we just missed the previous tour, and the next one wouldn't be for another hour, so we got a sweatshirt, t-shirt, and a print of an old mining photo, and continued east on US2. Thinking back now, I should have stopped at the Kingsley North in Norway for that piece of Zoisite with Ruby that I had seen the previous Tuesday, but I didn't, we kept on until we got to Escanaba. I noticed a GM dealer with people outside, so I pulled in. They didn't have mechanics on duty that day, but suggested a BP station down the road with the only mechanics working on this Memorial Day weekend Saturday. Luckily they got to work on it right away. They hooked up their fancy scanner, which reprogrammed our timing, and the van drove like new again. So I was thinking maybe our vacation wasn't over yet like we thought! I thanked the mechanic for saving our vacation, and we turned around back toward Marquette County. The new plan was to spend the night at Van Riper State park and head up to the Keweenaw from there, BUT, about 30 to 45 minutes into our drive I noticed that now familiar loss of power on acceleration, and the sinking feeling in the stomach returned. We made one stop on our way to Van Riper campground, it was the Lake Ellen Kimberlite Prospect. The sun shined into the pit warming things up and we searched the walls for that tell tail sparkle of Pyrope Garnets.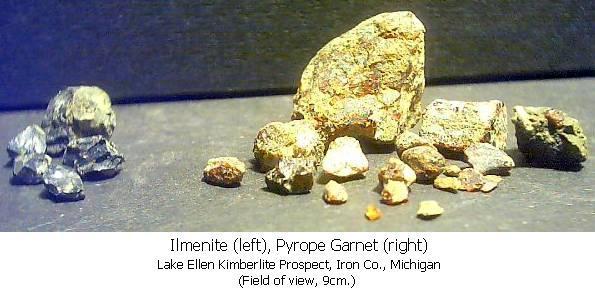 When I'd had enough, we continued on north toward Van Riper campground, the van getting worse with each hill. We drove into Ishpeming to get some dinner and then went on to Van Riper, pulling in we heard what sounded like a cannon going off somewhere in the park. (That wasn't our van was it? I wouldn't be surprised.) We got registered and found our site. On a Saturday night the park was packed and noisy, with the typical campers blasting their car stereos, because they just know that everyone wants to hear their jams! Finally as darkness fell the campground quieted down and we were able to get some rest, but with the recurring van problems, our plans changed yet again, and we decided to cut our losses and try to get home.
Sunday May 25th
We got up early, and left Van Riper through Marquette and Munising, each hill taking a toll on the van. We turned south on hwy77 through Seney and by the time we got back to US2 the van was getting really bad. As we pulled out onto US2 the van didn't want to pick up much speed at all, topping out at 25 to 30mph. We chugged down the shoulder letting other cars pass, and by the time we got to the intersection on H33 and US2 the van was so bad that I pulled into a parking lot and called 911 for a tow truck. When he got there, Mark from Eagle Towing said that he would follow us to the closest auto shop, which was in Engadine, just a few miles up the road. In the time we had waited for Mark, the van must have cooled off some, because as he followed us, the van reached speeds of 45 to 50mph. We made it to Engadine without being towed, paid Mark, and considered the idea of camping in our van until Tuesday morning when the auto shop would open up. We stretched our legs by walking around town and talked to a guy in town named Kyle who said that sometimes you can disconnect you battery and wipe out the codes, tricking the engine into letting you get on down the road. I tried it, but it was no use, the van wouldn't even take us back to US2. At least Engadine had a Mobile Station with a convenience store and a pizza place. We had a pizza and learned the girl who worked there was from Bath, Michigan, not far from our hometown of Owosso. After that we returned to our parking lot campsite, which was next to the auto shop, behind the local bar and near the railroad tracks. Each car, truck and semi that went by rumbled over the tracks, and bar patrons came and left. At about 9:00pm a train came through, blowing the whistle and shaking the ground as it went. Not long after it was gone the sky started flashing with an oncoming thunderstorm. Eventually the storm arrived with several fronts of thunder and lightning. In the middle of the rain, a car pulled up and someone knocked on our window. It was the boyfriend of the girl in the pizza place offering to help with our engine. I thanked him, but said that we would probably just have to have it towed back south towards home, and he left us in 'peace'. I climbed back in the sleeping bag and tried to get some rest.
Monday May 26th, Memorial Day
4:30 am, and the whistle from a diesel locomotive awakens us, the train doing an excellent imitation of an F4 tornado, shaking the ground as it went. That was it,,,, I could take no more. Later the sun rose, we had breakfast and walked over to the Mobile Station where they let us use the phone to call Mark from Eagle Towing. The closest town with a GM dealer and a rental car place on our route home was in Gaylord, an hour south of the Mackinaw bridge, and that's where I wanted him to take us. He said it would be an hour to an hour and a half so he could get someone in to work, and he would be there to get us. Finally he showed up with a flatbed tow truck and hoisted up our poor sad van. Then we left Engadine. Everyone we met there was great to us, and Litha got a treat learning that one of the cashiers at the Mobile station had rode her white mule (named Chrissy, no joke) to work. However we were glad to be on our way back to the lower peninsula. On the way Mark told us stories of his encounters as a UP tow truck driver and EMT. One story in particular was of a certain semi driver who was driving along the sandy north shore of Lake Michigan, when he was distracted by a young swimsuit clad girl, and he missed a turn, driving his semi into Lake Michigan! It took two large tow trucks to pull the semi out of the lake. US2 was foggy as we approached the Mackinaw bridge. An hour later as we neared Gaylord, Mark got on the phone and contacted one of his local tow truck buddies who was able to find us a rental car that very day, located right at the GM dealer. That was a stroke of luck, meaning that we wouldn't have to get a hotel room, instead being able to drive home that very day. We pulled into the GM dealer in Gaylord, and I thanked Mark profusely, both with words and wallet. Then we got our rental car, loaded as much as we could into it from the van including all our now very precious rocks, got some lunch in Gaylord, and then headed down I-75 towards home. About 30 miles down the expressway, I realized that we had left the camera in the van glove box. What was 30 extra miles after all that traveling? So we turned back to Gaylord, retrieved the camera, and finally headed back towards home. This time we made it, arriving home at around 6:00pm. Monday night was the best sleep we had had in days. Tuesday morning I got a call from the GM dealer wanting details on the van. Later he called back saying that our catalytic converter system was plugged and needed to be replaced. They would get the parts in that day and the van would be done on Wednesday. Wednesday they called back saying the van was done, so after lunch we made the three hour drive back to Gaylord, returned our rental car, and got our van. We made one stop on the way home for Frosty floats at Wendy's, and drove on home. We put 2066 miles on the van this trip, and that doesn't include the distance towing, or driving back and forth to Gaylord.
Yes my friends, it was the best of trips, and the worst of trips. May the bluebird of happiness NOT splat on your windshield.