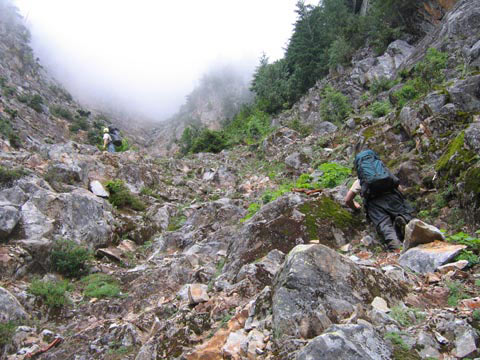 Big Chief, for me, the name evokes a heart-pounding collage of mental images... Thick massive stands of old growth cedar and fir, wild rivers and creeks, and stark gray-faced cliffs where quartz crystal-lined pockets lie in wait. When I think of Big Chief, my every recollection is rich and vibrant in detail, and why not? Were you to visit, to stand in the cliffs, I'd wager you'd find your impressions as exquisitely defined, just by your being there, by your standing on the edge, your emotions stripped raw and everything extreme.
This is an adventure where life and death and treasure all blur together. For me, when I think of Big Chief, I get a little scared and definitely, I get excited too!
----
Big Chief is located within the Cascade Mountains of King County, Washington. In a rugged mountainous area of the Mt. Baker - Snoqualmie National Forest. It is remote, difficult to access and its treasures can be startlingly spectacular. And best of all, I was on my way there! Accompanying me were my two friends Keith Wentz and Adam Sotomayor, and sharing in the fun, we were soon introduced to Adam's friend Caleb. Together, we'd soon be traveling one of the most beautiful scenic corridors of the State, the Middle Fork of the Snoqualmie River road, on our way to Big Chief.
In convoy, we sped along in three rigs, all 4-wheel drive with high clearance. Driving first the lower section of road, we all soon passed the spot where Keith and I had seen a full grown black bear while scouting the road's condition, prior to this trip, just weeks before. Not long after that, we took the wide swinging right hand turn towards the upper Middle Fork valley. Several miles later, we arrived at the trailhead parking lot at Dingford Creek. Here the road's been gated by the Forest Service. The general public is forced to stop and should they wish to continue up the valley to the former road's terminus at the old Dutch Miller Gap trailhead, 7.5 miles distant, they're forced to do so without vehicular support. For us, we'd be going through the gate and would continue up the valley. As a claim owner responsible for the road, I have the special key which allows us entry. After passing through and with the gate safely locked behind us, we continued on.
After several miles, we passed first Goldmyer Hot Springs (www.goldmyer.org) and then the famous Spruce quartz and pyrite crystal claim (www.geologyadventures.com/Spruce.pdf). Just prior to Spruce, we hit our first tough section of road. Sometime over the Winter, a slide had come down and had crossed the road, cutting off any access beyond that point until, it'd been cleared by hand by other in-holders. It wasn't pretty, but with a few modifications, it was something we could get beyond. Giving 'er Hell, we bounced and slammed and rattled our way up and over. From there we had a beautiful section of road until, we hit the next slide. The first slide had been dry and was relatively solid, just boulders and rocks, this newest slide was different, it was wet and was quite a mess to ford through. But we managed and afterwards, without incident, we drove to the end of the road. We'd reached our base camp.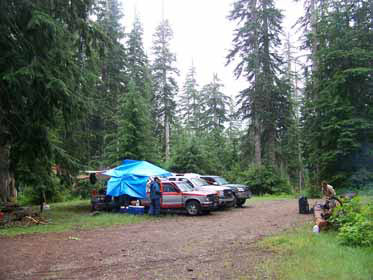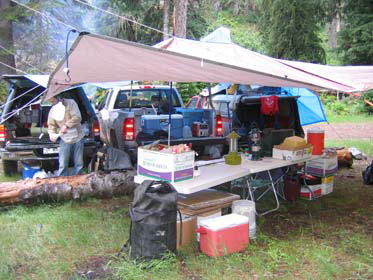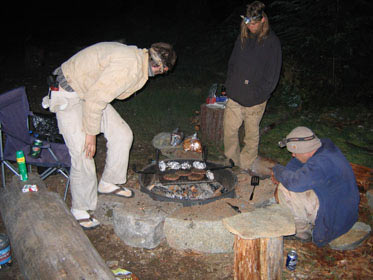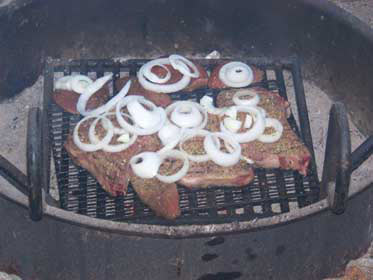 Once there, and with my trucks motor turned off, I know I breathed a soft sigh of relief. The trip thus far had not been without its problems, the worst of which had been Keith's hitting a deer while traveling up to Washington. Thankfully, he hadn't been hurt. With the road behind us, I found it comforting being able to focus on the trials upcoming. The first of which was to make camp, before the rains that were beating down on us really ramped up and washed us all away! Right from the get-go, we were a blur of activity as we rushed to hang the tarps which would define our camp. Once that chore had been completed, we focused on other odd jobs until finally, we all settled in and enjoyed our first evening, all of us together here in Washington State. By the next morning's dawn, thankfully, the rains had stopped, but the clouds that had fueled them still remained thick surrounding us. Without fanfare, in the gray half-light, we all gathered our gear, packed up and hit the trail.
To begin, we first had a pleasant section of legitimate trail to walk, after that, things got ugly real quick as we broke from the main trail shortly thereafter and began bushwhacking up the overgrown makeshift trail which we've made to access our claim. What a misery that day was. Everything was wild and wet and by breaking trail, I was soon soaked to the bone. Relentless, we sweated and slogged on, climbing past and over a million clutching branches and shrubs, breaking through and then pushing on again. Nothing came easy, we all earned that first day's hike!