During the weekend of October 19th - 21st of this last year, 2007, many of the region's most enthusiastic mineral collectors gathered together in Kelso, Washington to share and socialize while attending the 33rd Annual Pacific Northwest Friends of Mineralogy Symposium. As in years past, continuing a long tradition, a wonderful mineralogical celebration was had. Collectors came from near and far to experience the fun and fellowship for which this event is so well known. Since my discovering the Friends of Mineralogy, and my joining soon thereafter back in 1991, this has been the most exciting mineral event I experience close to home!
It's been a bit over a year since last I wrote regarding the symposium (1) and a little over two years since I wrote this little online posting (see... Cornish October 2005 Report). This time, I wanted to get a bit more detailed as to the experience.
For this year, we'd have Minerals of the American Southwest as our symposium theme. An experienced and knowledgeable group of Speakers had been selected to cover this theme and other more individualistic subjects. Our Speakers for this year's event would include, Virgil Lueth of the New Mexico Bureau of Geology and Mineral Resources Mineralogical Museum (NM Geology Museum , NM Geology Museum Staff). Dr. Lueth, Virgil to almost everyone, is a great and decent man. He is very friendly and outgoing and is 100% a champion of our hobby. Virgil is a Mineralogist and an Economic Geologist and has been the Curator of the Mineral Museum of the NMBGMR since 1994. He has served on the Boards of Directors for the Society of Mineral Museum Professionals (agiweb.org), and the Friends of Mineralogy (Friends of Mineralogy) and currently, Virgil is our National Friends of Mineralogy President. Finally, Virgil has Chaired the New Mexico Mineral Symposium in Socorro for the last 10 years (NM Mineral Symposium).
Virgil would present the symposiums first talk on Saturday morning after a Welcome from our Chapter President, Wes Gannaway, and an Introduction from our symposium Master of Ceremonies, Bill Dameron. His first talk, focusing on New Mexico, would be Collecting In The Land Of Enchantment. Later, he'd present his second talk, The Origin Of Turquoise. While looking forward to both, Virgil's second talk was especially relevant to me, as many of you know, during this last year's collecting, friends and I made some incredible fantasy-like discoveries, finding fossil bones and teeth replaced by, what we suspected and hoped, was turquoise (2). I'd spoken with Virgil prior to his symposium visit and had learned that no actual turquoise fossil replacements have as yet been discovered, when materials suspected of being turquoise were analyzed, always they proved to be the mineral apatite. Hoping to learn more, I was especially keen to hear this talk and to give Virgil several examples of our blue bone for him to test.
Joe Marty was our second featured Speaker for this year's event. Joe would also give two talks during the course of the day. Joe lives in Salt Lake City, Utah and is an avid field collector. In 2005, Joe was inducted into the Micromounters Hall of Fame (see...
Micromounters Hall of Fame
). He is a retired Medical Technologist and maintains a business cleaning and servicing microscopes. Joe's collection currently numbers over 10,000 catalogued specimens (a small selection of these may be seen at Joe's Mineral Gallery at Mindat, (see...
Joe's Mineral Gallery
). Joe's first talk, Recent Finds In Utah, was as inspiring and visually stunning as was his second talk, Recent Finds In AZ, NV and CA. A myriad of colorful, minute, rare species were shown, complimented by actual collecting photos and film footage which really made these presentations enjoyable.
Two others would also present talks for this year's symposium, both the following day on Sunday morning. First up to the podium would be Allan Young. Allan lives in Boise, Idaho, is a Mining Engineer working for the Bureau of Land Management, and is among our country's most elite collectors, winning both the coveted Desautels ( for the Finest Crystallized Mineral Specimens in the Tucson TGMS show ) and the Lidstrom trophies ( for the Best Single Specimen in the Tucson TGMS show ). Allan's collection numbers about a thousand specimens and focuses on silver-bearing and Idaho minerals. Allan's talk, Thumbnails - Small is Beautiful, was absolutely terrific. Beautiful stunning image after beautiful stunning specimen image really wowed us all as they ignited their way onto the viewing screen and into our senses. Thumbnails, Allan's specialty, are specimens which sit 100% within a 1 x 1 x 1 inch cube.
After Allan, Rudy Tschernich gave us our last talk of the symposium, Cleaning Mineral Specimens. Rudy is the Curator of the Rice Northwest Museum of Rocks and Minerals (
Rice NW Museum
) located just outside of Hillsboro, Oregon. In recognition of his accomplishments and lifelong commitment to the hobby, Rudy was acknowledged when the Northwest Minerals Gallery of the museum was officially named, The Rudy Tschernich Gallery. Additionally, Tschernichite (pronounced Chur-nick-ite), a rare zeolite species, was named in his honor. Rudy is also the author of the book, Zeolites of the World, the definitive work on zeolites for collectors. Rudy's talk, along with encouraged audience participation, was the most enthusiastic talk of the symposium, eliciting innumerable comments, questions and suggestions from the group.
These talks form the backbone of the symposium weekend and yet, other activities also highlight this event. They include member displays, Mineral Dealers to visit, both in the Main Room and as Satellite Dealers in the Hotel rooms, a banquet with accompanying live auction, silent auctions and socializing on a grand scale ( it was after 3:00 a.m. when I finally went to bed, exhausted, on Friday evening/ Saturday morning, on Saturday evening/ Sunday morning, I called it quits early, sometime after 1:00 a.m. and on both occasions, others were still going strong )!
Our Saturday evening banquet and the auction which follows are always exciting times and another highlight of the symposium. The dinner was delicious as was the special desert which followed, a cake made and decorated especially to commemorate the 62nd Wedding Anniversary of members Dick and Erma Deane Rantz. Everyone was thrilled. Afterwards, the live auction began and a fevered bidding soon commenced. Smiles and laughter highlight this segment of the symposium and most everyone chirped in at one time or another in hopes that their bid would out last the competitions. As can be seen in Virgil's photo above, he was thrilled with his newest auction acquisition for the museum, a sparkling pseudomorph of drusy quartz after apophyllite from our Summer Storm claim near Challis, Idaho (Summer Storm Claim)!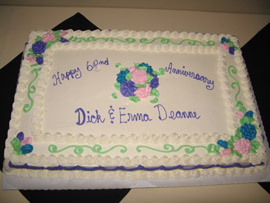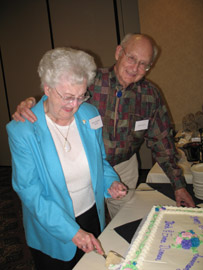 Afterwards, and during any free time available, most of us could be found cruising the display cases and the Dealer's stocks and among both, there were abundant treasures to be seen! Among the display cases, a real plethora of goodies lay carefully arranged and labeled. Some cases followed the symposium theme while others took us in other mineralogical directions Below is a sampling of the displays. Going down the line from right to left, the first case is displayed by the Rice Northwest Museum of Rocks and Minerals. The next was presented by Art Soregaroli, followed by Allan Young's display, Michael and Debbie Ausec's case, John Lindell's, Al and Sue Liebetrau's, and finally, a display by Bill and Diana Dameron rounds out this little selection. These are but a small percentage of the displays which were shown and very well represent the overall quality and care which went into peoples displays for the benefit and enjoyment of others.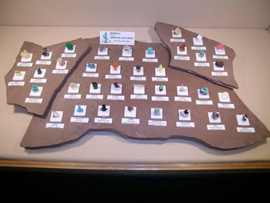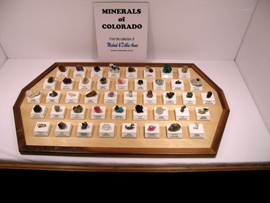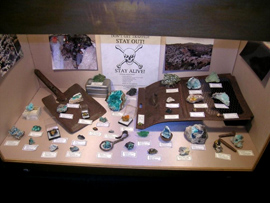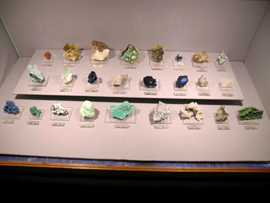 For Dealers, our Main Floor Dealers lined the walls of the large open central room they shared with the display cases. On one side, Priscilla and Hollis Oxley, Oxcart Minerals and on the other, Jim and Yolanda McEwen, Lehigh Minerals. Behind these two were Rick Kennedy, Earth's Treasures and John Meek, Pacific Rim Gem and Minerals, George Gerhold was also in the back of the room showing the fantastic mineral CD, The Photo-Atlas of Minerals (see... Photo-Atlas of Minerals). Within these Dealers stocks was a wonderful and varied assortment of crystalline, massive, fluorescent, faceted, fossil, local, international, white, blue, green and on and on treasures. What a privilege it is that so many fantastic quality specimens are all brought together for us to enjoy.
We also had Satellite Dealers at the symposium. They lined the hall in one section of the Hotel, rooms on both sides open and filled with more treasures. Many of the guys here collect their own specimens and bring their excess to the show to sell and trade. Ya never know what your going to find! Rare crystals from the Golden Horn Batholith of northern Washington, or perhaps quartz and associates from up the Middle Fork of the Snoqualmie River, or maybe zeolites from Washington and Oregon? Add to this a smattering of everything from specimens to books, from tools to display cabinets, and one just never knows what's going to show up!
I'm not much of a shopper, still, every year I go home happily laden with new treasures, treasures beyond the incredible treasure of the experience itself! It's always so nice to see everyone again, and time goes by so very quickly these days. We're always hoping for new people to saunter in and see what's going on too. Other then the talks and the banquet, the public is one hundred percent welcome and encouraged to come stop by for a visit, there's no charge! Watch out though, after that, if you're like me, you'll only find yourselves counting the days, waiting for next year's symposium!
Thanks for coming along everyone, if you're in the area and you'd like to attend next year's symposium or find out more about the Northwest Chapter of the Friends of Mineralogy, please consider visiting... Northwest Chapter of the Friends of Mineralogy. All the very best everyone, take care,
John
The photographs for this report were kindly supplied by Al and Sue Liebetrau, Allan Young and Dave Johnson
(1) 10/23/2006, My Weekend: The Pacific Northwest Friends of Mineralogy Symposium and Some Hoped For Collecting
(2) 6/19/2007, The Pseudomorph Hole