I have record of the following DMC clubs in attendance:
- Athens Rock and Gem Club (Athens, GA)
- Carroll County Gem & Mineral Society, Inc. (Carrollton, GA)
- Cobb County Gem & Mineral Society (Marietta, GA)
- Cotton Indian Gem & Mineral Society, Inc. (Stockbridge, GA)
- Forsyth Gem & Mineral Club (Winston-Salem, NC)
- Georgia Mineral Society (Atlanta, GA)
- Knoxville Gem & Mineral Society (Knoxville, TN)
- Mobile Rock & Gem Society, Inc. (Mobile, AL)
- Northeast Georgia Mineral Society (Cornelia, GA)
- Rome Georgia Mineral Society (Rome, GA)
- Southern Appalachian Mineral Society (Asheville, NC)
- Western South Carolina G&MS (Greenville, SC)
This site has been a long time favorite of many collectors. The agate forms within Mississippian age chert as delicate concentric bands. Colors are predominantly gray and red. On occasion, one can find stalactic formations, sometimes covered in drusy quartz. Material is generally found by simply surface collecting. However, I prefer to break apart boulders with a sledge.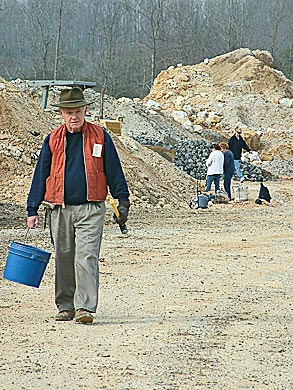 Rogams Sr. Member
and Club Historian,
Ben Crawford