Chrissy, Opal and I headed west to Douglas Lake in East Tennessee to spend yet another day hunting for Douglas Lake diamonds (actually quartz crystals). The term "Douglas Diamonds" was coined by area rockhounds many years ago because they resemble Herkimer Diamonds, the distinctive quartz crystals found in the Herkimer area of New York. Each winter, the Tennessee Valley Authority significantly lowers the level of Douglas Lake for flood control; the water level varies about 41 feet in a normal year. Formed by the French Broad River and tributaries of the Nolichucky and Pigeon Rivers, the 30,400-acre lake provides a large expanse of dry lake bottom where quartz crystals may be found as float.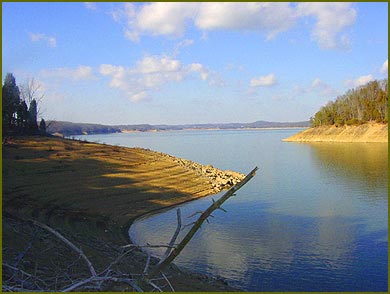 There are many areas on the lake to hunt for quartz, but only a few where the highest quality crystals may be found. The
crystals are found by walking back and forth over the dry lake bottom while keeping a keen eye on the ground. In addition to hunting the usual well-known spots, we like to prospect other areas of the lake to hopefully find other crystal-rich areas. This involves a great deal of walking and climbing up and over rocks; it may take us a couple lifetimes to cover the entire 513 miles of shoreline.
According to Bedrock Geology and Mineral Resources of the Knoxville 1 X 2 degree Quadrangle, Tennessee, North Carolina and Georgia (US Geological Survey Bulletin 1979), the rock formation underlying and surrounding Douglas Lake is the Upper to Middle Ordovician Chickamauga Group, an undivided formation of limestone, sandy limestone and calcareous shale; dark gray to red, locally-coarse bioclastic. According to Hardeman, W.D., and others, 1966, Geologic map of Tennessee: Division of Geology, Tennessee Department of Environment and Conservation, the areas where we collect our Douglas Diamonds is underlain by the Sevier Shale, an upper formation of the Chickamauga Group. Fracture and cavity filling calcite is common. Just as in the Herkimer area of New York, I believe that there are pockets, albeit much smaller, in the limestone and calcite that contain quartz crystals. The crystals formed from silica-rich hydrothermal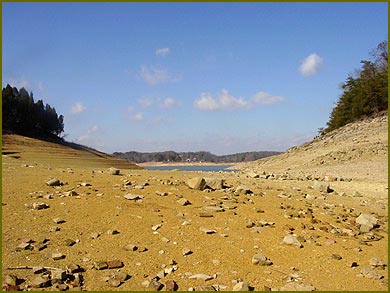 solutions that flowed through fractures. As later weathering dissolved the limestone and calcite, the chemically resistant quartz crystals were liberated into the sandy clay residuum. The widely scattered nature of the crystals indicates to me that quartz pockets must be few and far between. The fact that most of the crystals are perfectly sharp with virtually no damage or etching indicates that they have not been transported by streams or other actions, but remain very near where they formed.
Thanks to steeply dipping beds, the bottom and sides of the lake have good rock exposures. On each of our visits, I spend a fair amount of my time searching for the "mother lode" in the bedrock, but have only located small quartz-bearing pockets and seams in sandy limestone and calcite veins. However, on this trip, I discovered the largest calcite-filled pockets ever. While no quartz crystals were found, the pockets were lined with some interesting reddish-brown iron-oxide coated calcite crystals. I was able to remove the coating with muriatic acid to produce a decent enough specimen.
Maybe the above specimen and others like it that I discovered mean that I might just be getting warm in my quest to find the Douglas Diamond "mother lode", but only time will tell. This particular spot certainly warrants further inspection.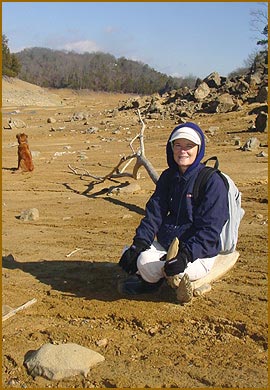 I don't know how many total miles we walked at the various locations that we hunted, but we might be well below the 500-mile mark for lakeshore distance left to cover. While we have certainly done more strenuous rockhounding, it is surprising how much hiking and climbing up, down and around the uneven lakebed and shoreline wears out our legs and don't get me started talking about our lower backs after bending over to inspect a bazillion pieces of glass. But, this brand of surface collecting is one of Chrissy's favorite pastimes and she has no equal when it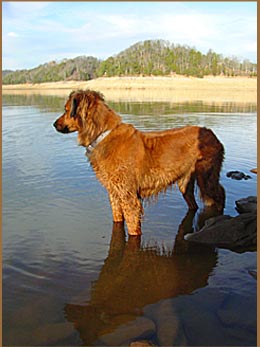 comes to finding the small elusive quartz crystals.
Crazy Opal will cover at least 3 times our distance on any given trip to the lake with her never-ending search for the perfect stick or something stinky to roll in. No matter how cold it is, her love for water means that she will spend much of her time either standing or swimming in the lake - even a thin coating of ice on portions didn't deter her from wanting to get wet. Sometimes our idiot dog will stand in the frigid water shivering from the cold and we'll have to make her get out. I can't imagine where she learned such obsessive behavior . . .
We discovered a few new-to-us areas along the lake that contained some excellent Douglas Diamonds. The following pictures show what we managed to find before we dragged our worn out legs back to the truck and headed home.
Click on each specimen picture to enlarge
Chrissy's favorite specimen for the day is a pair of perfect crystals, larger and smaller, that are attached by fine-grained quartz such that they sit in a near identical orientation.

Click on specimen picture to enlarge
I discovered at home that some of the quartz inclusions fluoresce orange and yellow under short-wave ultraviolet light.
---
CLICK THE LITTLE MINER TO RETURN TO THE FIELD TRIP PAGE