Hey All,
I was recently joined by Jim Ericson and Ralph Burley on a trip to Indiana and Kentucky to collect a few more geodes for our collections. After several email discussions, we decided to meet up in the Bloomington area. One heck of a storm front passed through Missouri moving eastward the night before the trip, and Ralph called me early to ask if I was still intending to make the drive east. I told him the storm only dropped half an inch of rain and that I still intended to drive over. It was actually a good thing that Ralph called me when he did, as my alarm clock failed to alert me at the time I had set it. Jim spent the night in Bloomington and had the easier of the drives that day. I got up and quickly packed my Dad`s truck and headed out the door and got on the road. Since it was an early Thursday morning, I opted to drive around St Louis work traffic and took I-270 to the south and then 255 on the Illinois side to I-70 east. Eastbound I-44 through St Louis can be a real bear that time of the day. The drive across Illinois and into Indiana soon pointed out to me that the storm had gathered strength as it moved eastward out of Missouri the night before, and much more rain had fallen as well. Rivers and creeks were muddy and rolling right along, and the closer I got to Bloomington, the deeper the waters seemed to get. It was becoming very obvious that our plan to search the creeks in Indiana near Heltonville would not work out and plan B of searching the road cuts would be more feasible. Ralph and I hooked up pretty quickly in Bloomington after I gassed up the truck, gas there was 2.43 a gallon and was 2.19 a gallon in the St Louis area. Luckily my dad gets pretty good mileage for his extended cab truck, so it worked out well for me. I figured I might be able to bring back some larger geodes with his truck over my explorer. We finally got in touch with Jim by phone and found out he was downtown Harrodsburg and we met him at the exit there on Hwy 37. We checked out the road cuts to the north of the exit and in addition to limited parking, found no collectable material at the base of the cuts. The Indiana State Highway Department does a very good job of keeping rock debris clear of the shoulders. We drove on down to the road cut half a mile south of the exit and pulled over on another nice wide shoulder and began seeing and finding suitable material right away. Ralph got excited and dug his hammer and chisels and buckets out right away and we walked back to the north, finding geodes that had eroded right out of the cut and rolled down to the shoulder of the highway. After examining eroded geodes and looking at halves still embedded in the cut, Ralph found an area on the north end where some pretty calcite crystals were peeking out of the rock and began hammering away around them to free them up. Jim and I walked back to the south end and began trying to free up a few that we were able to find in the looser layers. As we were hammering away, a young lady stopped on the northbound shoulder across the highway from us and walked over, we assumed she was having car trouble, but as it turned out, she was interested in rocks and minerala as well, and was also watching for a few guy friends of hers, who had set out on an eighty mile bike ride earlier that day and were going to meet up with her near there. Jim and I looked at each other with identical thoughts on our minds, " who would want to ride eighty miles on a bike in one day ? " Jeez, the lengths some people will go for exercise.
Hannah was her name and she decided to stick around and see if her friends showed up on their bikes, and began looking for geodes with us. We spent about thirty minutes at this road cut and Jim found a nice chunk of limestone with some bladed calcite crystals on it and also found some fossils on some plates of limestone too. Jim and I checked out the cut on the other side of the highway, and we found a few nice halves and a few small vugs of crystals, but nothing major. We looked across to check on Ralph and saw that he had burrowed into the rock wall, which was mainly loose material above him, so we packed up and drove over to his location and helped him retrieve what he could safely remove. I wish now that I had taken a few pics at the road cuts, but we were too busy to even think about it - but I did take a picture of one of the geodes that we recovered (looks like an asteroid).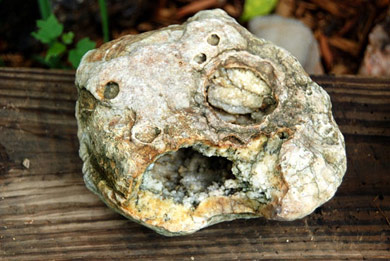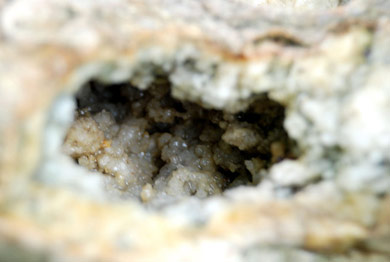 We decided to drive on over to Heltonville and see if we could access the creek there at all. We took the back roads and came out on Hwy 446 just north of Little Salt Creek, and after driving down to the creek, it was very obvious that there would be no creek searches made today at all. This creek normally has very little water in it and today was about six to eight feet deep and rolling right along. We decided to check the road cuts north and south of the creek but found very little collectable material at either place. We opted to drive on down to Danville at this point.
The next day turned out to be partly sunny and we contacted an area farmer just south of Danville and obtained permission to search his creek. After arriving and talking to him for a few minutes, we walked down to his beautiful clear water creek and began finding geodes of all sizes all over the place.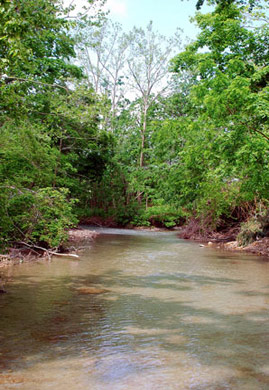 This area only received half an inch of rainfall from the storm system as well so the creeks were not flooded at all. Ralph went downstream while Jim and I headed upstream. We found geodes in the creek banks that were eroding out, geode halves that had cracked open and rolled down the gravel bars and located some embedded in the gravel bars as well.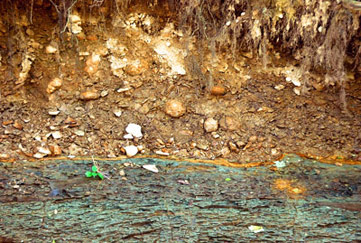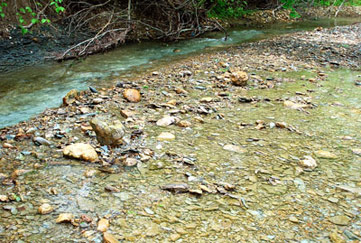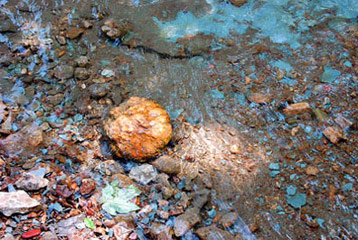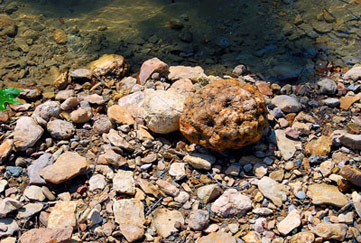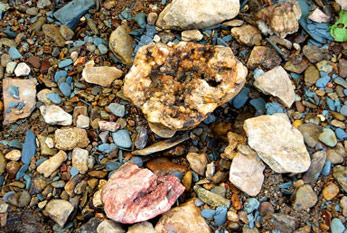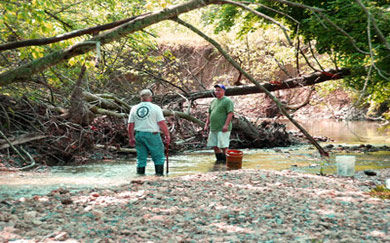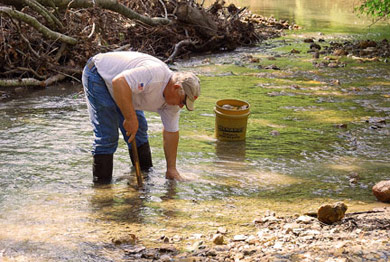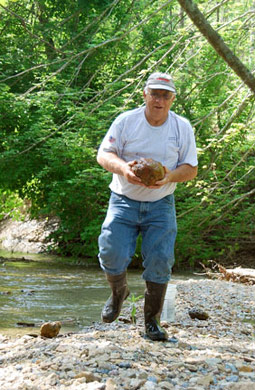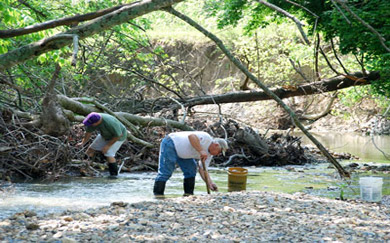 Ralph (left)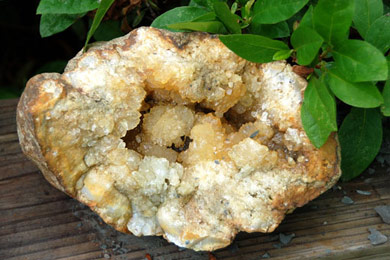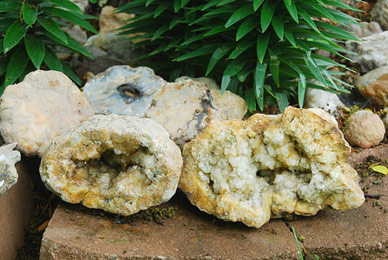 The creek had a green shale bottom and the water was crystal clear and upstream at the junction of another creek, the riffle there looked like a great place to just lay down and cool off on a hot day.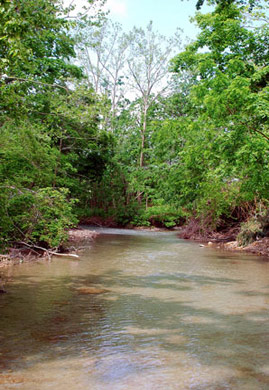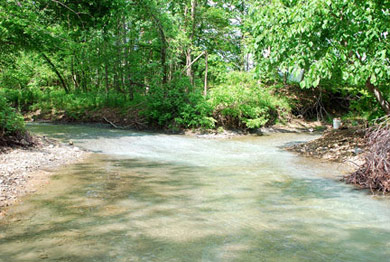 After collecting a few large geodes here and a few buckets of smaller ones, we drove over to the Green River and while Jim and Ralph waited on the bridge, I drove over and obtained permission from the landowner on Greasy Ridge Road to walk the two miles of riverfront access and pick up geodes. It was interesting to note that the landowner thanked us for stopping to ask for permission to hunt, he said most people don't do that anymore these days.
We decided to walk downstream from the bridge after Jim and Ralph observed a very large snake in the water on the upstream side of the bridge. There were several gravel bars in the first mile downstream and there were geodes everywhere, as well as eroding from the riverbank. We filled up our buckets and left as a few thunderstorms were beginning to pop up and move down the valley toward us. Ralph decided to stick around and was walking upstream the last we saw of him as Jim and I drove back to Danville. We came out on Hwy 27 at Halls Gap and since they have altered the highway here to use the shoulders to create passing lanes up the hill, there is no more parking room on either side of the roadway to stop and look for minerals here.
That night another storm front passed through the area and cooled things off substantially, so we took off for Lake Cumberland and the Somerset area around 8 am and arrived there to find a cloudy cool morning, around 52 degrees. We hiked over along the shoreline to see what we could find.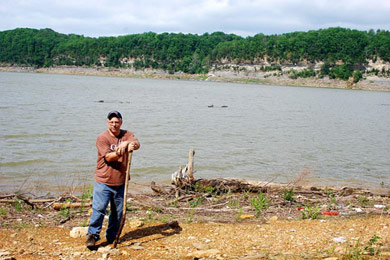 Jim
The waters on the lake were a bit choppy and speedboats were having some difficulty racing across the water. There were large amounts of trash and driftwood piled up on the shoreline and in the cove areas, making it difficult to walk from one cove to another. We were also keeping a sharp eye out for rattlesnakes, as I was told by friends that this part of Kentucky is known for them, but I believe the cooler weather played a big part that day, we didn't see any at all. I was really disappointed cause I know how much Chrissy really likes them.
Within the first quarter mile of the hike we began finding geodes eroded out of the shaley bluffs above and some still embedded in the shale layers.
Some were pretty and some were duds, there were solids and some with pretty crystal liners. We also found several crystal lined geodes left behind by others and those quickly found their way to our buckets. I found a couple of geodes with a bright orange crystal lined center as well as a few smoky quartz centers. I handed one over to Jim as I already have a few of those in my collection and he was looking for one or two himself. We also came upon a large chunk of host rock that had two geode halves embedded in it, so I carried that one back to the truck along with my bucket. We had to take a few breaks on the way back to the parking lot, Jim had two buckets full and I had one bucket and the large rock.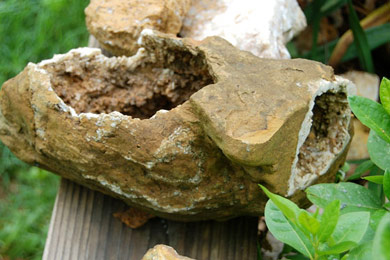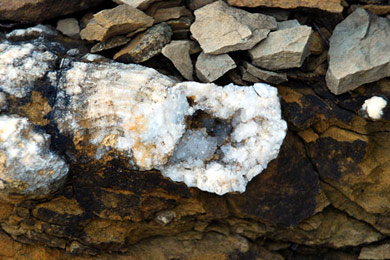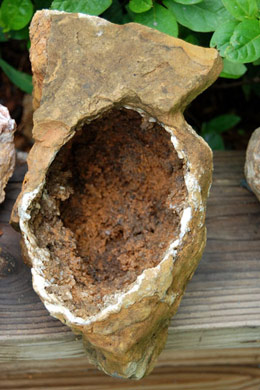 After we got back to the parking lot, Jim decided to hit the dusty trail back to Minnesota and after checking out his map, took off toward the interstate and I headed back to Danville. The next day I headed home with my five buckets and a few larger geodes that wouldn't fit in the bucket. We are thinking about another trip to Kentucky for some more agate and geodes in the near future. Hope you enjoyed my story and pics.
James
---