As I wrote about in a previous report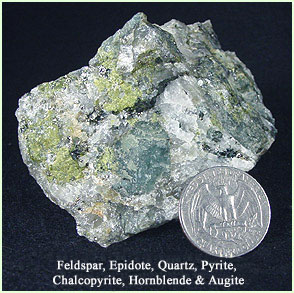 (
A Western North Carolina Copper Mine
), I visited an abandoned western North Carolina copper mine in June 2007. It was then that I found a surprisingly-wide
variety of minerals scattered throughout the forest and spoil piles including: pyrite, chalcopyrite, quartz, pyrrhotite, feldspar, epidote, hornblende, augite, bornite, limonite after pyrite, biotite, actinolite, siderite, and sphalerite. One boulder in particular was composed of quartz, epidote, biotite, magnetite, hornblende, augite, chalcopyrite and unusual greenish-blue plagioclase var. feldspar, as shown to the left.
As many of you who frequent the McRocks.com message board know, I starting cabbing (making cabochons) earlier this year. One of the first rocks that I slabbed and cabbed contained the unusual greenish-blue plagioclase from the abandoned copper mine.
I was so impressed with the beauty of the finished cab, that I felt compelled to go back and recover all the rock fragments that I had casually discarded while there in June 2007 and maybe I could also find more of the same. Besides the cool cabbing rocks,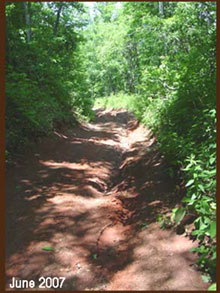 the wide variety of minerals begged a closer look to see what else could be uncovered with a little more scratching and banging.
Despite my telling Chrissy of the extremely strenuous hike to get in and out, she was game to come along. Chrissy, with her Florida upbringing, hasn't always been the best mountain climber, but she's gotten much better at it having had to follow my sorry butt up and down "them thar hills" for the past nine years. Of course, Opal would be by my side if I decided to climb Mt. Everest, so she was down with going too. Making the hike even more difficult was another change in our lives since 2007; I now drive a monster size Toyota Tundra instead of a much smaller Dodge Dakota, and the larger truck is much too wide to negotiate sections of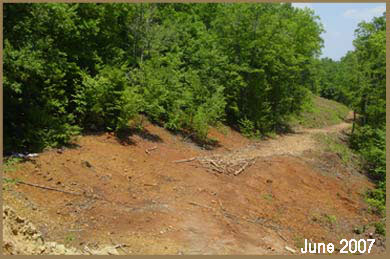 the narrow rutted road to the gap, so we had to hike an extra mile on an ascent that, at times, seemed vertical.
The hike up to the gap and then back down to the mine area was challenging, but we made it just fine. The mine workings and tailing piles are spread out over many acres of rugged mountain terrain. Our first stop was a open dirt and rock strewn area in the heart of the mine's main spoil piles. We proceeded to bust rocks and found some interesting mineral assemblages; one rock contained a small vug lined with black shiny magnetite, ruby red sphalerite and translucent quartz crystals.
Click on each picture to enlarge
There was an abundance of sphalerite and magnetite, something that I had not noticed on my previous trip.

Click on each picture to enlarge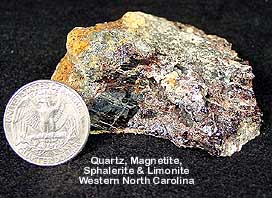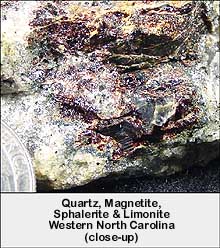 Next on our to-do list was the spot where I had found and discarded the bluish-green feldspar rock. Sure enough, there were lots of this material still there where I had tossed it while high grading in 2007. When I say lots, I mean LOTS, because my backpack got brutally heavy as we loaded it with one rock after another - jeez!!! But, I've always been a glutton for punishment, and the incredible load on my back was the height (depth?) of masochism.

As if I didn't have enough already, we busted more rocks looking for the elusive blue-green feldspar and found just a bit more. In the process, Chrissy cracked open a rock and asked, "Hey, what's this?", as she handed it to me to inspect. "What the hell?, I exclaimed, as I looked down at what appeared to be very small specs of native copper on the broken rock face. I pulled out my loop to look closer, and sure enough, my dear wife had found native copper, something that I had never seen before in western North Carolina. I have heard about a very minor amount being found at the Ore Knob Copper Mine in Ashe County, but not in the western mountains. Chrissy did it again - cool beans!!!!!

Click on each picture to enlarge

After a delightfully warm day basking in the sun and busting rocks, it was time to pay the piper - we had to pack our rocks and climb a mountain with way too heavy loads on our backs. We both shouldered heavy packs, but we decided to lighten Chrissy's load before heading out, so I ended up also lugging a rock-filled canvas bag all the way back to the truck. And speaking of Mt. Everest - if felt like that's what we were climbing on our ascent to the gap. But, we made it, although we were both pretty darned sore for a few days after.

So, was dragging home what felt like a bazillion pounds of cutting material worth the incredible effort???? I believe that the following cabochon pictures answer the question with a resounding, YOU BET YOUR ASS!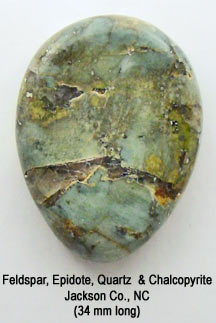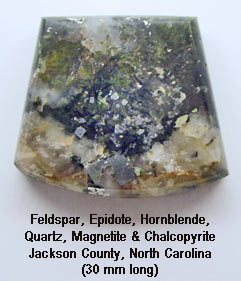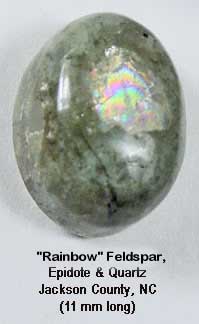 Yowzer - a cabochon with native copper from western North Carolina!!! Thanks, my wifely unit!
---
CLICK THE LITTLE MINER TO RETURN TO THE FIELD TRIP PAGE