Having participated in several excellent field trips to the Eureka fluorite mine near Marion, Kentucky, Chrissy and I decided to conduct another McRocks group dig there in April 2009. When our point man, James Johnson, contacted the
Ben E. Clement Mineral Museum's
president and mine property owner, Bill Frazer, he was excited to have our group return. So, we made arrangements to spend two days there and I announced the trip on the McRocks' message board so that anyone who wanted to hunt fluorite could attend.
Despite a very wet and rainy first day, a total of 16 rockhounds showed up. In attendance on one or both days were Sandy Brandl and her Wisconsin crew (Jan, Kristen, Brian, Matthew & Brandon), James Johnson and Addie Hart from Missouri, Jeff Deere and Don Henderson from Georgia, Scott and Debbie Baker and Ralph Burley from Ohio, and Mike and Chrissy Streeter and Bill Hayward from North Carolina.
Due to the rain and mud, I never had a chance to take any pictures, but James was able to take some mostly on the first day. So, a big thank you to him for the field pictures that you will see throughout this report.
Our rockhounding plan was twofold: 1) Use a trash pump to evacuate the water from a pit that had been dug with a track hoe in the heart of the spoil piles and work a fluorite vein that runs along its sides and bottom 2) Dig and turn over spoil pile material to find fluorite and other minerals that had been dumped when the pit was dug.
As Murphy's Law would have it, it rained heavily the day and night before our scheduled dig and continued to drizzle on and off for most of our first day. According to Mr. Frazer, just two days prior, the area was bone dry and perfect for collecting, but this changed in a very big way. Rain isn't always a bad thing for rockhounding as it can wash dirt and debris from rocks making their collectable minerals more visible. However, rain works in quite the opposite way at the Eureka as sticky mud gloms onto to everything it touches making finding and identifying minerals and simply getting around much more difficult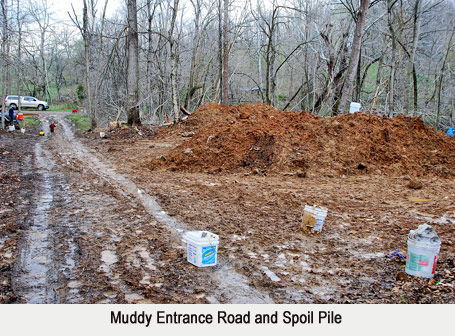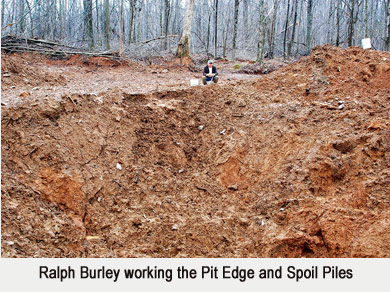 In order to work the fluorite vein, we first had to dewater the pit. Somehow in the time since we were last there in March, the pit grew about 4 times in size, so it would take at least a couple hours to lower the water to low enough level to begin accessing the vein.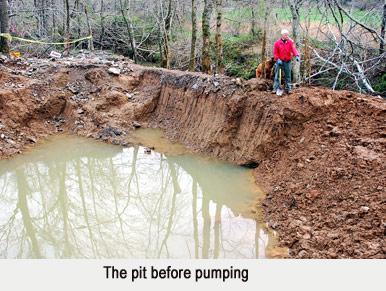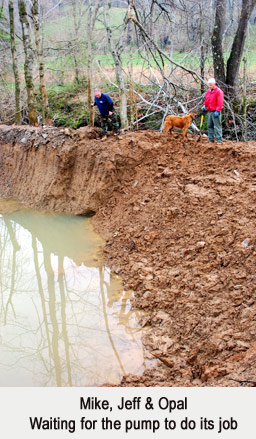 As the pit was de-watering, a few brave souls tested its sides in hopes of finding an errant fluorite specimen, but soon found out that there were certain muddy spots that would gobble you up. Don Henderson was not the only one who learned the hard way where not to go and how to get himself out when he found himself sinking in deep sticky mud.
Don Henderson doing the get-me-out-of-this-stinking-mud-crawl
Except for perhaps one person whom you will see later, Opal was the only one in attendance who LOVED the mud and water!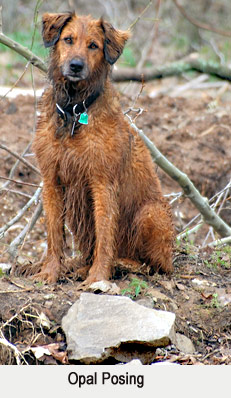 When the water level in the pit finally got low enough, we were able to begin deciding where and how best to work the fluorite vein.
And speaking of Opal's love of the mud and water - Jeff also seemed to enjoy the muck and mire.
For the rest of the day and the next, most everybody settled into a routine and assumed certain key roles; while some worked the fluorite veins in the pit, others either manned the pump and its influent hose or helped ferry and clean fluorite specimens recovered from the pit.
Those of us who worked together pooled our finds and we split them between one another as equally as possible so that everyone left with lots of excellent specimens! The following pictures show some from Chrissy's and my lot.
Click on each specimen picture to enlarge
The following pages of this report contain a slew of pictures by Sandy Brandl and her Wisconsin crew - they speak for themselves.
Report continued . . . . . . .
---
CLICK THE LITTLE MINER TO RETURN TO THE FIELD TRIP PAGE