A large group gathered at the Pamida in Ishpeming for this summer's field trip to the Champion iron mine. I later found out that a total of 59 people signed up and paid the token $5.00 club fee for this field trip.
While waiting to sign up, I talked to a friend I met on a field trip in 2008 named Cathy from Crystal Falls, Michigan, who informed me about the loss of the Michigamme mine as a collecting spot.
Road crews working on hwy 41 near Michigamme have built a service road right over the top of the Michigamme/Mt. Shasta mine dump piles. What seems to have happened is that the road crews widened a road cut and used the Michigamme mine location as the spot to put all the boulders. Now there is about 20 feet of rock on top of the area with a road going over the top of it.
Here are some pictures from past field trip reports of what the area used to look like. First is a panorama of what the mine dump looked like in 2007.

Next, a picture of yours truly collecting there last year.
And finally, some of the Almandine pseudo garnets I found there.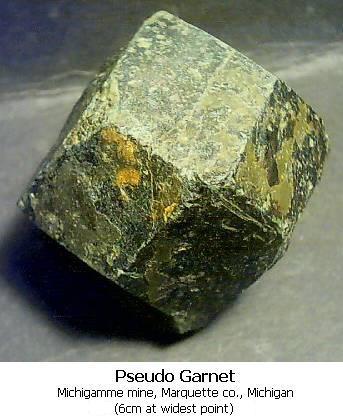 The worst part of this is that new rockhounds won't have this classic spot to collect those big 'Black Diamonds' at. It is true that there are a couple other areas nearby where Almandine garnets can still be found, but I've never seen any that were the size of what you could find at Mt. Shasta. Progress can be a hollow thing if it doesn't take historical areas like the Michigamme/Mt. Shasta mine into account.
Once everyone had signed up, we all drove in a big convoy to the site of the Champion mine. Field trip organizer Ernie Johnson was a bit concerned that there might not be enough parking space on site, but the Champion mine area is large and there was plenty of room.
I went to a spot where I had success on a previous trip and found a boulder with black Tourmaline (Schorl) along with other minerals. I spent most of the morning breaking up this rock with my 8 pound sledge. Most of the people around me hadn't been there before, so I showed them what it looked like and gave away several pieces. Here is a picture of one piece I brought home. This one rock contains Schorl, Magnetite, Siderite, Quartz, and micro Almandine as well as other minerals I have yet to identify.
After taking a break for lunch I drove around near the tall south pile and walked the area, not finding anything I considered a keeper. At around 1:30 I got cleaned up and drove into Ishpeming to the Cliffs Shaft mine where I caught my buddy Doug taking a break from his preparations for the next day's show. We talked for a bit and he took me around to the rock lab to show me his latest acquisitions. During our two hour chat, several tours came through and Doug talked to them about the different rocks and machines in the lab. I managed to buy several nice specimens from him and even convinced him to sell me this nice large Goethite specimen he had personally collected, with the more rare rusty yellow color.
I've heard this mineral pronounced Gay-a-tite, Gertite, and Gothite, and since Mike Streeter and George Robinson say Gertite, I'll go with that.
At around 4:00 I let him get back to work and headed off to get dinner after which I drove west past Mt. Shasta and confirmed what I had been told earlier. I bought a few more supplies and returned to camp for the night.
Late Friday night and into Saturday morning rain threatened to spoil the 34th annual upper peninsula gem & mineral show held in Ishpeming, but as the morning went on the rain let up leaving behind cool and gusty weather. So gusty in fact that vendors needed to secure their tarps any way they could including physically holding them down.
I met our local Flint Rock and Gem Club president Ed Oller at the show and we talked for a bit. I also met Bob and Jeff Anderson, father and son agate dealers from Roscommon, Michigan who were giving me information about a certain collecting spot in the northern lower peninsula. More about this in a future report.
I spent the morning and afternoon perusing the booths and doing other tourist activities in town including walking through the Ren Faire across the street.
This year's presentation was given by Daniel Fountain, author of the book "Michigan Gold, Mining in the Upper Peninsula." Apparently it was Michigan's first state geologist Douglas Houghton who was the first 'European' to find gold in the UP. Over time plenty of gold was mined, but mismanagement and out right con men caused mines to close up. More than one mine owner sold large amounts of stock only to disappear out west with the money. Mr. Fountain's presentation was very informative, and what rockhound doesn't like to hear tales of gold! He got a good round of applause when finished.
Once again Gary Richards performed the auction duties, and some nice specimens as well as hand made jewelry and lapidary materials were sold to the highest bidder.
As it was getting dark I left the festivities and returned to camp.
Sunday morning I left early for the Keweenaw peninsula. When there, the first thing I did was drive to the Wolverine mine dump piles to try and find copper replaced agates. Two other guys were there before me, one using a wand type metal detector and digging toward the top of the pile. I broke lots of basalt but only found nodules of calcite and epidote. I guess you have to know the
right spot on the hill to look. After that I went to a beach on Lake Superior to try and find an agate or two. When I got there three cars were in the parking area; by the time I left there were about twelve cars. This was definitely not the time or place to go if you wanted some peace and seclusion. Using a new hunting technique, I managed to find my first 'eye' agate. It's very small, only one centimeter across at the widest point. In the afternoon I went to the sale at the Seaman Museum. The sale had been going on for a while before I got there so most of the good deals were snatched up. I was able to get a correct identification on a specimen in my collection which had been mislabeled by the person I bought it from. I once again visited the Heulandite specimen from John Cornish's Rat's Nest claim. His big white fluffy looking Mordenite specimen was in a case just down the way. After getting my fill at the museum I headed south toward Ontonagon county and my campground for the next two nights.
Monday was the big day of underground mining at the Caledonia mine. This time I got there early for a change and got my equipment ready. Here are some pictures of the mine area, starting off with mine operator Richard Whiteman at the entrance to the mine.
Next, the big pavilion where the group assembled.
Richard gave his safety speech and led us into the mine, up into a stope where he gave us all a choice of Copper hunting on the right or Datolite and Silver on the left. I went to the left. Throughout the morning I found a few pieces of native Copper and maybe one small Datolite nodule. Here is a picture of the group digging below me on the slope.
…and a few of the Copper pieces I found.
At around 11:45 we exited the mine for lunch with lots of good food provided by our hosts. At 1:00 we prepared to go back in the mine. This time our group of 19 people was given the option of returning to the Datolite area or going to a new stope where larger pieces of copper could be found. We split into two groups. At first I got into the larger line that was heading to the new stope, but changed my mind, deciding that I really wanted to find some good Datolite that day. We were led into the mine again, this time stopping for a look at the spot were Kirsten Gum from the Travel Channel removed her Copper from the adit wall. When up in the stope I found a better spot for Datolite, and that afternoon I collected around 30 nodules, most of them small, about the size of a pea, but I did find a few larger nodules. Here are two that I have cut and polished.
As 4:00 approached we finished up and left the mine, back into the warm sunshine to examine our finds in the daylight. I may have found one specimen with a small bit of Copper and tiny specs of Silver, but I'll need to clean it better before being sure. Gathering up all my finds and equipment, I left the mine, buying some ice cream to enjoy back at my camp site. I had hoped to meet up with McRocker Sandy B. and her family from Wisconsin on Tuesday at the Wolverine mine, but finances dictated that I return home a couple of days earlier than planned.
Tuesday morning I left camp early and made the eleven hour drive home, arriving at 7:00pm. The end of these trips can be a bit of a downer, but I still had another trip or two planned for this year. Stay tuned… more reports are on their way.