Hi Everybody!
When one door closes another opens. This was the case when Litha and I were unable to attend this spring's McRocks Fluorite dig in Kentucky. Instead, we would wait a month, and make a return trip north to hunt for more Canadian Amethyst.
I had spent nearly a year thinking back on our trip to Thunder Bay, Ontario, a trip cut short due to vehicle problems, and having been there once already I figured things would be easier this time. Maybe, maybe not.
After realizing that the Fluorite trip wasn't possible, I began making arrangements to collect with two different claim owners in the TBay area, Chuck Anderson and Ray Hietapakka. A large part of the adventure when taking these trips is that no matter how carefully you plan, the world can throw you a curve ball at any time. The adventure is in how you deal with it.
Monday, May 11th
We were on the road by 9:30am on a perfect sunny spring day. The plan was to meet up with the male adult members of my family at their fishing camp in the UP and spend the night there, however I realized this would put Litha and I behind schedule. We wanted to be in northern Minnesota by the next night with time to hunt for agates along Lake Superior's western shore. The fishing camp wasn't too far out of the way, so we stopped for lunch and talked for a while. My nephew Jake had already caught a nice Steelhead for that night's dinner. After lunch we moved on west; got some supplies in Escanaba and drove to Gene's Pond State Forest campground for the night. Once again, we were the only ones at the campground. Late in the night we heard a chorus of Coyotes singing somewhere near the lake.
Tuesday, May 12th
The morning after a cold night we left Gene's Pond, drove back through Felch, then down to Iron Mountain, and then headed west on US-2. On our last trip to TBay, this was where the van started acting up, but so far we were moving along perfectly. We drove through the short section of Wisconsin that US-2 passes through, and re-entered Michigan just before Crystal Falls. We drove on through Iron River and Watersmeet , and continued west to Ironwood to get some lunch. We then moved back into Wisconsin and drove on, remarking on the meticulous signage pointing out every bump in the road. At some point in Wisconsin we noticed an old fashioned style A&W drive-in restaurant and decided we really wanted one of their good root beer floats. After that nice break we moved on, reaching Superior and Duluth, with the van traversing the tunnels just fine this time. Now we drove north through Minnesota along the western shore of Lake Superior, making two stops to hunt for the elusive Lake Agate, and it turns out that I actually did find one; not a real spectacular agate, but for me any agate find is cause for a small celebration. This one was found at the raging mouth of the Cascade River.
That's one rip current you really don't want to get caught in, with the spring runoff rushing into the great lake. The lake itself was quite angry that day, and did not give up it's small agate without a struggle.
We ended the day at Judge Magney State Park, the closest state park to the border with Canada. There was a strong breeze blowing through the woods on this ridge, but the cold temps were not bad over night.
Wednesday, May 13th
After a quick breakfast we moved on north, stocking up on ice at the casino gas station in Grand Portage, and then continued on to the Canadian border.
This time we remembered to leave the pepper spray at home, and after a few questions from the Canadian border guard, we were welcomed into Canada. We drove into Thunder Bay and exchanged our money into Canadian funds. This time the Canadian dollar was valued a little below the U.S. dollar, meaning more money for us for a change. We then got some subs from the local Subway (Subway in Thunder Bay has breakfast sandwiches! Who'd-a-thunk it!). We had plenty of day to burn, so we decided to find a nearby landmark I had been told about, Kakabeka Falls, known as the Niagara of the north, and for good reason. This is a big water fall, and the spring runoff makes quite a roar as it drops 131 feet into the gorge. I had to combine two photos to get the whole falls into one shot.
Here's Litha posing in front of the falls.
We ate lunch in the parking lot, and watched as a school bus from the Iron Range unloaded kids to go view the falls. After eating we moved east of Thunder Bay along the northern shore of Lake Superior. Hwy 11/17 is a major semi shipping corridor, and the trucks there don't have a slower speed limit like they do in Michigan, and these drivers meant business. We stopped at the Pass Lake truck stop and somehow that school bus from the Iron Range got there before us, with the kids forming a long line at the cashier. Litha used a payphone in the hall to call back home. Everything was fine at home, so we took the road that leads to the Sleeping Giant park and the small settlement of Silver Islet, hoping that the general store there might be open to sell us a souvenir or two. Once again we saw lots of tame deer along the road on the way. At this time the big park was closed, and we drove on to Silver Islet, where we saw some more very tame deer munching grass right in people's front yards.
The general store is apparently only open in July and August, so we turned around and located a wildlife path where we took a short hike. With no pepper spray for protection, I didn't want to get too far from the van, so we didn't walk for long, but we did see what was either a Grouse or a Partridge. Before long we turned around and got back to the van, and then drove back up the road to Hwy 11/17, and who did we pass on our way back to the highway? That same school bus from the Iron Range. These guys seemed to be everywhere, like the cartoon character Droopy Dog. LOL! From there we took the very scenic drive east to Nipigon at the very top of Lake Superior and the farthest north either of us had ever been, where we would meet Chuck and Linda Anderson at their home. We had a couple of options for camping that night. Chuck offered us his driveway, which wasn't far from a busy train track (been there), and we could also camp at the wind blown marina. We picked the marina, and parked there to eat our dinner. Next we located Chuck and Linda's home, a nice historic building, being the second oldest house in town. Everyone was out back in Chuck's newest venture, a bait and tackle shop. It turned out that the hydro-electric power was temporarily out in town, and Chuck's shop had a wood stove that put out some nice heat. Chuck and Linda gave us a very warm welcome as we walked up to greet them. Chuck shared a couple of good Canadian beers with me while we made plans and talked until nearly dark. Finally we returned to our parking spot at the marina, nearly out of the wind behind a big fishing boat aptly named "Restic". Our first night there was a little cold but not bad. Several trains came through in the night, and we were glad we picked the camping spot we did.
Thursday, May 14th
We got up early, awakened by construction going on in the very parking lot we were camping in, and had a good hot breakfast in the restaurant right next to Chuck and Linda's house. As we were finishing up, Chuck came in and said that they were ready when we were. We arranged to meet them at a gas station in Dorion which was right on the way to their claims. So after taking care of our business, we headed down hwy 11/17. At one point we drove through a hilly area and it started snowing, but that didn't last long. We found the gas station in Dorion (covered with great naturalistic murals of Canadian wildlife), and Chuck and Linda waved at us to follow them. We were led to Chuck and Linda's hillside claim where we would be collecting for the morning. You could see that the claim had been worked quite a bit since we were there the previous year.
There were some nice Amethyst formations exposed here and there, but due to the hard rock they were attached to, I knew I'd never collect them without breaking them up into tiny pieces. I did find one little Citrine formation that could be safely collected. Looking close-up in a loupe, it has orange circular inclusions of Hematite.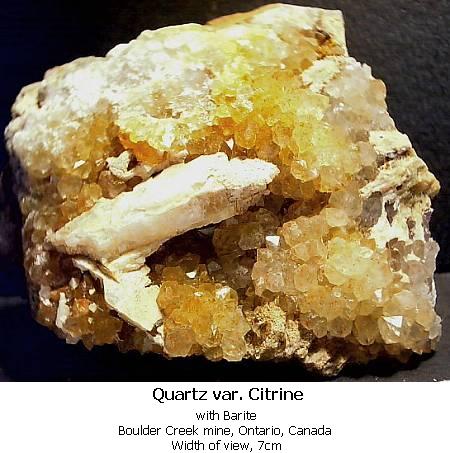 Here I am, working away at it.
At the top of the hill I found a larger rock with more Citrine that I could cob into a nice specimen.
Up there I also found some larger rocks with good milky Quartz formations mostly covered in a milky Quartz druze. This was a good cobbing exercise for me and I got a few nice specimens out of it.
Meanwhile, Litha had been busy taking photos and hunting for loose Amethyst points for possible future projects. This first panoramic view is from the top of the Hillside claim looking out toward Lake Superior.
Next, a few of the nice points she picked up. The biggest one in the center is 2.5 centimeters across in the center.
Some time around 1:00, Chuck and Linda's son Jonathan and daughter Ashley drove up and said that if we wanted to we could follow them over to the swamp claim, so we loaded up our finds into the van and followed down the two-track logging road. We met up with Chuck at a spot near the swamp claim where he was collecting fire wood for his wood burning stove in the bait shop. The Calcite/Amethyst vein at this claim winds it's way up along the hillside. Litha and I looked over the area where I found my best piece last year, meanwhile Chuck's family spread out to other spots along the vein. I found a few small clusters but soon ran out of hunting area. About that time I heard the sound of a chisel through the bush, so Litha and I headed in that direction. We found Linda and Ashley working on another part of the vein. Linda gave me this plate of good sized Quartz phantom crystals similar to what I had found last year, only the crystals on this one are much larger.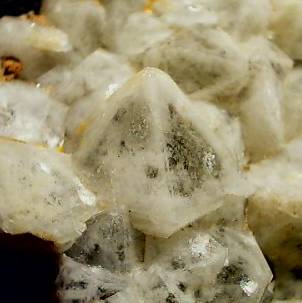 Linda said that nobody around there wants the phantom crystals, but to me, coming from glacial deposit territory where crystals of any mentionable size are unheard of, these are pretty special.
I started off in the direction where Chuck had gone, but soon changed my mind. You really needed to know your way around up there and knowing that this claim wasn't far from where we had seen the Bears last year, I didn't want to get turned around out there by myself, so I returned to where the girls were collecting. Not long after that I found Chuck down at the road, and he told me about a spot not far away that had a formation of Chalcocite, Malachite, and Stromatalite, so I turned the van around and followed him in his van just a short way down the road. Chuck and I walked up a little slope into the brush, and he pointed out the Stromatalite formations along the way until we got to the Chalcocite and Malachite formation. Here are a couple of pictures of what I collected in that area.
After this we all loaded up in our vehicles and drove back to Nipigon for the evening. Chuck and Linda prepared some Walleye chowder for dinner and invited us to join them, but I told them that we were some of the few vegetarian rockhounds that I knew of, and Chuck seemed to take no offence. Instead we called the local pizza place and ordered a pizza. Chuck showed me around the back yard. He had his garden tilled and ready to plant; showed me his temporary greenhouse with the tomatoes inside protected from frost. Then he showed me his buckets of rocks and picked out a few cool specimens for me to take home including a slab of Gold ore from the "Dik- Dik"/ "Orphan" mine.
Chuck also gave me this great piece of Platinum/Palladium ore from the Sim Lake gabbro, in Ontario.
It wasn't long and our pizza was ready, so we went to pick it up and then drove to the marina to take in the view while eating. Chuck had told us about two must see spots in town. They were the old trellis bridge and nearby historic cemetery with unmarked graves assumed to be those of workers who had died building the bridge. After eating our pizza we located the bridge and explored the cemetery, taking a few photos. After that we returned to Chuck and Linda's where Chuck tried to set up blasting for the next day, but was unable to locate some b-line chord. He shared some more beer and we talked until it got quite dark when I realized that we still had to set up the van for sleeping that night, so we thanked them for the great day collecting and headed back to our spot at the marina. That night was one of the coldest we've ever experienced camping in the van, and around 2:30am I decided to get up and start the engine for some heat. That greatly improved things and with the van warmed up we were able to sleep until morning.
Friday, May 15th
With the previous day's construction completed, the marina was quiet in the morning. After breakfast I talked to a couple of men at the marina and it turned out that since we were there before the season started, there would be no charge for our two nights of camping. Woo Hoo! Can't beat that! Next we returned to Chuck and Linda's. Since he was unable to blast, he gave us the option to return to the same spots and collect, but I decided to move on. Lyndon Swanson was supposed to be at his Blue Points mine, so that was our next stop. I paid Chuck what I owed him and bought this great specimen as well.
Now a few more pictures of what we found the previous day.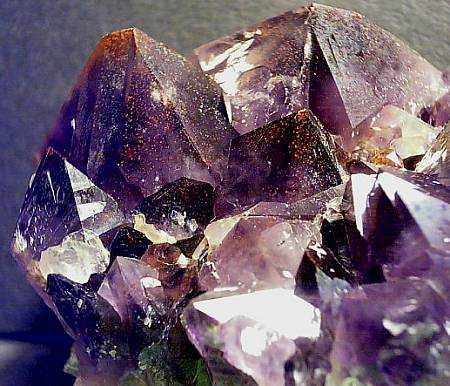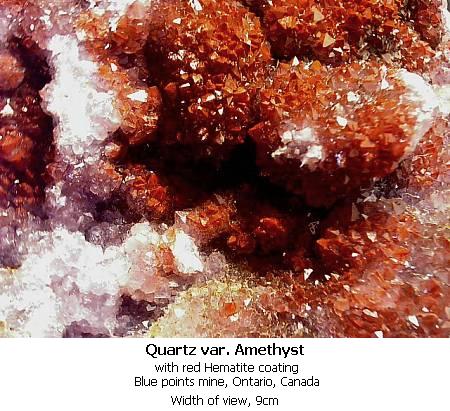 We collected there for an hour or so and carried our buckets back to the parking area and paid for what we were keeping. Then we thanked Lyndon and drove off to Thunder Bay for lunch. Our intention was to have lunch and then see if Ray Hietapakka was home, so we drove through the Thunder Bay lunch time rush hour and found a busy Wendy's and got in line.
After lunch Litha called back home and found out that a close relative was in the hospital with heart problems. It didn't take long to realize that we needed to cut this trip short and head back home. We stopped by Ray's apartment but he wasn't there, so I told his landlord Don what was going on, and then we headed back to the border. That's when the REAL 'excitement' happened.
Coming back into the US we were detained for about 20 minutes. I handed them our passports. They asked all the usual questions, how long I'd been there, what I was doing in Canada, what I did for a living... Soon about five guys were out there, they told me to keep my hands where they could see them, turn off the van and step outside. They had me put my hands on the wall, spread my legs and they frisked me all the while asking if I'd ever been in trouble with the law, I told them no twice, the truth. They escorted me inside and had me sit down while the did a background check on me. It turned out that someone using my name and birth date is considered armed and dangerous! They searched my van and found all my rockhounding tools, plus two Rock and Gem magazines with my name and address on them. My story added up, and they realized I wasn't the person they were looking for, but WHAT A TRIP! They gave all my stuff back and let Litha and I go. Litha was freaked by it too. This is something I might want to get cleared up before going back across the border again.
We drove all day, catching Duluth during the evening rush hour. Our only Bear sighting of the trip happened in northern Wisconsin. On the road in front of us a Bear crossed running at top speed. He appeared to be moving about as fast as an average horse can gallop, proving to me that anyone who thinks they can outrun a Bear is dreaming.
Back in Michigan, we drove through rain and made it to our campsite at Bobcat Lake shortly after dark. No one was at the Bobcat Lake campground, and in fact the place hadn't been prepared for campers yet. There were no registration forms at the check-in stand so, woo hoo, another free night of camping! It seemed like the Canadian cold front was chasing us, as temps dropped over night.
Saturday, May 16th
We had our breakfast and as we prepared to leave light snow started to fall. Through out much of the western UP bands of snow fell as we drove on. I ended up driving all the way from the western UP arriving home at around 8:00pm, turning what had been a three day trip to Canada into two days home. Litha's family member is now stable and needs a pacemaker, but should be OK. The trip didn't turnout as planned, but that's just how it goes. Maybe next time I'll be able to collect with Ray, and if so, I'll look forward to it.
This time the van performed without any problems, and I can be grateful for that. With this collecting season just begun, I hope it continues to do so. Now it's time to plan for our next adventure….