After a quick breakfast on Thursday, October 15th I loaded up and started the drive to Kansas - luckily the day before I spent some time and rainx'd my windshield as it was a very rainy drive - Jan told me the weatherman promised for it to clear out there by afternoon so I should find sunshine - well guess what, as is often the case the weatherman missed! But I arrived at Jan's about 4:30 that afternoon and we went to her jewelry class that evening - not only do they do jewelry but they also have a rock saw and polishing wheels so we took the thundereggs we got in New Mexico in and cut them in half. that was much fun, first time I have ever cut a rock! I am really ready to get the workshop finished here so that I can set up the saw I purchased at auction last year and start cutting some, but I digress! after class we grabbed some dinner and then tried to get a good nights sleep so we would be fresh and ready for the drive to Azle, Texas the next day.
And hooray! sunshine! It was a gorgeous fall day and everything went well until we got almost to Dallas/Ft. Worth and got into the backed up traffic for the Texas/OU football game - we started making our way down a frontage road to get onto some back roads and spent an hour to go one mile! But soon we were off and on our way. We wanted to make a side trip anyway and go thru Decatur where there is a couple of buildings constructed with petrified wood.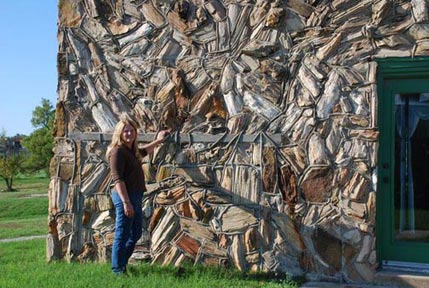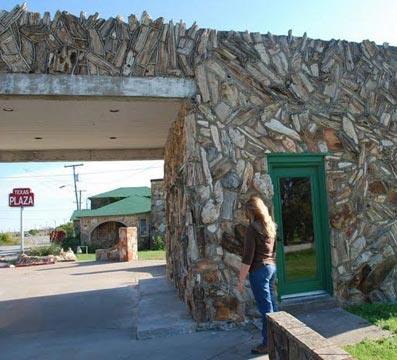 So we arrived at my sisters home in Azle and we all went out to dinner then came back and visited and made plans for the next day. You see on Thursday afternoon the quarry that we were going to go to in Midlothian had canceled the event due to too much rains that week! So after much discussion we decided we would drive over to the area where the quarry is and see if we could find any areas near there that might have the same pyrite that we could collect. We first made a stop at a location where my sister, Melanie, and her husband, Gilbert, have found ammonites - we found lots of pieces! and we found various other fossils - several sand dollars - I'm sure they have other names but that is how I know them - and others.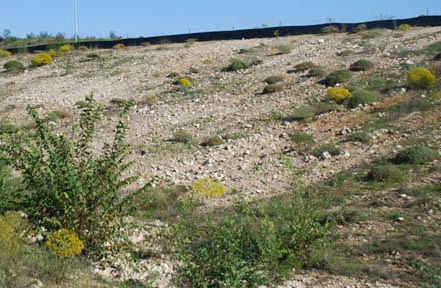 Then by chance we found another site and success - we found pyrite! Here Gilbert is pointing out a piece to Melanie.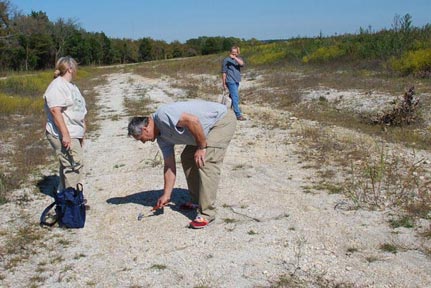 Here is a group picture of my pieces -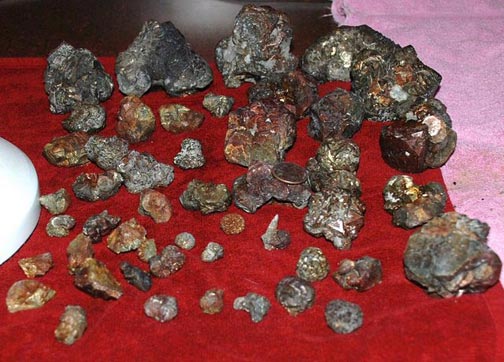 We didn't find as much as we probably would have/could have in the quarry but we were all very pleased with this location and our bags were quite heavy when we were finished. One of my favorite things there was the gorgeous purple thistles, I've never seen any like these before: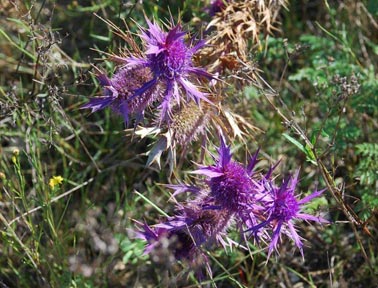 Also found at this location were pieces of petrified wood that have been mostly replaced by calcite - here is some in the ground that unfortunately broke apart when trying to extract.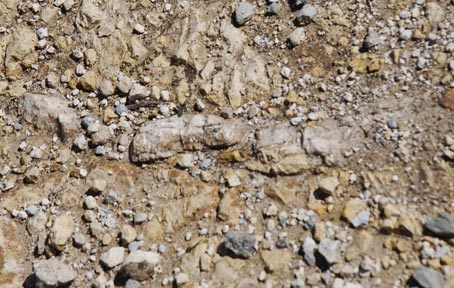 But we did find some pieces that have the wood and calcite.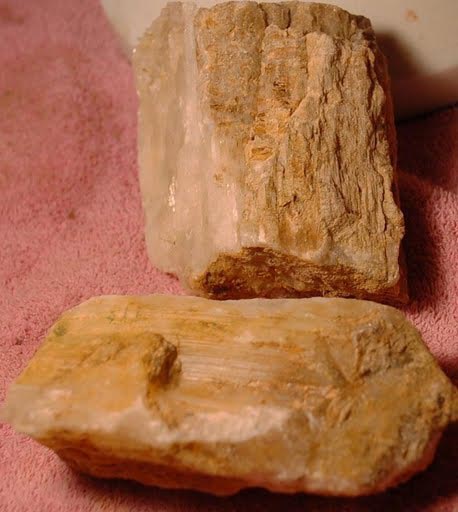 After leaving this location we drove around just looking for road cuts, or other locations where we could explore and look for more finds. By time we got back to the house that evening it had been about 13 hours of exploring - there were four tired folks but happy with what we found.
Sunday morning we got up, stopped for breakfast and then headed towards Sherman, Texas. Melanie had been trying to explain about an unusual rock they had found on the roadside where a new overpass was about complete - when Jan and I looked at it we say a septarian nodule! So we drove and drove and drove and arrived at the location. unfortunately the dot had already covered most of the shale that they are found in with topsoil and had grass growing but we got out and walked and looked and walked and looked. Melanie quickly found a nice one and gave it to Jan and we found several that were too big for us to retrieve! We all found small pieces. As we were working our way back to the vehicles I decided to climb a little higher and check one more location and EUREKA! I found a really cool specimen It is six inches in diameter with large raised crystallized ridges - I doubt I ever do anything else with this specimen other then keep it upon a shelf!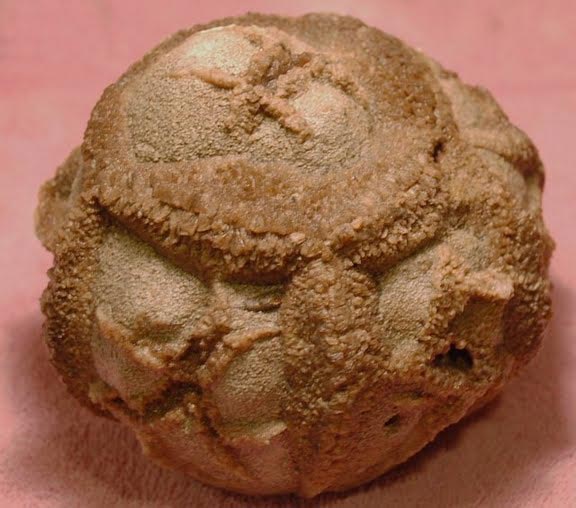 On one spot the ridge is broken off and it shows a really gorgeous dark brown crystallization.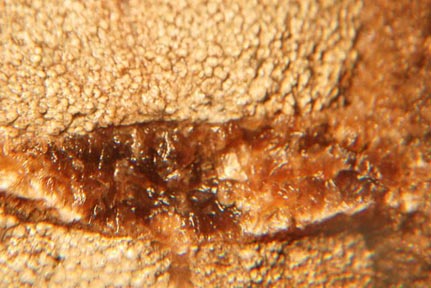 I got a much larger broken piece that has very little ridging that I will try to eventually cut and polish and there was another one that I left with Jan to take to her class to see if it could be cut as it was large also. Another piece I picked up that I have labeled the mystery piece is a dark but somewhat translucent block of some mineral - I have not been able to get a picture that really shows the color but this piece is 2 3/4 inches long by 1 1/4 inch thick, is quite hard and heavy! The surface is scratched but it should polish brightly! In sunlight it looks to have a greenish cast to the color but as you can see from the picture it has a variation in colors inside.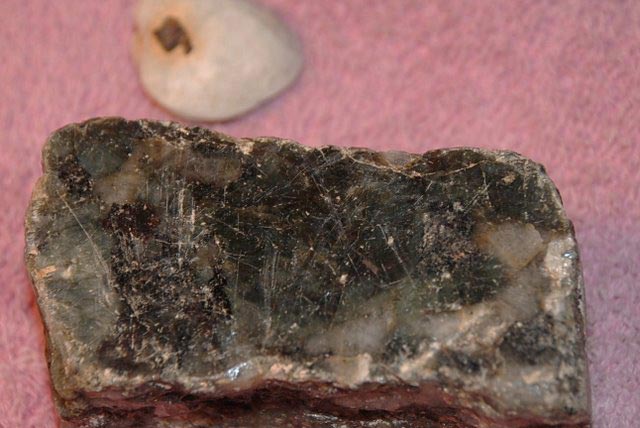 All in all a successful weekend of rockhounding! as we drove north into Oklahoma we decided to make a quick stop at the casino - each limiting ourselves as to what we would put into those one armed bandits - and whoohoo, for the first time ever I walked out a winner, played $40 to win $127.25! We cashed out and headed on north - we made a drive thru the area between Noble and Norman Oklahoma where rose rocks (barite roses) are found but we didn't find any good locations, but we did get to stop and visit with a friend of Jan's and again that was a good time and good thing too as she informed us that there was a U-2 concert in Oklahoma City so we were able to do a circuitous (sp?) route to go around the heavy traffic, as we got back onto I35 just north of OKC we could see the traffic heading into town was at a standstill, just the same as it was no doubt on the south side heading north into town. We drove on to Jan's home just east of Wichita and then Monday morning she headed back to work and I headed toward home. Had another gorgeous day ahead - I was pleased to see the sun rising into another clear sky.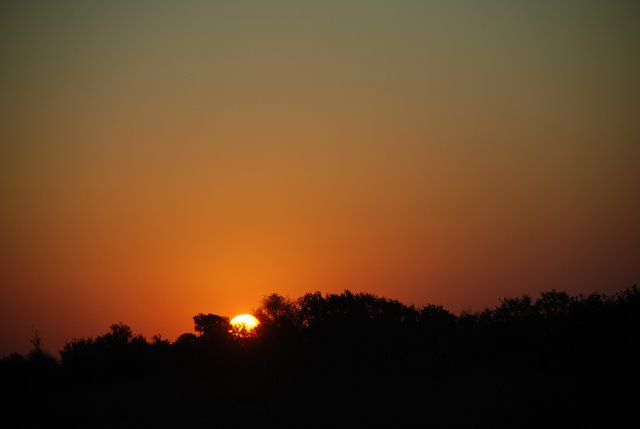 There are a lot of additional pictures of the pet wood buildings and some of the locations we stopped at as well as the finds that I have photo'd so far - if anyone is interested you can view by Clicking Here
Hopefully in the spring Melanie & Gilberts club will reschedule for the quarry and I'll once again head south, sure wouldn't mind stopping and looking for more of those septarian nodules too! hope you enjoyed the report.
Docia