Not being an "ist" I can not confirm that I have any of this prize however I do have a few samples that are suspect. Then Jan and I headed back down the hill to collect the golden agate - this is collected in a very large field - we were told it is approx. 100 acres in size - took a bit of looking until we finally got far enough out to start finding. Our collecting bags were fairly weighted down as the time drew near to head back to the vehicles to caravan to the second location of the day to look for more of the blue agate. Second location was another climber - steep hills but not too difficult - found enough to fill another collecting bag with the blue agate.

Afterwards we caravanned to Reserve to a restaurant for a great rib dinner and fellowship with a good number of the r'hounds. There were 74 participants at this years event, approx. 40 went to the restaurant for the optional group dinner.

This ended the time Jan and I had for collecting, however I had taken several crates of druse and/or calcite with us and we were able to trade materials with a few of the other rockhounds.

Came home with lots of material, both collected and traded for and memories galore. The landscape of the area is awesome, the wildlife abundant, the camaraderie fantastic, and the collecting wonderful.

I know I have probably left out some, if not many, of the highlights of this trip. The memories are swirling around in my mind of it all. I'm very happy that I was able to make this trip, Jan and I had one awesome time and we are already planning next year to go for the entire event.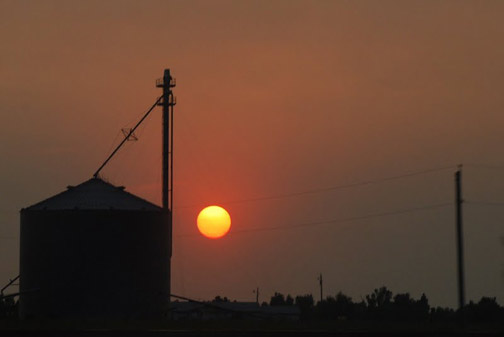 Driving home - sunset in Kansas
I hope you enjoyed this report.
---
CLICK THE LITTLE MINER TO RETURN TO THE FIELD TRIP PAGE