Got back to the desert country sooner than I expected. Time frames fit, so I was able to grab my 17 y.o. grandson, Caleb, and headed for the past week to a few of my favorite sites.
First was the Hart Mt. Antelope Refuge Hot Spring Campground. The spring was a usual delight. The campground was pretty full due to it being antelope hunting season just outside the refuge. Our campsite had a willow grove where over a dozen hummingbirds were flying and chattering around. The refuge lived up to it's name: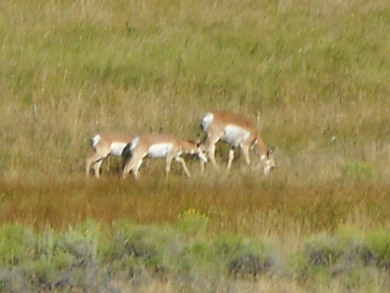 I used the directions from Gem Trails of Oregon to find Flook (dry) Lake jasper and agate site 7 miles from the Hart Mt. HQ. We spent a half hour walking thru the dry lake bed area: nothing found but dull brown and yellow small jaspers and a few pieces of nondescript agate. Don't plan to go there again. Saw a coyote near the road by Flook Lake, though. (OK: blurred pics)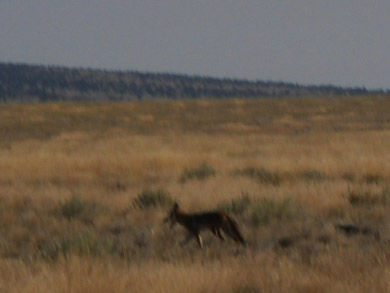 Next stop was Page Springs C.G. near Frenchglen. Not bad for mosquitoes now. Can't believe how much landscaping has been done there. Again, pretty full due to antelope season. I remember over 30 years ago, times when I was the only person in the campground. Just ain't the same now! A drive thru the refuge road produced these pics.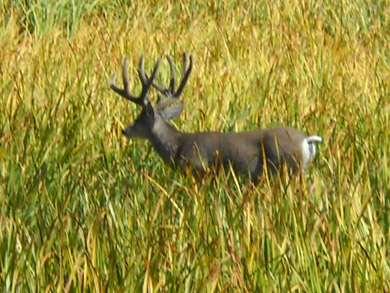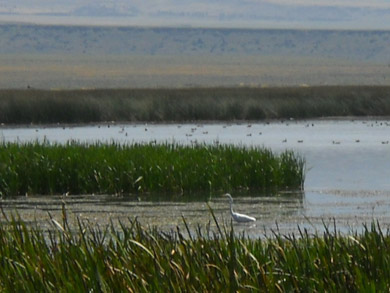 We then headed to Fields on the east side of Steens Mt. I had been unsuccessful in finding Borax Lake a month ago, so I asked directions at the store. The old access from the main road towards Alvord Desert is now fenced and private. BUT, you can head east on the dirt road from the power line transformer that you find when you join the Fields-Denio road coming from Frenchglen. Go about a couple miles to the first dirt road heading N or left. Then it's maybe 5 miles to Borax Lake area and the bunch of hot springs heading towards the Alvord Desert. Just as we turned N I saw some blowout areas by the road. I decided to stop and look around. Zero chips or artifacts, but immediately noticed the ground was covered with obsidian "Apache tears" nodules, and a lot of fragmented agate pieces - many with centers of small quartz crystals, several jaspers, two pieces of zeolite, and a few fossil bone and teeth fragments.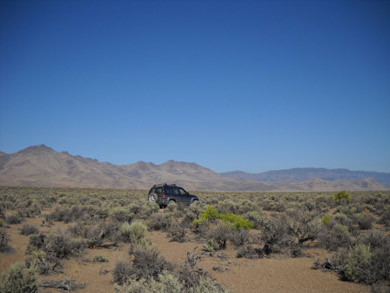 Looking west towards Steens Mt.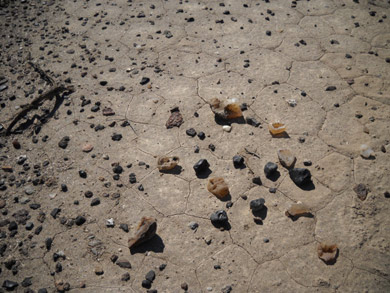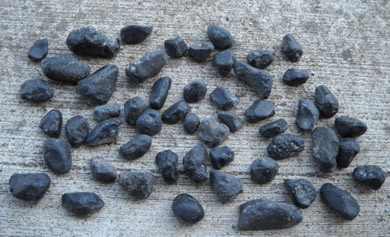 Apache tears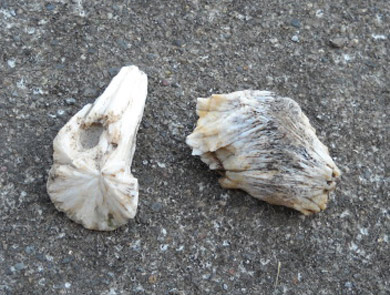 Zeolite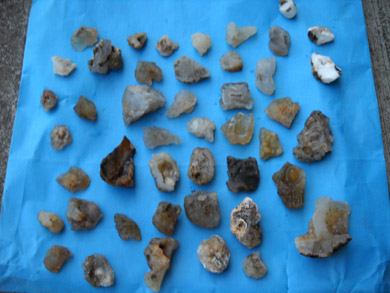 Agates
Then we headed on to Virgin Valley. Just camping and looking for petrified wood this time. Didn't go to a fire opal dig, but drove to the short drive leading up to the Opal Queen and Bonanza digs. Parked about halfway up the hill and picked up a batch of mostly agatized petrified wood which is scattered on both sides of the road.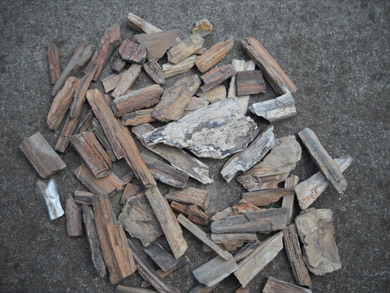 Coming back to our camp at Virgin Valley, this group of wild burros was standing by the side of the road. They just stood there when we got out to take a picture: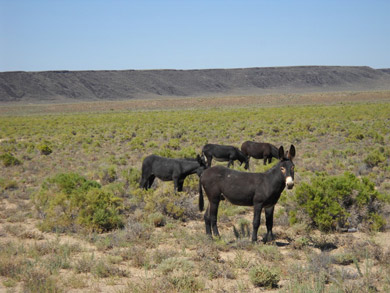 . . . and a typical desert sunset. Exact same place, Jay, as our camp a few years ago. Deja vu: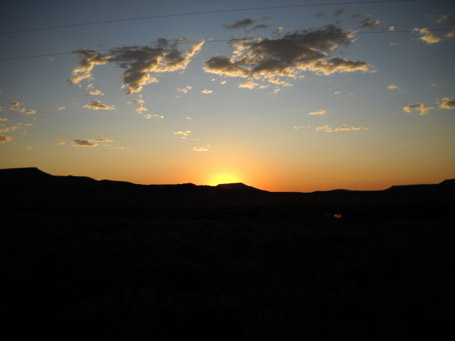 While at the Virgin Valley CG, a fellow came back from digging in the tailings at Bonanza. Picked up maybe 20 very nice fire pieces. A month ago I found 5 OK ones at the same location.
After driving a few miles from the campground the next morning, these wild horses were waiting for us along the highway: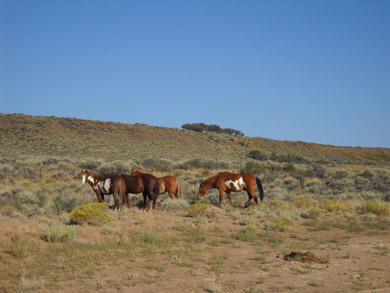 Several people I talked to would like to drop kick the TV gal Kirsten Gum who does the Treasures show into the next county. She goes to areas that are evidently salted for her to find her "Treasures". She went to Virgin Valley and wildly exclaimed how she'd gotten very valuable fire opals. Now the cost of digging has gone up as high as $500 after people have been coming who think they'll also get rich. Same thing happened to the sunstone digs near Plush where Jay and I went a while back. Digging was free, you could keep what you find if it had no color. Nice color stones would be priced at a discount if you wanted to keep them. Gum also went to the sunstone area near Plush. Amazingly she was located at a spot where the digging was soft instead of the hard-rock usual pounding necessary. Soon she dug up a nice colorful, "very expensive" sunstone. See, folks, what you too can find here! This year the price has gone to $150 a day digging fee. No free collecting anymore. I know this is a different perspective from the show in CA where our friend Jay became a TV star. I enjoyed that show. Jay, was the area there salted for her, or are the pickings just better?
This was the first time I was able to have some time just Caleb and myself out camping. We both benefited from the trip. AND....that kid has "the eye"! He found several nicer rocks than I did. But we'll do it again anyway.
Anyway, back home after a great trip.
Herb