Hey All,
Returned home from Arkansas on Sunday evening, driving eight hours in heavy rain and traffic and was glad to be home after enduring that. I left Wednesday morning with near perfect weather for mid November in Missouri, one of those freak warmer than normal years when the forecasters are still trying to figure out the whys and wherefores. Its normally ten degrees warmer this time of year in southern Arkansas and I wasn't disappointed this year with the warm temps during my stay. I dropped my mom off in Fort Smith at the home of one of my uncles and continued south to Lake Ouachita near Mount Ida for my four day stay. Normally our drive down is quite stunning with beautiful fall foliage, but after several months of abnormally heavy rainfall, their fall season was cut way short and many trees were barren or holding brown leaves only. Color was very spotty at best.
After a couple of days of hiking and photo shoots at waterfalls south of Mount Ida in the National Forest areas, and Garvan Gardens in Hot Springs, Kyle, who came down to do some photo shoots and is also a rockhound, and I drove over to Miller Mountain Coleman Quartz Mine north of Hot Springs Saturday morning. We arrived about 8 am and found we had the place to ourselves initially. I stopped at the mine office/rock shop and paid our dig fees and talked to the new caretakers that Henry had mentioned, and noticed that things looked much better than the last time I had been there, a few years earlier. Cleaner comes immediately to mind.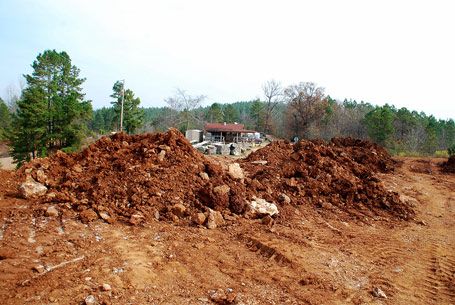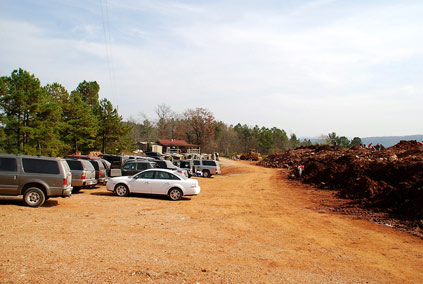 We talked for a bit and new tailing piles were pointed out to us and they elaborated on the good advice Henry had given me about the color of clay mud to look for and then we set out looking for just that in the newer piles. Kyle decided he was going to look for single crystals and I started looking for clusters.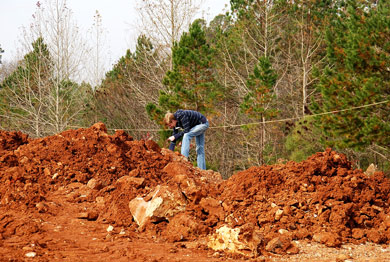 I immediately started finding some nice singles and passed them over to Kyle and continued to look for clusters. Within just a few minutes I discovered a small cluster in the cream colored mud and set it in my bag for later cleaning. It was only the beginning.
I climbed up to the top of the heap, so to speak, and saw there were a few piles up on top too and began a surface sweep of the piles. One of the caretakers asked me to reposition my truck and told us there were fifty five boy scouts on the way to the mine to dig as well.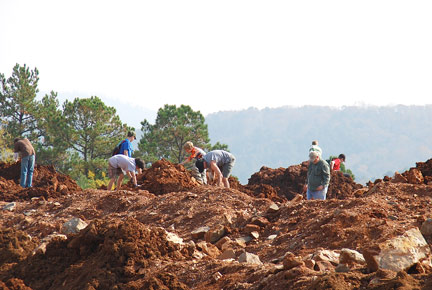 We continued to dig and search for crystals, and shortly after I found a very large chunk of massive quartz peeking out of a new pile of fresh clay, which included both dark red and cream colored mud.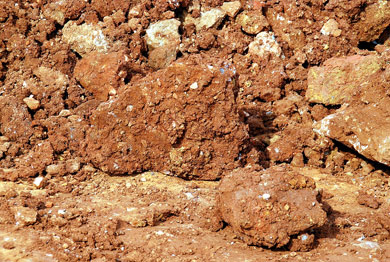 I began removing mud from around this large chunk and found several nice crystal points on and around the entire piece, but quickly determined this piece was way too heavy for me and Kyle to load up in my truck. It was every bit of 30 inches high and 36 to 40 inches long and most likely four to five people could have grouped around it to dig for quartz.
I discovered the mud at the bottom of the chunk, all the way around it, was cream colored so I began exploring this area and soon began to pull out clusters and singles right and left. I called Kyle over and he started to help me dig around this large chunk and he began finding singles and clusters also. We worked for about twenty minutes and filled three canvas bags before moving on to other areas of the tailings area. I left my bags there along with four basketball sized suspects of crystal and decided to do a more extensive surface search.
I wandered over to the roped off boundary line we were told not to cross over, mainly because it serves as a warning of an impending steep drop off, and so I walked along the rope and found several more basketball sized clusters that were either deposited there by others who felt they didn't measure up or rolled to their location after being dumped by the front end loader. I also looked under rocks and found some nice smaller clusters and single points as well. As I was walking along, I exercised the Rule of Docia and turned a few ugly sided rocks over to reveal the very pretty side and found some very nice smaller clusters this way as well.
While we found several very heavy chunks that would require a front end loader and large truck bed to transport home, we also found some smaller chunks that didn't require as much manpower. I also found a few chunks, large and small, that had a rainbow sheen and shine to them. I asked one of the caretakers about it and she said it was caused by a reaction in the quartz to iron oxide and produced a layer of sheen to the quartz layer on top. I was able to find a few smaller pieces to bring home with it. I`m waiting for sunlight to return to photograph it properly.
After four hours, Kyle and I started to load up our treasures and re-arrange the load in the truck bed, moving as much up in front of the axle and over it as I could. I wrapped up ten basketball sized chunks and positioned three buckets of crystals, just as twenty five suv`s and cars loaded with boy scouts drove up to the mine office. We watched as about seventy boy scouts, accompanied by fifteen adults, got out and grouped up to listen to the caretakers explain the rules and boundaries of the tailings area and showed them what they were looking for.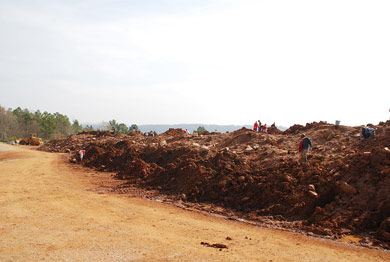 I had to make a few more trips up to get my bags and chunks as they began climbing up on the piles and looking around. Each scout was armed with a one gallon pail and a digging tool, either a three pronged scratcher or a hand shovel. While up there, one of the scouts came over and showed me a very pretty one inch crystal that he found, very slim but very perfectly shaped and perched upon a small piece of sandstone and clay colored. He asked me if I he had found anything at all and I told him I was impressed, that he had found a very, very pretty crystal. I asked him if he had anything to wrap it up in to protect it. His dad was with him and told me they didn't bring any wrapping material with them, so I walked back to my truck and got a small feed sack out and took to them and showed them how to wrap and protect it. His dad placed it into a padded pocket of his backpack for safekeeping. Many collectors would have called his discovery the find of the day, it was perfect and unflawed.
We loaded up and headed to Cracker Barrel in Hot Springs for a delicious lunch after that and home the next day. I brought back about two hundred pounds in quartz crystals, mainly clusters and I`m still cleaning them. I have some that are clay stained and some with some black residue on them, but most are cleaning up fairly nicely with plain soap and water. I haven't decided yet whether I will clean the stain off or not, I kind of like it on some of them. I also found out today that I have a large single point that is lemon colored and has several smaller crystals attached at the base of it.
The following pictures show some of the washed specimens that I recovered.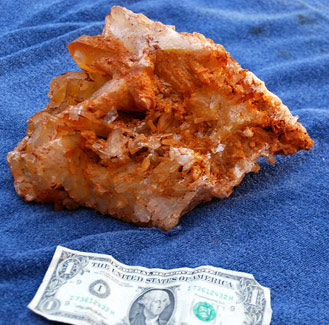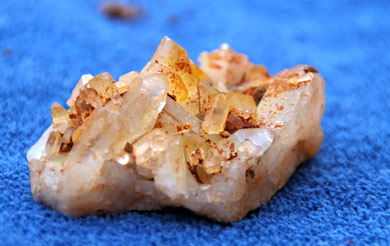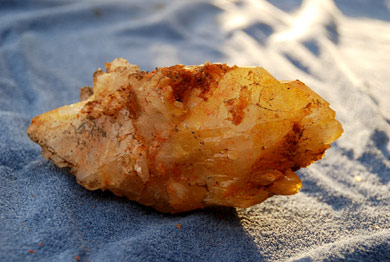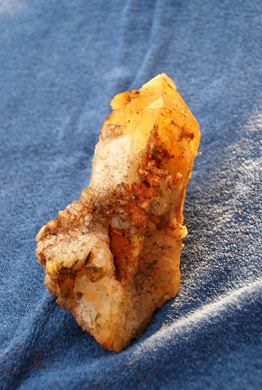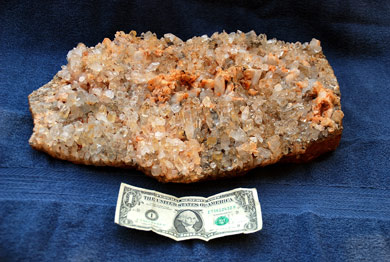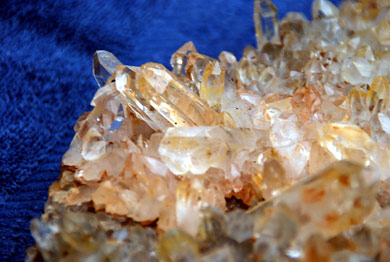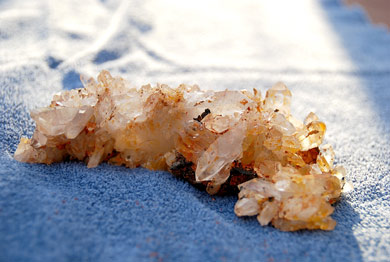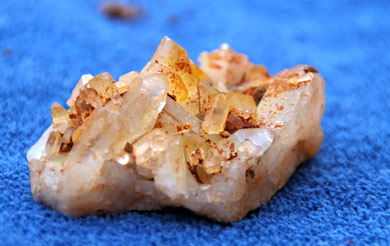 James
---