The week after Christmas, my father-in-law Jerry and I took Ernie Walker up on his offer to come stay with him and Phyllis for a couple days of rockhounding. We had decided to go to Girard,Ga for Savannah River Agate on Monday and a "secret" site closer to Ernie's on Tuesday.
On Monday at 7 a.m., we headed to Girard 2-1/2 hrs away. A word of warning when riding with Ernie...You might want to bring a pee-bottle cause he can a long time without stopping. We arrived a little after 10:00 and right away Ernie found a big rock to introduce the sledge to and give Jerry & me an idea of what to look for. The majority of this rock was kind of chalky and rotten but had some good agate also and so the collecting began.
Although a timber company was logging on one side of the road, both sides were posted. The road bed was packed down pretty solid and Ernie figured there was probably 8" to 12" of new dirt graded on the road bed since he was there last and was covering a lot of the good agate. Lucky for us all the recent rain had washed out the ditches and dirt banks on both sides of the road and we were able to collect about two 5 gallon buckets and a couple pillow size pieces.
Jerry and Ernie found the majority of agate but were not keeping any for themselves so they would leave little mounds of rock on the roadside for me to go through as I collected. What we didn't keep we put in the ditches for the next rockhounds and by 2:30 we were done. As we were driving out Ernie says.."I thought you were going to take some pictures for a Field Trip report!". And I said "Wow!...Thanks for reminding me on the way home Ernie!"
That evening we were treated to a feast of whole catfish, cheese grits and steak fries along with a couple gallons of sweet-tea (my kinda eatin) followed by a uv light show of Ernie's fluorescent mineral collection.
Tuesday morning at 8:30, we headed out to a site not far from Ernie's to collect some more Savannah River Agate. This site is on private land that Ernie has permission to collect on and would not withstand large or frequent collecting groups for long. But being private and posted should keep it safe from the "Rock Locusts" (my term) that ravage some sites. Ernie and I named this the "NOYDB" site.
Upon arrival I uncovered the top of a large rock in the parking area (bottom of picture below).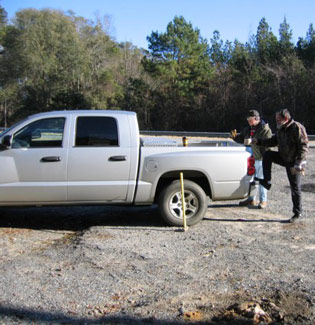 I told Jerry and Ernie to grab the sledges and have at it! Well..as you can see they jumped right on it! Lesson #1- Older men prefer being asked and not told!
This rock ended up being a dud.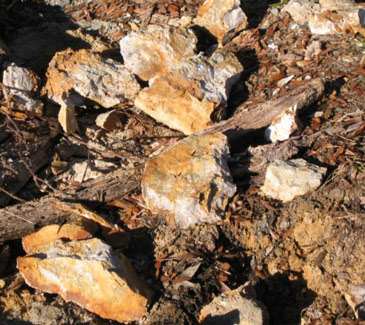 The creek was too high to collect in from recent rains but there were gobs of boulders, basketball size and smaller pieces along the banks of the creek and into the woods. I enjoyed this site a lot better than Girard and in my opinion the material was far better.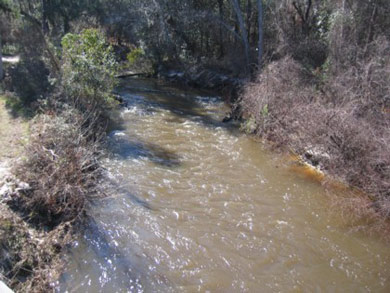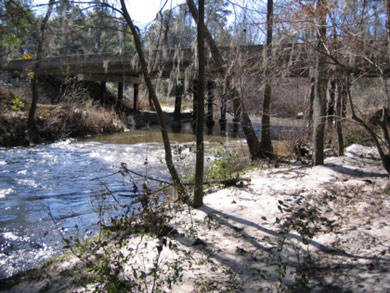 We collected until around 1:00 PM when I noticed Jerry & Ernie discussing something and looking at me!
My first thought was that they were deciding who would knock me in the head and who would tie me to a large rock and roll me in the creek! Thankfully I was wrong and they were just grumbling about needing a sandwich. Lesson #2- Older men are on some kind of schedule for food and don't like being asked.."Have you girls had enough for today?" So we called it a day and headed back to Ernie's for some groceries and spent the rest of the day loading down my truck with all the great cabbing material and specimens we collected!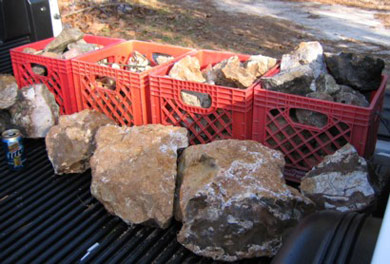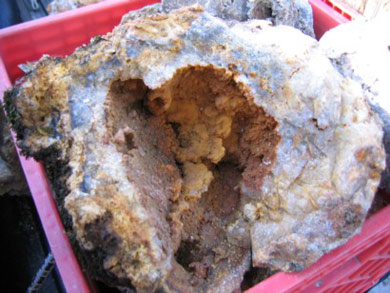 On top of what we collected in two days, Ernie loaded me down with a 5 gallon bucket heaping with cab rough, a Graves Cab-Mate (both from back when he thought he'd enjoy lapidary) and a bunch of Killer specimens he'd collected over the years from different sites like Graves Mtn, Diamond Hill and Rucks Pit to name a few!
The following are some of the agates we collected, including a fossil and some slabs I cut.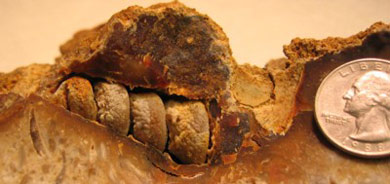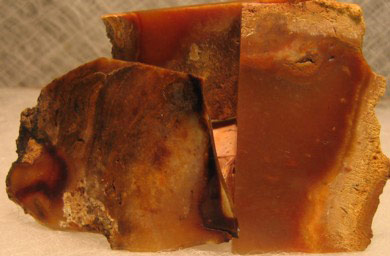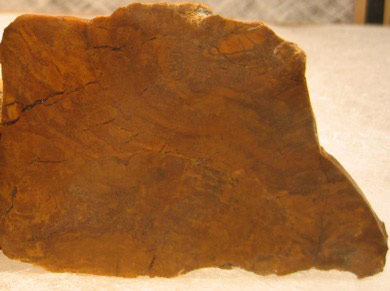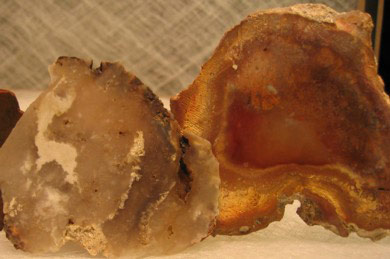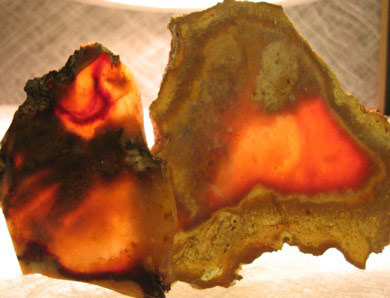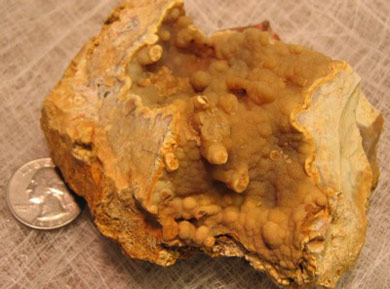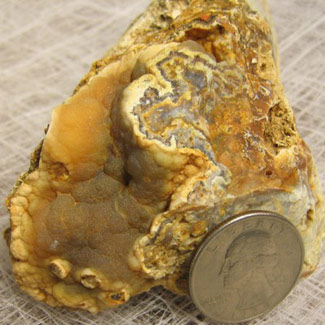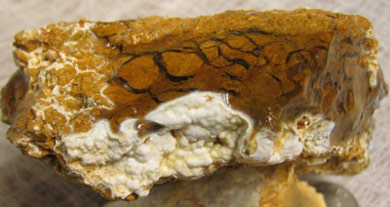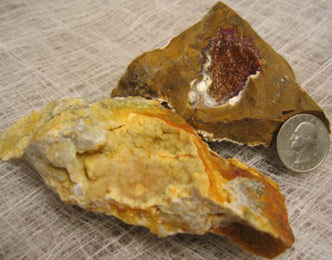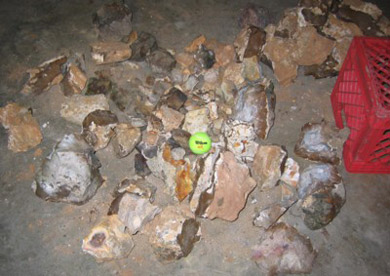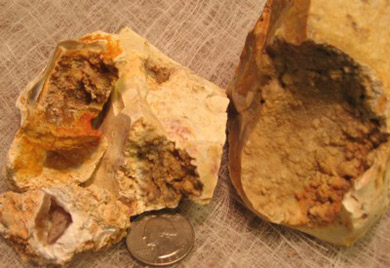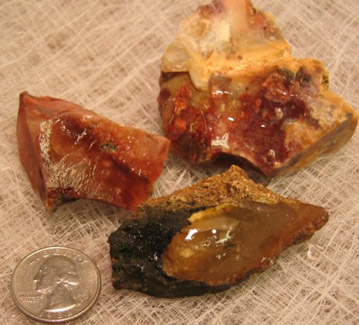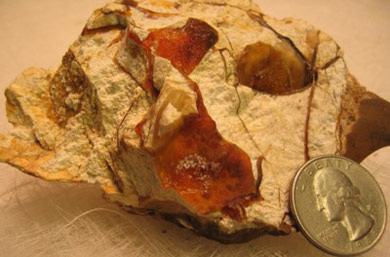 Hope y'all enjoyed what pictures I did take on our second day of the trip and of some specimens I quickly cleaned and slabs I cut after arriving back home. Yeah the photography stinks but I'm still trying to get good at cabbing! Taking pictures will have to wait!
In closing... A little advice in case your lucky enough to be invited to Ernie & Phyllis Walker's:
#1 If you don't like feeling like your at home with family..don't go
#2 If you don't like eating good food till ya bust..don't go
#3 If you don't like rockhounding in good company..don't go
#4 If you don't like gracious down to earth folks with good hearts..don't go!
But if you like all the above, then you're in for a treasured memory if you go!
Thanks Ernie and Phyllis!