Hi Everyone!
This was another great summer for collecting minerals in Michigan's upper peninsula. This year's adventure would consist of a field trip with the Ishpeming Rock and Mineral Club to the Republic Mine in Marquette county. The following Saturday was the annual rock and mineral show put on by the Ishpeming club, after which I would drive to the Ontonagon area for some underground Copper collecting, joined by my Dad.
I left home an a warm and sunny August 5th and made it to my favorite campground without any trouble. The plan was to call home from a pay phone when I got there to let Litha know I was alright, but apparently there are no working pay phones in that part of the state, so I drove into Marquette and bought a trac phone. With my new phone in hand, I returned to camp, where there was just enough daylight to prepare the back of the van for sleeping.
I was up early on Friday, August 6th and met up with the gathering crowd at the Pamida in Ishpeming.
After everyone had signed the appropriate forms, we filed out car by car, forming a long convoy leading to the Republic mine. In the small town of Republic, our long line of vehicles was quite a spectacle for the locals with our cars and trucks taking up nearly a half mile of road. After a short wait we drove up into the mine area near the silos where we had collected a few years ago.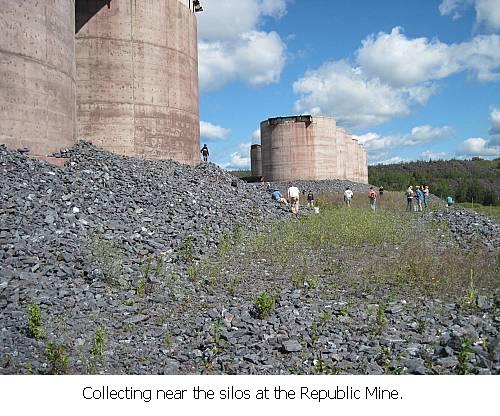 The last time I was here, there were rumors going around that this mine might soon be developed into a housing community. So for it hasn't happened thank goodness. I also learned that the owners of this property are both Cleveland Cliffs, and the people who own Lindberg quarry, both companies have proven to be rockhound friendly, so that's encouraging for future trips. Please keep in mind that rock collecting on this property is only allowed with permission from the land owners.
I collected a few nice pieces near the silos including Quartz and Barite on Specular Hematite.
After collecting there for an hour or two, we were led to a second location on the south side of the vast Republic mine property.
This was my first time at this part of the mine, and the minerals are quite different here. They were similar to what can be found in parts of the Champion mine rock piles. I found some nice examples of Garnet schist, with small red Garnets embedded in Hematite and Mica. One lady showed me a crystal on the matrix which looked very much like Beryl to me. Beryl has been reported here before, so I'm guessing that's what it was. At about 1:00pm I had my fill of heat amplified by rock, so I drove down out of the mine and returned to camp to get some lunch.
After grabbing something to eat, I drove in to the Cliffs Shaft mine in Ishpeming and found my buddy Doug Trudell working in the rock lab. We had a good long chat and got caught up on the past years events. In our conversation I learned a mistake I had made in my very first field trip report on the UP, "Michigan's Upper Peninsula Field Trip, May 14-22, 2006" where I had said that Doug took Litha and I to collect at the Section Sixteen mine. In truth, it was the Section 21 mine. I also learned that I had missed some good field trips including one to the Keweenaw and one to the Ropes Gold mine area. Being a long distance member and missing out on the delivery several club newsletters, I had heard nothing about these field trips.
On the Keweenaw trip, Doug had found a truck load of Basalt with lots of Chlorastrolite nodules in it. He showed me several trays of Chlorastrolite, aka "Isle Royal Greenstone" that he had polished up and prepared for sale. One that grabbed my eye was a polished Greenstone still attached to the matrix, but Doug said he wanted to keep that one. During our talk, I met Doug's new wife, and Doug let me use his phone to register my new trac phone so it could finally be usable. Time moved on and I was ready for dinner, so I headed off to Subway for a personal pizza and returned to camp to get ready for the rock show the following day.
Saturday, August 7th was another warm and sunny day, and I got to the rock and mineral show in Ishpeming early.
While shopping I ran into two members of the Flint Rock and Gem club, Bill Wendling and Don Lowell, as well as former Flint club President Ed Oller. At around 1:00 Bill, Don and I took the mine tour at the Cliffs Shaft mine. In my five years of going up there, this was the first time I had thought to take the tour. During the tour we were told about the Barnes-Hecker mine tragedy of November 3rd, 1926. Our guide mentioned how he had interviewed the sole survivor before he passed away in the 1970s. He related the gripping tale of the man climbing out of the flooding mine as water and rocks crashed out of the tunnels around him. We were taken down to the first level of the Cliffs Shaft tunnels where we could look up inside the tall elevator shaft, with the sealed up mine shaft under our feet and the current water level just 14 ft below.
After the tour I returned to the rock show across the street. At one point I saw Ishpeming club Vice President Ernie Johnson who organized the field trip to the Republic mine and asked him how many people had signed up the day before. He told me they had counted 75 people! I returned to camp for some dinner and to prepare for the evening's activities.
Before the nighttime club events, I met Doug Trudell back in the rock lab where he decided to sell me the Greenstone on matrix. Here's a picture of this nice little specimen, polished by Doug.
Every year on the night of the Ishpeming show, the club holds an auction and a presentation. This year Gary Richards from Wisconsin was showing slides of real photo postcards from the early days of mining in the UP. Since I collect these early UP mining postcards and other mining memorabilia, this presentation was of particular interest to me. I had seen several of the pictures before, but Gary's collection is much bigger than mine. Gary normally runs the annual auction, and this year was no different. Quite a few nice minerals were up for sale as well as jewelry and books and other items. During breaks the door prizes were given out, and I actually won a book on collecting agates! As it was getting dark outside I headed back to camp for the night. That night a light rain tapped on the roof of my van.
Sunday morning I was in no rush, so I took my time with breakfast before making the drive over to Ontonagon where I was to register for two days of underground collecting at the Nebraska mine. I located the Red Metal Minerals building about an hour early, so I decided to scout the area for good collecting beaches. The first beach I found was almost all sand, not good for rockhounding, but I did find a good place to park and have lunch. I drove further down the road and found a beach with large basalt flows that might show some promise, but by that time I needed to get back to town and register for my events. Back at Red Metal Minerals I met up with fellow Flint club member Joe Heilig and his wife who were registering for another event. We talked for a little while and I found out they were signing up for the Datolite collecting piles. We all went into the gift shop and I showed them some of the Datolite that was on display so they could have an idea what to look for. Owner Richard Whiteman was there and I talked with him for a little while before driving back to my next campground where I would meet up with my Dad who would be collecting with me the next day. I found a good campsite and pulled a calf muscle dragging firewood out of the adjoining woods. Soon my Dad showed up, and once we had his camping gear prepared, I rode with him into Ontonagon to get him registered, and showed him the great items in the gift shop. After that we returned to camp and made dinner and sat near the campfire to get caught up on everything since we saw each other last. As dusk arrived Loons on the nearby lake sang their evening song and we went to our beds. It was a warm night and I was glad to have my little battery powered fan to keep me cool.
Our Monday event wasn't until the afternoon, so we went to a beach I had been to before. I beach combed while my Dad wet a fishing line. At around 11:00 we made our way to the Caledonia mine to get ready for our underground adventure. While there I met up with my Vice President of the Flint club, Kyle Smith and his Uncle Mike, who would be joining our group in this dig. Finally everyone was ready, and 12 of us moved to the entrance to the Nebraska mine.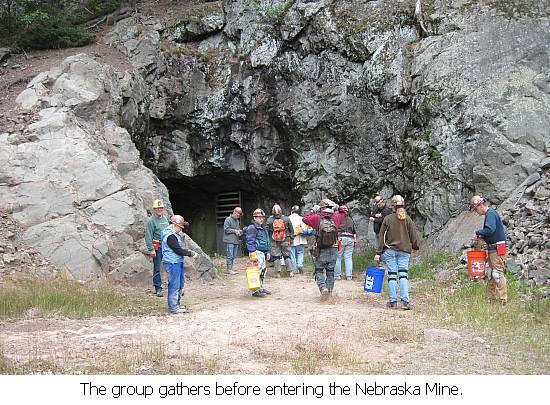 I took another picture as we entered the mine. That's my Dad, Jack Adams on the right.
While collecting, I took some more pictures. The first one is Kyle Smith. The second is my Dad hard at play, looking for Copper.
We were told that nobody had collected there since mining operations stopped in the late 1800s, and I soon realized that even with only candles to see with, those early miners were very thorough in their own hunt for Copper. Having dug out this space with black powder and hand tools, I could hardly blame them. Together my Dad and I managed to find some decent pieces.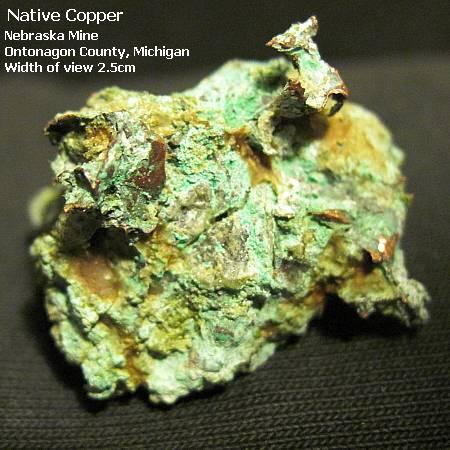 Time passed quickly, and soon the group was making our way back out into the afternoon heat. After returning our equipment to the pavilion, Dad and I drove our vehicles back to camp for dinner and more campfire chat. Once again the Loons performed their evening song. Not long after that, a nearby Coyote sang a song of his own. I LOVE it up there!
Tuesday, August 10th I was up with the sunrise. This morning I would return to the Nebraska mine while my Dad would try his luck fishing at some of the lakes in the area. I got to the pavilion at the Caledonia mine early, and when the group was ready, we drove our vehicles down the short road to the Nebraska mine. This time I took a short video clip of the group entering the mine, which can be seen on YouTube. Click Here for Video
While digging I asked Chuck, one of our guides, to get a picture of me. He very kindly obliged.
I also took a video of the area and people around me while I was digging. The video shows Kyle Smith and his Uncle Mike as well as others hunting for Copper around me. Click Here for Video
I moved a lot of rock that morning but only found small bits and pieces of Copper. These events are as much about the experience as they are about what you find, so I'm never really disappointed if I don't find much. How often do you get to collect in an area that hasn't been touched since the 1800s?! Around 11:45 we left the mine for the last time and stepped out into the noon-day heat, which was in the low 90s. I had decided that if it was this warm I would spend the afternoon swimming in Lake Superior and hunting for agates. I joined the others for lunch at the pavilion, and then drove back to camp to get ready for my swim. When I was about ready to leave for the beach my Dad drove up and mentioned that he had caught an 18 inch large mouth bass; a nice catch!
I drove to the beach, and on this hot Tuesday afternoon there were quite a few people on the beach and in the lake. With my rockhounding gear, I was an obvious person to ask about how to find agates. I told them what I know and
what to look for. While searching I found my first ever Thomsonite specimen.
The cool lake water felt wonderful on that hot day, and I spent a couple hours scanning the rocks and talking with people on the beach. Dinner time was drawing near, so I packed it in and returned to camp. By the way, an open wood fire has got to be the best way to cook just about anything, including the veggie burgers I had, cooked in a metal basket designed for smores. No more propane camp stoves and frying pans for me!
I spent the rest of the day sorting and packing my finds and preparing to leave for home in the morning.
Wednesday, August 11th proved to keep a UP camping tradition intact. It seems like for years now, when ever it comes time to tear down camp, the skies open up forcing us to put my Dad's camping gear away wet, and this morning was no different. It rained just enough to get things wet as I helped Dad put things away. We said our good-byes and he left ahead of me. I had been told about what was considered to be the best Copper crystal find in recent times, which was now on display in a new mineral shop in Chassel, so on my way home I tried to stop by and see it, but I was a half hour too early; the shop didn't open until 10:00 and I had a long drive ahead of me, so I moved on. Driving south through Marquette county I was lucky enough to see a rather large Coyote cross the road in front of me proudly carrying what looked like the leg of a deer in his mouth. I stopped at Kingsley North in Norway, Mi. for some lapidary supplies; got some lunch in Escanaba; bought some obligatory fudge in St. Ignace; stopped once for gas in Houghton Lake; and made it home around 8:30 that night.
A few days later I tried my first attempt at using muriatic acid to dissolve Calcite from around some Copper pieces. Here are pictures of some of my results. First is a nifty little grouping of Copper wires.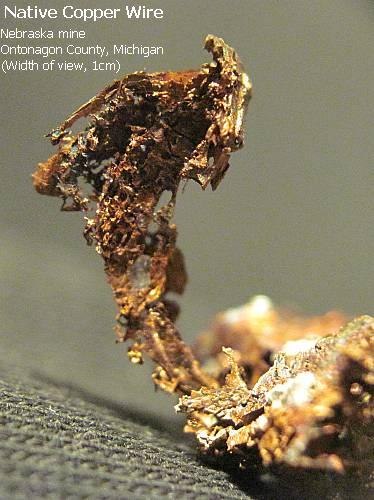 On the next piece I removed the Calcite to expose some nice micro crystals of Epidote with what might be orange Datolite crystals.
Thanks for reading everybody! 'Till next time… keep on rockin'.