Harry Polly and I spent five wonderful days in the Ouachita Mt region of Mt Ida, Ar quartz crystal digging. We arrived on Sunday Oct 31 at Marilyn's RV Park on Hwy 270 East of Mt Ida.
Our home for the week at Marilyn's RV Park, Hwy 270, Mt Ida.
Marilyn was a great host with a lot of info about where to go and what to see, eat, and dig in the Mt Ida area. The RV park has level pads and full hook ups. We would highly recommend Marilyn's to you if you are camping.
Monday after having the rental truck delivered from Hot Springs, we set out to explore the area around beautiful Lake Ouachita. We visited Wegeners Crystal Warehouse and phantom Mine. $20 for 2 hours of digging and they drive you to the field where the mine tailing's are dumper and turned, then pick you up. We passed on this. Next we went to Arrowhead Crystal Mine, Matt the mine boss was deer hunting, so the mine was closed. Next we went to the Fiddler's Ridge Rock Shop to see about digging at their Bear Mt Mine. Kathy Fecho and Husband Jim own the mine with Bobby who does the actual mining. $20.00 a day, mine opens at 9 and closes at 4. Kathy was very helpful about where to dig at their mine. She also told us that south of the lake the mines had smaller crystals, with the larger ones being on the north side of the lake. It now being 2:30 we decided to go there another day.
We then drove to the north side of the lake to Jim Coleman's Miller Mt Mine and Ron Coleman's mine. Miller Mt Mine is $10 a day sun up to sun down. Ron Coleman's is $20 a day and he was at that time not bring any new material out of the mine. We decided to be at Miller Mt at 7am the next day.
Tuesday Harry and I dug and hunted at Miller Mt from 7am till 7pm. What a day in the dirt! We found buckets full of single and clusters of clear crystals. Bill and Faith, the mine mangers for Jim Coleman could not have been more helpful.
Faith and me in front of Miller Mt Mine office.
Faith and Bill are co-managers for Jim Coleman (owner of the Mine.)
Bill and Faith showed us what to look for and where to dig. You had to dig through the gooey sticky clay dirt to find the crystals. Two whipped guys left Miller Mt with a smile.
Wednesday morning we woke up to a raining cool day. We decided to go back to Miller Mt. The mud was slicker and gooier. After lunch the sun came out. With the sun at your back as you looked at the mounds of mine tailing's you would see small shinny window pains of the crystals showing through. We left with more bucket fulls of crystals.
Thursday morning we went to Fiddlers Ridge Rock shop at 8 and bought our mining pass for Bear Mt that opened at 9. After a quick breakfast at the Mt Ida Cafe (great service and food)we arrived at the mine as Bobby did. Harry dug in the new tailing's that Bobby brought up.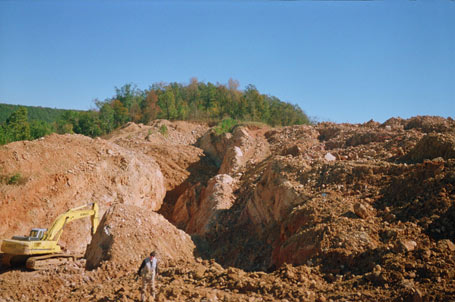 Harry walking out of the Bear Mt Mine.
Backhoe in back ground was being run by Bill Fecho
I went walking around the older piles looking for the crystals that the rain had help exposed. By 4pm we both had full buckets full. Having found a lot of crystal and not having explored all the mine area at Bear Mt we decided to return on Friday.
Friday 8am same as Thursday, Fiddler's Ridge Rock shop and Mt Ida Cafe. Arriving at the mine we went exploring the upper area to the west of the actual mine. We came across an area of large boulders. Upon examining we found clusters of crystal on some of them. Out with the crack hammers and chisels and down with the spades and rakes. By 2pm we had backpacks and buckets of the crystals in the rock matrix. Harry and I called it quits and headed back to Marilyn's to pack up the Motor Home for the trip home.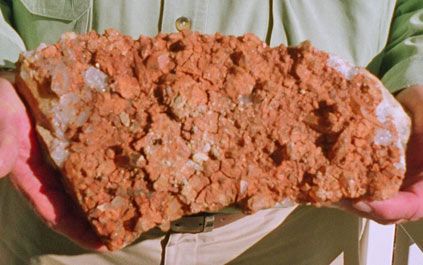 Unwashed crystals from Bear Mt Mine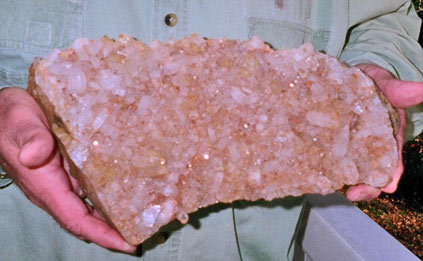 Same crystals after washing before putting in acid
With ever spare storage area filled with tubs and buckets and collecting bags of Crystals we finally got the 600+lb in the motor home. The trip home took 13.5 hours on Saturday. We arrived safe but tired.
We are still slowly cleaning the finds and the following pictures show some of what we recovered.
If you have not been to Mt. Ida, this is a must to add to your bucket list!!!!
Larry