I left Connecticut Saturday 10/9/2001 from Bradley International Airport, just north of Hartford at 4:20pm and arrived at Nashville Airport at 6:40pm where my online buddy Woody Jackson was waiting for me. We drove east some 2-1/2 hours to his home in Gainesboro TN where we chatted a bit and I got settled in.
I got up at about 6am the next morning and found the weather very warm and sunny at about 70F. About an hour later Woody's brother Terry was just finishing cooking breakfast so we ate and began planning our day. We decided to try our luck at collecting solid geodes and maybe a few fossils along with American Indian artifacts.
I was very anxious as I had never collected any of the above so the 1 hour ride seemed like forever to me! We got to a dry creek bed and when I say dry I mean dry! This area hasn't had any rain for a long time and this creek which was about 50'-60' wide didn't have single drop of water in it anywhere!As woody stepped out of his pick-up he immediately found a geode and said "This is what were after
!" I grabbed my 5 gallon bucket out of the back of the truck,took about 2-3 steps and found my first ever geode!It was only about 1-1/2" across and most people wouldn't have given it a second look but it was the first geode I had found in my 66 years here on earth and for me it was a keeper! The temp had warmed up quite a bit,the sun was shining, it was in the high 80's and I was in Rockhound Heaven! In about 1-1/2 hours we collected 107 geodes ranging in size from about 1-1/2" - 7".
We also found a lot of crinoid fossil stems which seemed to be everywhere and Woody found a broken arrowhead point with one notch and a flint scraper about 3" long. I picked up a piece of flint that seemed to have been flaked but it didn't look like much to me as I'm not familiar with Indian artifacts at all. I showed it to Woody and he told me it was a small scraper but I felt that he was just trying to make me feel good so I tossed it back!
As we were about to drive off a man stopped to ask what we were doing there. We told him and we talked for about 1/2-hr. when he told us he owned 93 acres there and also another "honey hole" for geodes and Indian artifacts! Note: This man, as all the other people I met in Jackson County TN, were very kind and friendly people if you just took the time to let them get to know you a little.
As we drove back on the dirt roads we came upon 3 women (in a small paved parking lot in the middle of nowhere) who seemed to be having a little trouble with their pick-up. Woody stopped to ask if they needed help and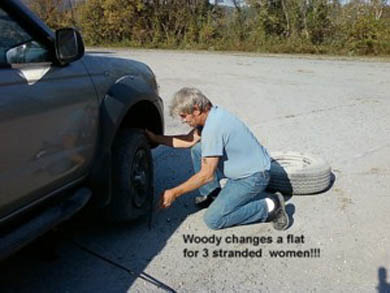 shoo 'nough they had a flat tire and couldn't change it! It was quite a task as the jack they had was a piece of junk that came with the vehicle! It was pretty hot out in the full sun so all I did was help Woody get the spare tire out of it's "cradle" under the truck and let him do the rest as I gabbed with the 3 women!
We got back home at about 5ish and just sat and talked about "things" as Woody and I seem to both be quite good at! If memory serves me right Terry was cooking steak and taters for supper so we all sat and ate!
The next couple of days were spent sightseeing, playin' the "geetar" and singing and planning out trip out to the Mt. Ida Arkansas area.
We left Gainesboro TN at about 10am which was kind of a late start but that's how things went which didn't bother either of us. Hey,,,,we were taking life and things in general as they fell and just having the time of our lives! It took us about 10 hours to get just passed Little Rock AR and we were both pretty tired of counting white lines on Interstate-40 so we bedded down for the night at a local motel run by,,,,,,you guessed it,,Eastern Indians who spoke VERY little English! We ordered a pizza, ate, watched TV for a bit and went to sleep.
We started out again at about 8am and drove the rest of the way to Mt. Ida AR. On our way there we stopped at Wright's Rock Shop on US 270. I found the owner to be a tad "cold' but maybe that's just me or he was just too busy to be friendly?? When we arrived at Mt Ida we checked in at the Royal Oak Inn in Mt. Ida. I can't say enough about the owners of this small motel as they were as helpful, kind and friendly as could be! I would recommend this motel to anyone and everyone who visits the area.
We settled in, went grocery shopping, filled the cooler with ice,water and food, had a bite to eat and checked in at Fiddler's Ridge Rock Shop for our dig at bear Mountain Mine the next morning. The fee was $20.00 per day from 9am to 5pm.
The next morning we arrived at Bear Mountain at 9:10am only to find that the gate was still closed! I hopped out of the truck and opened the gate as that's what the woman said to do the previous day at check in. We parked in the parking area to the right and got out to see what was "cooking". We had no idea where to start but only were told to stay out of the mine area itself.
About 10 minutes later a man from Iowa pulled in but he had never been
there before either so off the 3 of us went up the hill to see where to start digging. More people arrived and one couple said that they had just left from eating breakfast at a diner with Bobby (the mine attendant) and that he would be their shortly. Well not knowing where to dig we all "scratched" around for some time and by exactly 10:30 I was getting pretty hot under the collar about no one from the mine being there yet so I pulled out my cell phone to call Fiddler's Ridge Rock Shop to find out when Bobby would get there! As I pulled out my cell phone I saw the beautiful sky line and decided to take the following photo with my phone,,,,
Well, I took the photo and heard a truck rumbling up the dirt road to the mine,,,,said a few prayers and sure enough it was Bobby! Phew,,,,finally! Bobby backed his truck and flat bed trailer down to the mine pit and we all followed as if he was the Pied Piper! Bobby told us where to dig and that we were not to go down to the mine pit itself due to legalities.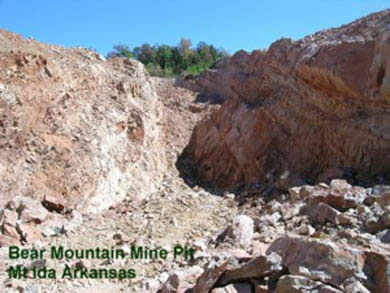 Just as he was about to climb up on the track hoe he handed me a quartz specimen and asked if I wanted it? It was out of his hand and into mine like magic! He climbed up on the machine and off he went down to the mine pit.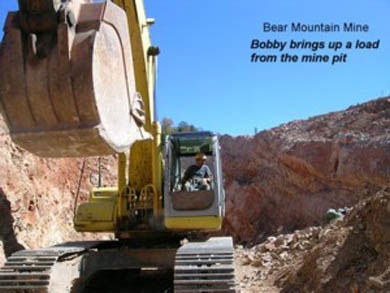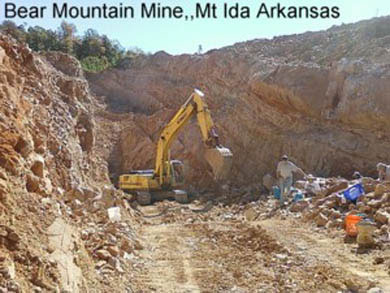 Bobby hauled up several loads of fresh dirt for us all to dig through so we did just that!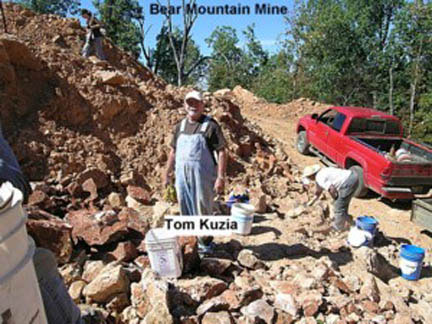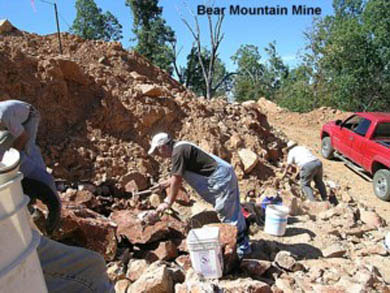 The mine owners have to make a buck too, so Bobby started loading up the flat bed trailer with the "real" goodies,,,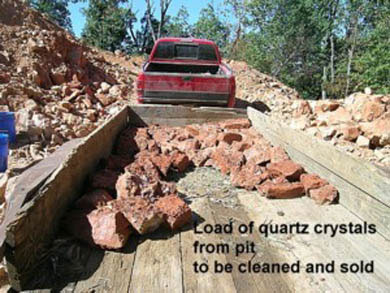 There was a LOT of quartz to be found and many were the size specimens that you see on the flat bed. However, it was a strenuous hike to haul these back to the parking lot and our vehicles were not allowed to the actual digging area(s). I wasn't bothered by this as I was just taking specimens that I could ship back home in the USPS large Flat Rate boxes but my buddy Woody who has COPD was killing himself carrying the heavy pieces to his truck. I told Bobby about Woody's condition and asked if Woody could put a few heavy piece on the flat bed but he couldn't allow it (for those who go here I would think a small hand truck would be a good idea but I don't know if they are allowed).
After several hours of digging in the heat and drinking about 25 gallons of water, we had both had enough so we left the mine at about 4pm which was just before a group of 15 or so college students from Texas were about arrive. Dunno why they were coming that late but they were! Educated???
My day at Bear Mountain Mine started out very frustrating and my blood pressure was probably off the chart, but through Bobby's kindness, friendliness and professionalism,not to mention a ton of quartz we found, I had a BLAST and would definitely go there again!
When we got back to the motel with over 200 pounds of quartz specimens and I felt like the sole mule left out of the other 19 who got laid off from hauling that Borax Wagon! Beat? YES, but it was a good beat and I was dying for more "punishment" the next day!
We wanted to try our luck at other area quartz mines, so, the next morning, we headed out to Jim Coleman's Mine on N Highway 7 in Jessieville which is normally about an hour drive from our motel in Mt Ida. After missing a turn and ending up on Route 5 in stead of Route 7 we stopped at their rock shop to pay our fee of $10.00 but found out at the mine that we could come directly to it and pay there.
We were greeted by a VERY nice man who's name (I think) was Billy,,,,bad memory. He was VERY helpful and informative and is there all the time as he and his wife live at the mine. Billy told us where and how to find the quartz crystals which were in the gooey red clay in the piles of dirt brought up from the actual mine. As I knelt down to start to dig Billy handed me a "ball" of the red clay and said "You might find something in here"! Well, I did and it was a mighty fine cluster of clear quartz and only the first of many that I recovered that day. My buddy Woody opted to climb all over just about every pile of dirt there and actually did a lot better then I did sticking with one pile and working my way through it.
I took several breaks and drank a lot of water as it was hot and sunny the entire day. On one of my breaks I sat and chatted with Billy and asked about the history of the mine and how the quartz crystals were first discovered. He told me that back in the late 1800's the area was farmed and that the farmers found the crystals as they plowed the fields. They then sold them to the Confederate Soldiers at a very modest price and even traded them for various things. Later the farmers sold the crystals to towns people and eventually the mine was started by the family. Billy told me of a huge quartz crystal cluster that was the shape of a Christmas Tree and was offered at the Tucson Show by Jim Coleman for $3,5000,000. An Arab Sheik offered him 3 million and Jim refused his offer!Jim never sold this specimen and still has it in his private collection at a private warehouse with other unique specimens where he often sits with a glass of fine Brandy and just enjoys his collection!
I can't tell you what a wonderful time and experience I had at this mine and would highly recommend it to everyone. Unfortunately I didn't take many photos at Jim's Mine as I was just too busy digging but below is one I took from the porch at the entrance gate,,,,you can see some of the tailing piles to the left and parking lot in the upper center. The following pictures show tables covered with crystals that are for sale and what crystals look like in the red clay.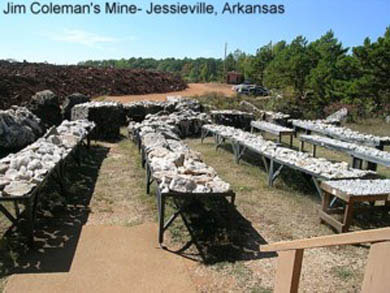 Again we drove back to the motel in Mt Ida where we packed out crystals, showered, ate and went to sleep,,,VERY tired!
The next day we headed to Ron Coleman's Mine which is in the same area as Jim's Mine. We stopped at the rock shop to pay the fee of $20.00, but got in for $15.00 due to a "senior discount"! We were told by the attendant at the rock shop where and where not to dig, given 2 cloth/plastic woven bags for any crystals we might find and drove off to the mine at the rear of the rock shop. Well,,,,,,,,,,,there was no one there to give any further information so we just started out digging at what looked like fresh dirt. The fresh dirt is darker and a bit wetter then other tailings piles and easy to recognize. Again I opted to dig through one single pile while Woody roamed around the entire mine.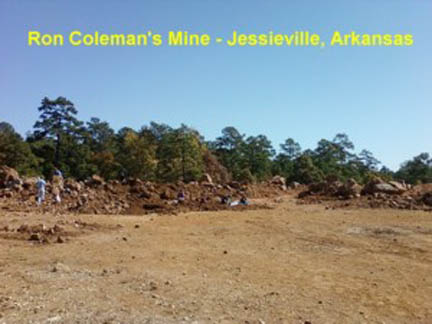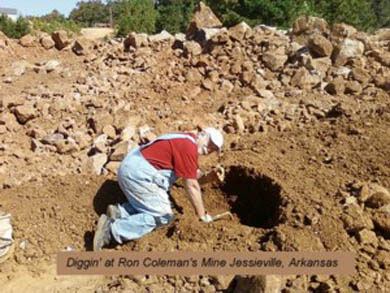 After abut about 4 hours of neither of us finding much of anything except shards we were pretty much disappointed and decided to head back to Jim Coleman's Mine as this would be our last day digging in Arkansas. After sitting in the truck for that short drive to Jim's Mine and being kind of "down" from not finding anything at Ron's Mine I didn't really feel like getting down on my knees again and clawing through the piles of dirt and clay so as we approached the gate I told Woody to park the truck and I would pay the mine fee and get a couple of cold drinks from one of the vending machines on the porch. As Woody drove to the parking lot and I was tiredly "clomping' up the 3 or 4 stairs to the porch I thought to myself,,,"Do I really want to do this again?" Knowing that I would never get to do anything like this again in my life the answer was obvious,,,YES! I paid Billy the $20.00 for me and Woody as Billy told me he had just "turned' over all of the piles with a machine that morning and that there were more fresh piles to dig through as well. I bought the 2 cold drinks and was meandering along the piles of dirt on my walk to meet Woody at the parking lot when I looked down and saw this huge double terminated crystal about 5 feet up a pile just sitting there almost totally exposed!! Well, I grabbed that thing as fast as I could and looked around me to see if someone was there digging and had already found this crystal. I just could not believe that it was mine! Well,,,,,,,there was no one within about 50'-70' and that sucker was mine!!!!
I hailed Woody and he came over,took my picture holding the crystal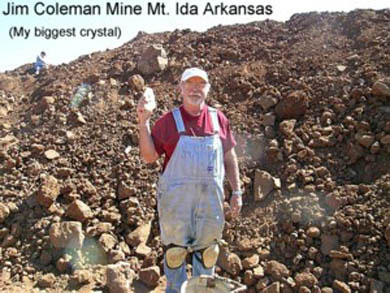 and shared in my joy of finding such a treasure!He said he was praying I found something big,,,,and I did!
---
Some of you may think the following is a bit odd to include in this report but I feel as if I must do it:
I pray to a lot of different Saints for help in various matters and one that I pray to for help with "Nature" and related things is Saint Francis who is the patron Saint of animals. Well as I began to walk along these piles of dirt I prayed to Saint Francis to help me find something,,,,,something that was "great" and it was only in a few moments that I looked down and saw this crystal!
---
To say the least I was elated and knew that I was "done" for the day and my trip to the crystal mines of Arkansas. Woody was still poking around so I though I would just meander around and do some surface searching. As I walked along the piles I came across a cute little girl about 5 or 6 years old who was kind of driving her mom and friends up a wall asking "Is this any good" over and over again with every single rock she picked up! The girl was very inquisitive and asked me if I had found anything. When I showed he the crystal I had just found she jumped back a few steps,covered her mouth and just went bonkers! She asked if she could hold it and her mom told he to be careful not to drop it! I walked away looking for crystals to play "which hand" with the little girl. I found about 6 or 7 broken crystals in only a few minutes and went back to play 'which hand' with this little cutie who I KNOW will be a rockhound! Woody came over with a half dozen more nice clusters and a few single points he had just found and we called it a day.
The next day we left to head back to Gainesboro TN and arrived there late Tuesday morning,,,,I think! The rest of my stay in TN was spent wrapping and shipping 7 large USPS Flat Rate boxes of crystals home, taking a slightly unproductive Indian artifact collecting trip (as the soy bean fields were not harvested yet),another day of fine geode collecting and a very long day(9:30 am - 11:30pm) of helping Woody (who is an accomplished guitar player and singer) record several songs on his 8 track digital recorder.
I flew back to Bradley from Nashville on Saturday 10/23/2010 and drove about 1-1/2 hours home.
To sum up,,,,,,
Never having collected at the Arkansas quartz mines before I was shocked to find that I didn't get to collect at the mine pit itself but rather collected in the 'spoils' that were brought up from the pit. Although I did find a few specimens that are not damaged most of what I found were damaged from the machine that dug them up and also when the machine dumped them in the piles.
A lot of the so called mines are not "working mines" and buy their material from the working mines which makes it even more difficult for rockhounds to find unbroken or fractured crystals due to even more "transportation".
If you visit this area make sure you do a lot of research before making plans to go there or you may end up coming home with next to nothing. I did a lot of on line research and made a few phone calls before hand but when I got there found things to be a tad different then what I had found at home.
Something that I found very distasteful was that no matter where I went, rock shops and other retailers were bad mouthing different mines which made it VERY difficult to know just where to go. One example was that I was told by a local Mt Ida retailer that the Bear Mountain Mine was not a working mine anymore and it was a waste of time to go there! Bear Mountain Mine WAS a working mine when I went there (10-2010). Another example is that I had booked a $200.00 "private dig" at one of the more popular mines there only to find that this mine buys its material from another mine,salts it in piles and calls it a "private dig". Fortunately I had time to cancel this before giving away my 200 bucks. So,,,,,just a heads up,,,,,buyer beware!
I enjoyed very much the laid back lifestyle and slow pace of the southern states I visited and most of all the friendliness of all the great people I met there. I only wish I could have brought some of it back here to Connecticut with me!
I enjoyed staying with my hosts Woody and Terry at their humble little home in Gainesboro TN and hope to return some day soon.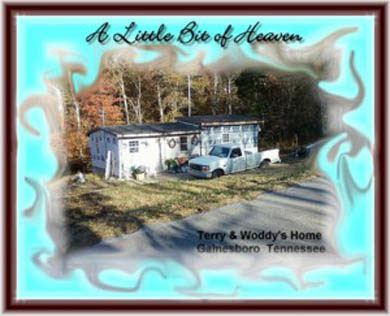 Some of my quartz Crystals