Hi Everyone!
Our big adventure of the summer was a trip to Montana and Idaho. I had planned this trip for 2010 but scheduling problems forced us to postpone it. This time everything fell in place, and our trip was on! My wife Litha took detailed notes along the way.
June 1st
We left at 7:30am on a warm Wednesday morning, and drove all the way to our first campground near a lake which turned out to be a mosquito nightmare. We spent about two hours killing the little vampires inside the van before we could get some sleep.
June 2nd
The next morning we drove into Wisconsin where a deer almost darted in front of our van, but wisely turned at the last minute. There was lots of road construction in Duluth, and I decided to take US2 to 200 west which seemed like a much more peaceful drive than through the Minneapolis area. We drove through the north woods of Minnesota, and on through Fargo all the way to Bismarck, North Dakota, where the campground I had planned to stay in was right next to the now flooding Missouri River. We found a hotel for the night instead.
June 3rd
I told Litha that this would be a 'day of wows'. Neither of us had ever been to the Rocky Mountains, and today we would see them for the first time. West of Bismarck we started seeing the buttes that the west is so well known for. Driving in western North Dakota the buttes continued until at one point the road curved and the amazing badlands formation of the Painted Canyon opened up before us. We couldn't help but stop at the National Park overlook area and get some pictures. This area was in the Theodore Roosevelt National Park.
NOW we knew we were out west!
On into Montana where the road passed the Yellowstone River, known for its Montana Agates. You could tell the river was much higher than normal. Trees don't normally grow in the river like that. Here the hills started looking more like mountains until just a little way west of Billings we had our next 'wow' moment. The snowcapped Beartooth mountain range came into view.
Our campground for the night was about 50 miles east of Butte, called the Lewis and Clark Caverns State Park. Another beautiful area surrounded by low mountains with a river, train track, and lots of cattle.
June 4th
The morning sun warmed the eastern side of the mountains.
We drove on past Butte and over the continental divide at an elevation of 6393ft for the first time. On into northwest Montana toward the Idaho panhandle. Lots of snow capped mountains. Near the Idaho border we stopped at a rest area, had lunch and fed some very tame prairie dogs (at least I think that's what they were).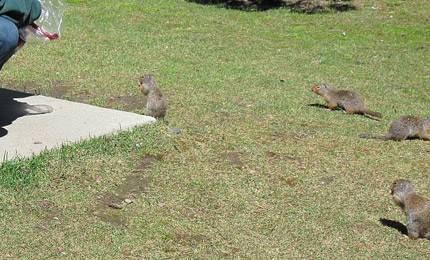 Practiced the art of downshifting on the long steep "Lookout Pass". Saw signs for a street fair in Wallace, Idaho and stopped to walk the town. Beautiful historic little mining town.
After shopping around for an hour or so we moved on and found State Highway 3, "White Pine Scenic Byway" which is an adventure in itself; lots of blind curves, hills, steep grades, lakes, and even an area called 'Hell's Gulch'. This two lane highway led through Fernwood to the logging road to the Emerald Creek Garnet area.
Much of this logging road was washboard bumpy, and I got a bit concerned about the van being rattled to bits this far from home.
We got our site at the Garnet Creek campground and then drove down to the parking area for the collecting spot. We were surprised to see spanish moss hanging from the fir trees and realized that this must be a temperate rainforest.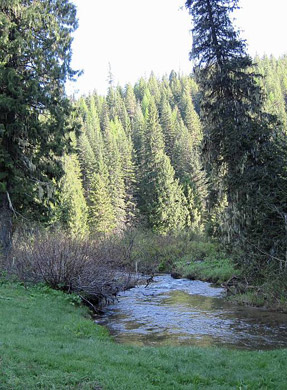 I knew it was a little late in the day to start sluicing for Garnets, but I wanted to go up and get acquainted with the place, so we walked up the road which is gated making it a foot path only, stopping once to catch our breath, and met the young forest service people who were running the sluicing area that day. I saw the big stock pile of yellow sandy clay that the Garnets are found in; and checked out the sluicing area. It looked pretty simple, and I was eager to get started the next morning. We returned to our mosquito infested campsite, where I found a stack of firewood a previous camper had left, but recent rains had made everything wet. I had a heck of a time getting a fire started to cook dinner. Eventually, with dinner finished we escaped back into the van to get away from the little bloodsucking monsters.
June 5th
We were awoken early by some little critter chewing on the van. I stepped out to scare it away but never saw what it was. We had breakfast and drove down the bumpy road to the parking area.
We hiked downhill from the parking area for about an hour. Trilliums and trout lilies were blooming, and spanish moss hung in the cedar and fir trees. We returned just in time for the sluicing area to open up and took the half mile uphill road to the check-in area. The forest service staff were friendly and helpful, and in no time we were sluicing like pros. Here's a picture Litha took of me in the sifting area.
You can see the clay stock pile on the right, and the sluices on the hillside at the left. We sluiced through the morning and returned to the van for lunch, then hiked back up and continued. Fill up your buckets, sift, sluice, dump your tailings in the proper spot and repeat. We were told that this was a slow day, but at times people were elbow to elbow at the sluices. I met a nice guy named Harlan, told him our next stop was Gem Mountain in Montana, and he showed us a typical Sapphire you might find there. He had just been there the week before. He told us about hunting for Sunstones in Oregon, and even gave me a little Sunstone he had with him. I continued sluicing until about 4:00 when my back decided it was time to quit. Between us, we found 13 ounces of Garnets that day and found at least one 'woo hoo' as Harlan would say.
Our plan was to return for a second day of sluicing, but my back would be the judge of that. At camp I found some drier firewood and made a decent cooking fire. The mosquitoes soon drove us inside for the night.
June 6th
We woke again to the sound of a critter chewing on the van, and I got a bit concerned. If whatever it was chewed on the wrong wire we could be in trouble. That and my sore back made me decide to head back toward Montana, but first we would make another stop in Wallace. On the way from the campground to hwy 3 I stopped to get a picture of this blue flower I later would learn is called a Camas Lily.
Back in Wallace, we got some groceries and found a laundromat to do some washing up, and while the loads were running we shopped around town. Wallace is right in the middle of silver mining territory, and there was an investment office that sold silver stock and other investments called Pennaluna & Co.
They had silver ore samples in the window for sale, and being a silver lover, I couldn't help but go in and get a few specimens.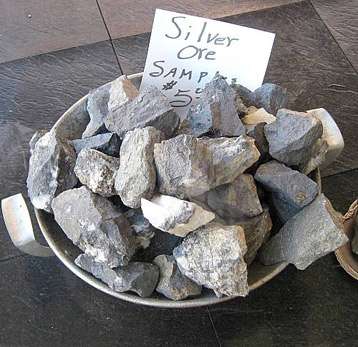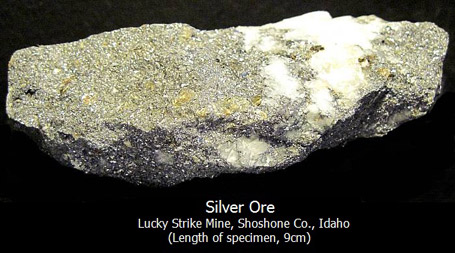 He even sold me a vintage mine stock paper he had in the window.
While in town I found a t-shirt for the local school sports team, the "Wallace Miners", and at an antique shop I found a nice antique miners lamp for my collection. When the laundry was done we headed back to Montana. Lookout Pass with its long uphill slope gave all six cylinders in my van a work out. Lots more road construction. One thing we noticed was that just about any gas or fueling station in Montana has a casino of sorts. Still some wild in the west...
From expressway 90 we turned south on hwy 1 toward Philipsburg, and on the way we saw a unique sight. This area, like most of Montana, is cattle land, and in one village there was a dead tree COVERED in cow skulls. I wish we had taken a picture.
In Philipsburg we stopped at the Gem Mountain shop and got directions to the mine, and we were told there was free camping right at the mine. We bought some dry firewood in town and drove the 17 or so miles into the mountains to the mine. On the way we had one of our best wildlife sightings of the trip. Right on the steep cliff beside the road we saw this Bighorn sheep.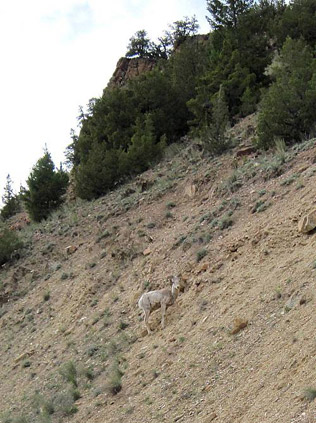 It looked like it had found a spot in the cliff that had some tasty minerals. We moved on and found the drive to Gem Mountain mine.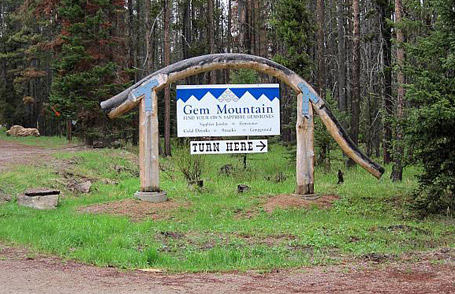 We picked out a campsite and I started to prepare a fire for dinner, when a very talkative older couple from Washington came over and introduced themselves. Long story short, we now have new Christmas card trading friends. Eventually we were able to get some dinner and retire for the night.
June 7th
We were up early and running low on good water, so we drove back into Philipsburg and found a grocery store, and did some shopping in town. We stopped at Opal Mountain Gems and talked to the guy in there. I bought a couple bags of potential Sapphire gravel from him. I mentioned that we would be going to Spencer, Idaho for opal, and he knew the town well and suggested the best places to shop. After that we drove back to the mine and got our introduction in sluicing for Sapphires.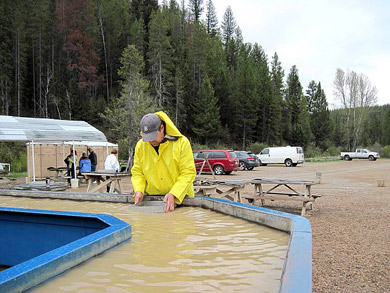 I caught on quickly and soon we were finding several nice small corundum and sapphire gem stones in each screen. I also found one lime green stone I was told is called Limetite, and decided to keep it.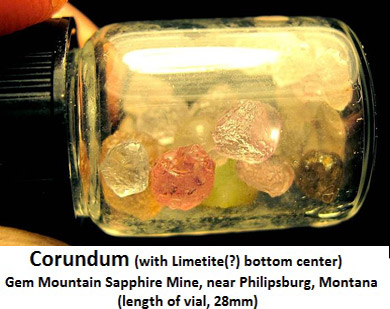 At one point on this cold rainy day, a bus load of lucky school kids pulled in and they all got their chance to sift for Sapphires. After sifting two buckets we had found four small vials of Sapphires and other corundum. When finished, we drove back into town to the Gem Mountain shop and found a sweatshirt my size, and then took hwy 1 southwest through a winding mountain pass with steep cliffs, and then on to the city of Anaconda, where we found a Subway and got our dinner. This town is a story in itself with a huge mine including a giant smoke stack and great architecture down town.
From there we connected back up with expressway 90, and then south to 15 which would take us down to the eastern part of Idaho, and the Opal town of Spencer. On expressway 15 we stopped at a rest area to eat our subs where we saw a sign about the history of that part of the country.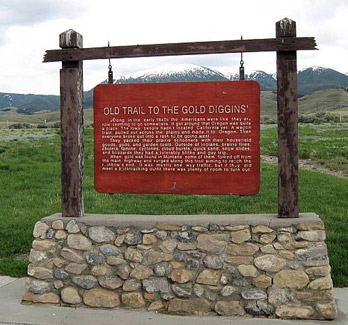 The sign reads:

Along in the 1840s the Americans were like they are now, seething to go somewhere. It got around that Oregon was quite a place. The Iowa people hadn't located California yet. A wagon train pulled out across the plains and made it to Oregon. Then everyone broke out in a rash to be going west.
They packed their Prairie Schooners with their household goods, Gods, and garden tools. Outside of Indians, prairie fires, cholera, famine, cyclones, cloud bursts, quicksand, snow slides, and blizzards, they had a tolerably blithe and gay trip.
When gold was found in Montana some of them forked off from the main highway and surged along this trail aiming to reach the rainbow's end. It was mostly one way traffic, but if they did meet a back tracking outfit there was plenty of room to turn out.
After eating dinner we continued south past Dillon, and north west of Monida we must have been climbing in elevation because there was still quite a bit of snow on the ground. Garfield Mountain and the Lima peaks were beautiful, classic snow c apped visions of what you expect from mountains in the west.
After re-entering Idaho we found the Targhee National Forest and Stoddard Creek Campground with its fantastic valley scenery. It rained throughout the night.