Thank God for Tylenol !!
Its probably the only reason, besides maybe a combined soak in my hot tub last night, that I was able to get out of bed this morning. What a weekend in Marion, Kentucky !!
We had a good turnout, full house at the group dig on Saturday, April 2nd, great weather, made several new friends and saw several old friends as well, and everyone found some great stuff to take home. I didnt see anyone leave that wasnt happy with what they found there this weekend.
Missy and I left town about 10 am Friday and headed down to Kentucky, opting to travel by interstate all the way down there, so we drove through Illinois once again this trip down and back. I stopped off in Paducah this trip to visit a good friend who is a very talented painter and photographer there, Jeff Spicer, and we talked for the better part of the afternoon before Missy and I headed on down to Eddyville. First order of business after checking in at the motel was supper at the Oasis Southwest Grill in Kuttawa, one of the best steakhouses I have ever had the pleasure of dining at. Reminds me of a Lone Star Steakhouse but even better atmosphere and much more well lit, and the folks that work there are very friendly and customer service oriented. I have never seen so many managers and assistant managers roam the dining rooms and check on things like they do there. I opted to have the grilled chops dinner this time and boy was it good…two center cut chops marinated and glazed with your choice of honey mustard sauce or their signature barbecue sauce, and I chose the bbq sauce and it was delicious. The chops were large, and you get either one or two with your meal, and grilled to perfection. With the steamed broccoli and Idaho baked potato and their addictive dinner rolls, I was in hog heaven afterward.
Missy and I rose early the next day, excited to get down to the museum and visit with Tina and Ed and VJ and Bill and see who all showed up to dig…we arrived about 8:15 am and found about ten diggers already there and some touring the museum as well. Talk about a first class rock and mineral museum…words just dont do this place justice at all, and several have tried in years past…but this place is very much worth the five dollar entrance fee and take the walking tour if at all possible, because these people know how to walk you through the pages of history with a view of beautiful fluorite and other crystals and minerals specimens, that will knock your socks off !!
I visited with everyone and met up with Ian Merkel and his friend Marty from upper state New York, and then found Bruce Skubon from the Philly area, just before Ed rounded everyone up outside to welcome them there to help further their cause and give his safety talk as well. And what a cause they have there…folks there just arent that many places where a rockhound can go anymore these days, and find a place like this, a group of people with access to old mines and locations, that are willing to allow rockhounds access to for a small fee. THIS is a good cause !!
We headed out to the mine and parked, Ed graciously allowed me to park up in the woods again, to provide Missy with some shade, and everyone walked up with their tools and buckets and began checking out the material we had found last week and left for them. Bill had come down earlier and started the pump, but wasnt satisfied with the way it was operating and returned to town to see if he could find a better one. In the meantime, the group filtered around the piles and down in the pit where they could go, and began looking for material.
At the museum, Tina had pointed out a birthday boy to me so I picked out some poker chip calcite crystals I had brought with me and gave it to his dad, they were settled in on the end of the smaller tailing pile and digging in to find fluorite. I walked around and assisted several other rockhounds in finding some nice stuff, surface collecting wise.
Once the water was low enough to work the pit, several rockhounds jammed into the small area and began to work. Here the pit is full of rockhounds at work…
..and everyone looks as busy as beavers hard at work…
In the next image, Ian is shown washing off the purple crown to check things out…
…while Ethan in the dark blue shirt and Marty in the gray shirt, chisel into the ledge to look for more pockets…
..while Bruce tackled the entire saddle singlehandedly and worked the pockets he found waiting there…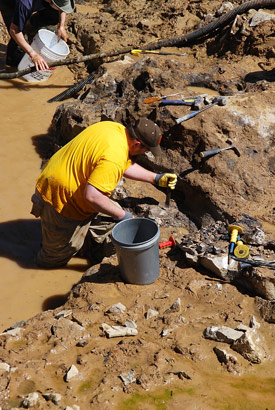 ..and boy did he liberate some nice crystals out of those pockets….
…in fact he liberated some nice plates from those pockets….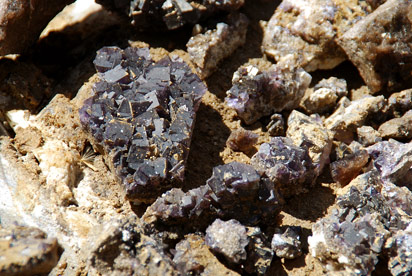 ..and while they were working in the pit, several more worked the big pile, some seen here on the front side and some not seen on the backside…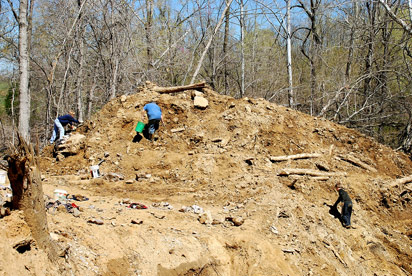 …but the main focus was on the pit and the pockets found there last week that remained for others to work on this week…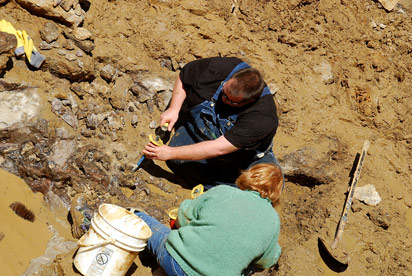 …here are some photos of the pockets that greeted Bruce Saturday morning on the saddle…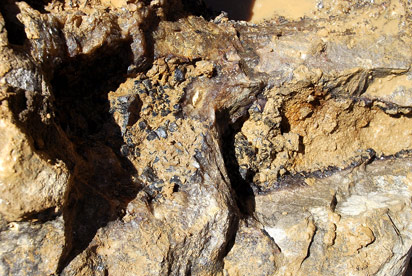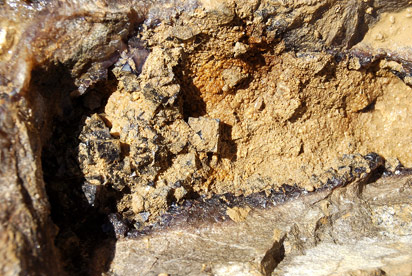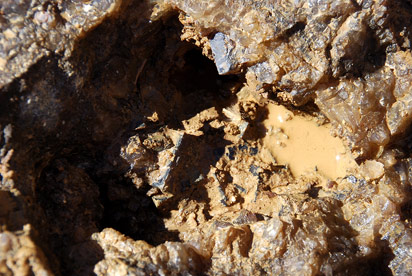 …from all those pockets, here are a few plates that Bruce was able to liberate….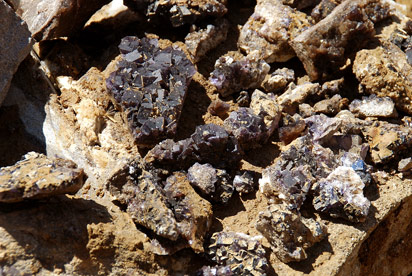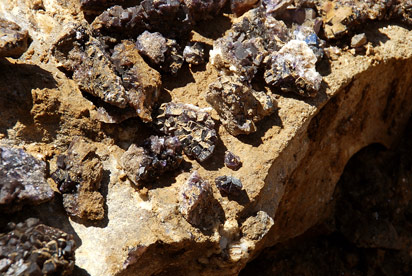 By 4 pm on Saturday, many of the group had departed for home or other adventures…Bruce and his wife along with Ethan and Melissa driving south to see Mammoth Cave on Sunday before heading home with a thirteen hour drive ahead of them. When Bill made his last trip out to check on us, he found five of us left digging, Ian and Marty, Phillip and Shirley from the Danville area, and me. Phillip and Shirley were checking out the tailing piles and I had found a stash of crystals and clusters in one of the pit banks.  We stayed til around 6 pm, vowing to return early the next morning and find some more goodies.
Ian, Marty, and I headed back to Eddyville to clean up and get some dinner…as we approached Hwy 62, we observed about twenty turkeys walking toward the highway through a field of tall brown grass…believe me, I`m still kicking myself for not stopping in the highway to photograph them…sure was a neat sight to see…countless times I`ve seen them feeding in fields or flying or walking through the woods, but never have I seen them walking through a field like that…
We chowed down at the Oasis Grill and I had the same thing once again, it had just been so good the night before and I was very hungry once again. It was just as good tonight too. Despite being in a dry county, Ian and Marty were able to order a few Sam Adams brews and enjoyed their food as well. They took off to wash clothes after and I decided to catch up on emails before hitting the hay for the night.
We headed to the mine about 7 am and arrived to find Bill heading out after starting up the pump for us and leaving some forms for us to sign. Luckily the pit didnt fill as high with water as we thought it might and we were able to get started digging fairly fast.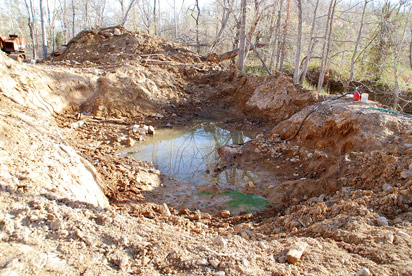 Marty and Ian began working the fracture vein again and I started in on the banks again, and between the three of us, we began pulling out crystals and clusters right and left. After about an hour, we heard some vehicles coming down the hill and low and behold, some additional rockhounds showed up from Ohio, Indiana, and Tennessee, adults and kids alike. I called Bill and told him we needed some more forms and he responded quickly and found several eager rockhounds that had been placed on the waiting list for Saturday, ready to dig today. Pretty soon, the pit had a few more rockhounds working in it…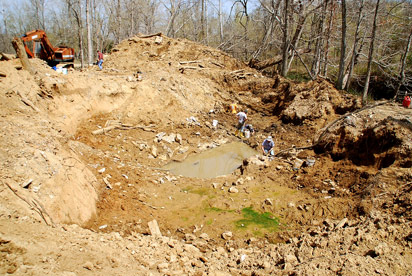 Jack and his son, Cameron, were two of the first ones to show up and eventually made their way over next to me and since I was only staying til noon, I gave them a few crystals I was finding in the bank and gave them my spot when I wore out and decided to stop digging. I was quite happy with the stuff I found this weekend and only too happy to share it with others. Sorry I didnt get any photos of you and Cameron stretched out in the mud digging for crystals, Jack. :~)
Ian and Marty had flown into St Louis` Lambert International Airport so they had to leave shortly after I did, to catch their flights back home. Here they are shown checking out some last specimens and wrapping things up…
..and happy with their finds….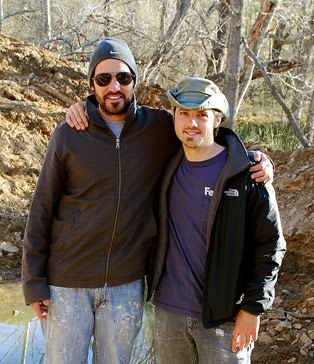 …and ready to come back another time to find more goodies…me too guys, will be back down in June for the weekend celebration, hope to see yall there then…
CLICK THE LITTLE MINER TO RETURN TO THE FIELD TRIP PAGE