Most normal people prefer to rest and relax on their vacations; maybe stretch out on a lounge chair overlooking a tropical beach and spend the better part of the day sipping mai tais. But, Chrissy and I are far from being normal. Our idea of a vacation is to visit out of the way locales where we can spend our days rockhounding. While normal people often gain weight on their vacations, we generally lose it from the enormous amount of energy we expend digging, banging, hiking and hauling rocks. Such was the case again for us this November when we spent nearly two weeks with Opal at some of our favorite and a couple new rockhounding locations in New Mexico and Arizona.
We left our home near Asheville very early on Saturday, November 5, 2011. Our goal was to complete the 26-hour drive to Deming, New Mexico in two days. Mission accomplished, we made it to the Deming Roadrunner RV Park campground around 5:00 PM Sunday. After checking in, we went about setting up in our folding travel trailer. As we were beginning to set up, we were greeted by a vicious looking barking dog that had suddenly emerged with its owner from a badly run-down camper in the adjacent camping spot. The owner strangely made no attempt to silence his dog and when I said hello to him, he just gave me a blank stare. Chrissy and I decided it'd be a good idea to hook our trailer back up to the truck and move to another spot. Unfortunately, this was just the first of several bad things that would happen at the campground.
While taking my Monday morning shower, I noticed the drain was backing up. When I got back to the camper, Chrissy told me that there was a pool of stinky sewer water that had accumulated around a drain the women's bathroom and several of the toilets were blocked and overflowing with . . . well, you know what. Since just about all other campers had toilets and showers in their rigs and we didn't, we were the first to report this problem to the campground owner and handyman. At first, both were incredulous that there was a problem, but were soon convinced after seeing the carnage in the women's bathroom. The owner said he was confident they'd have the problem fixed by the afternoon, so Chrissy and I left hoping for the best.
After the bathroom fiasco and breakfast, we drove out to nearby Rockhound State Park, best known for its fantastic thundereggs. Many of these are called, "tiltage thundereggs" because they contain, in part, horizontal layers of agate and/or chalcedony overlain by tilted horizonatal layers of more agate and/or chalcedony.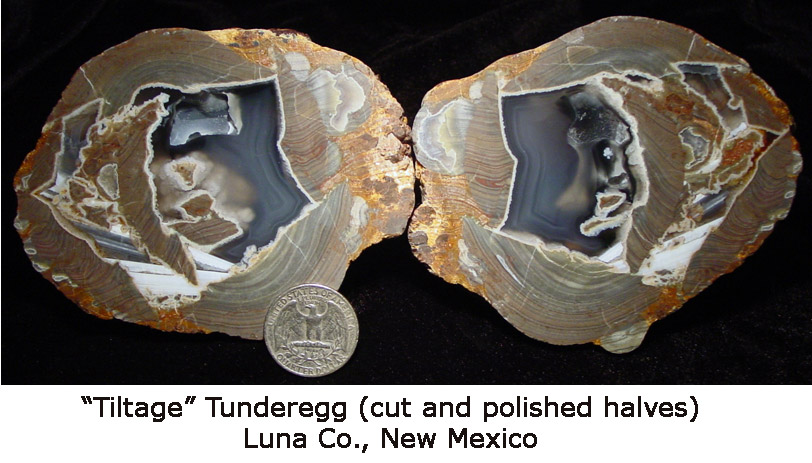 It is thought by geologists that tiltage thundereggs record either small local landslides or tilting of local fault blocks within the Little Florida Mountains while the agate or chalcedony were precipitating from hydrothermal fluids. Also scattered about the park are rocks and minerals of volcanic and hydrothermal origin; including quartz, chalcedony, agate, common opal and banded and brecciated rhyolite. The 1,100 acre park was established in 1966 as the first in the United States that allowed collecting of rocks and minerals for personal use. Our last visit to the park was in April 2009 and we were tickled to return.
It was a strenuous hike up a steep rocky slope to the area in the park where the most goodies could be found. The incredible view more than made up for all the effort.
View from the cliffs

Opal & Chrissy
We began a very windy day of rockhounding by digging in a pit where we had recovered lots of thundereggs on our last visit.
The spot was not nearly as productive as the last time, but with a 15 pound per person per day weight limit, there was plenty, like the following tiltage thunderegg I inadvertently split in the field.
The thundereggs don't have to be big to be good, as demonstrated by the following golf ball size one I cut and polished.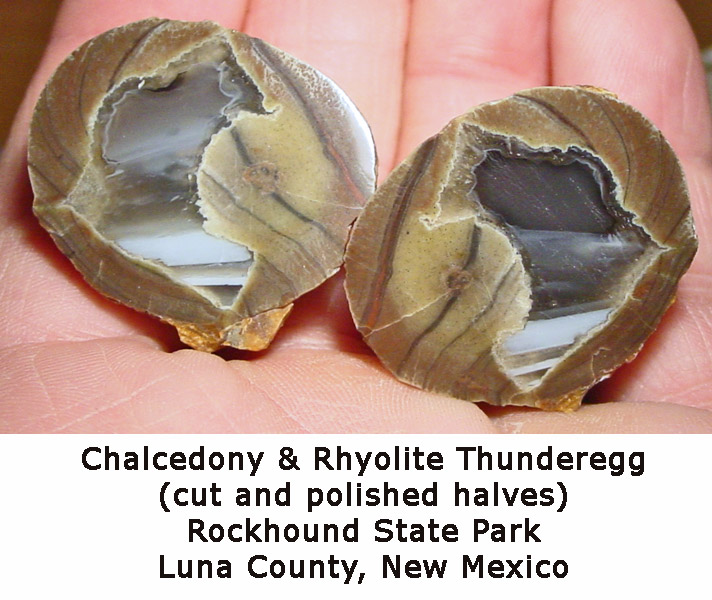 We spent some quality time in another area along the cliff where we found what I hoped would prove to be good cutting rough (it did).
The above rocks, or ones like them, produced the following cabochons (pictures do not enlarge).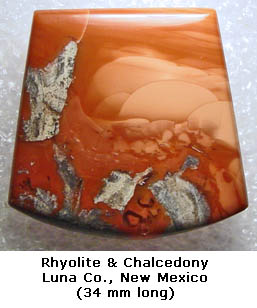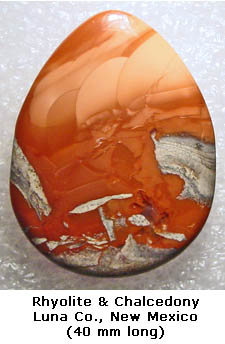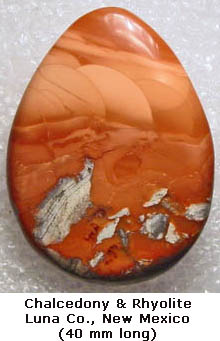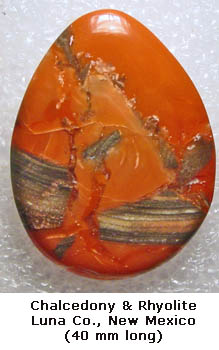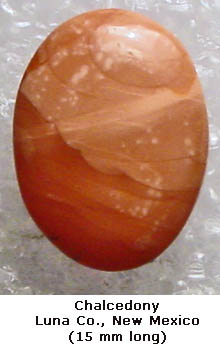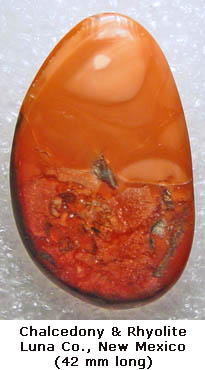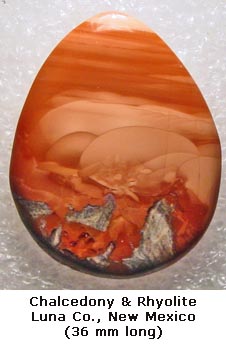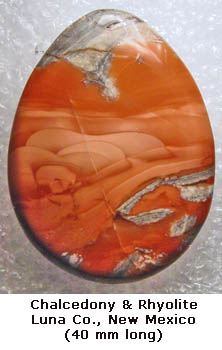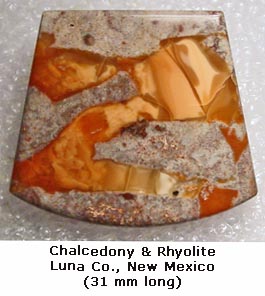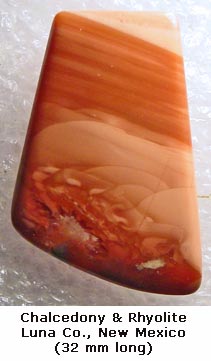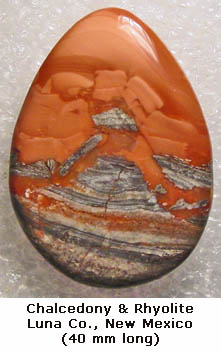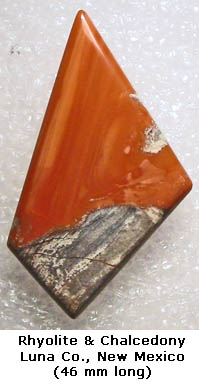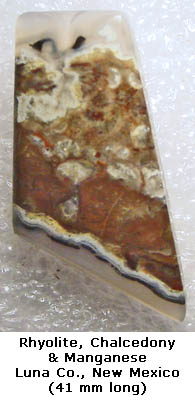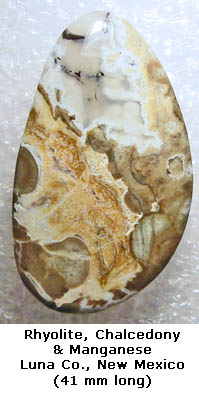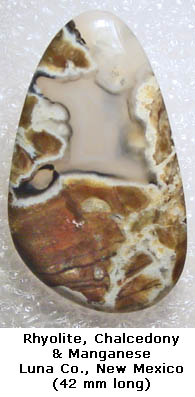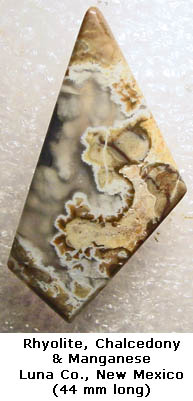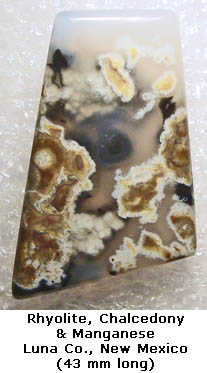 On our way back to Deming, we noticed a thick blanket of rain clouds over the Cooke's Range to the North. The weather forecast called for about a 30% chance of rain in Deming that evening, but the 70% chance it wouldn't won out.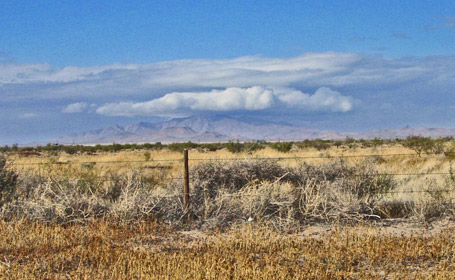 Clouds over Cooke's Range from
Old Los Cruces Hwy, Deming
Upon our return to the Roadrunner, we were informed that the sewer line was still blocked and therefore the bathrooms and showers were closed. After a long dusty day of rockhounding, this was certainly not good news, but we took it in stride. We knew of a truck stop at the far edge of town and headed there to take our evening showers for five bucks apiece.