Chrissy and I met RJ, along with a few of his peeps from his Central Pennsylvania Rock and Mineral Club, about 8 years ago at a field trip to the Standard Minerals Mine in Moore County, North Carolina. Chrissy spent what she describes as a most enjoyable day shooting the breeze with RJ as each worked a section of wall for pyrite crystals while I was off doing my own thing elsewhere in the quarry. Before leaving that afternoon, Chrissy made a point to introduce RJ and his PA crew to me and a fine friendship was born. RJ had yet to begin discovering his thinner self so he was a BIG guy, but as nice a man as you could ever meet. We maintained our friendship by visiting and digging with RJ and some of his crew in Pennsylvania a couple times over the years. RJ may have lost a whole bunch of weight, but his incredible personality remains intact, as he demonstrates every weekday morning with the highest rated morning talk radio program in the Harrisburg, PA market on
WHP-580
. So, thank you RJ; Chrissy and I greatly appreciate all that you are, whether fat, skinny or in-between.
Now that I've gotten the RJ Harris love fest out of the way, back to the rocks. By the end of the afternoon, we ended up recovering a decent pile of wavellite specimens, like the ones pictured below.
Click on each specimen picture to enlarge.
I couldn't resist slabbing one of the wavellite-bearing sandstones to see if I could make a cabochon and what turned out isn't the prettiest cab around but certainly unique.
On Monday morning, we pulled up stakes at Penn Avon and drove about 2-1/2 hours to the
Panther Lake Resort
near Andover, New Jersey. The fall colors were about at their peak on the bright sunny day as we strolled around the large and pretty much empty campground.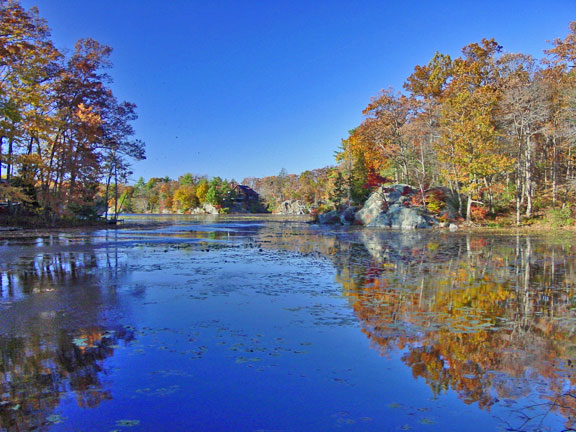 Panther Lake, New Jersey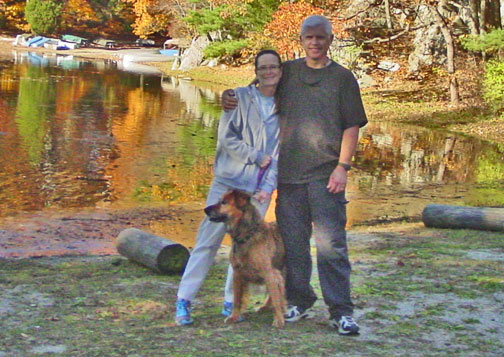 The Streeter family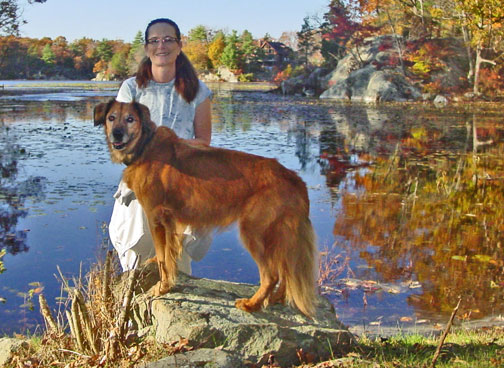 Chrissy & Opal

Mike & Opal
---
REPORT CONTINUED . . . CLICK HERE TO GO TO THE NEXT PAGE