A Rockhounding Guide to North
Carolina's Blue Ridge Mountains
3RD PRINTING
By Michael Streeter
North Carolina Professional Geologist, Photographer & Rockhound
April 1, 2003
Click on front or back cover above to enlarge
Sample pages
Click on a thumbnail above and below to enlarge image.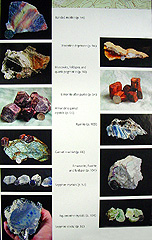 This book has everything that you will need for your rockhounding adventure: clear and concise directions to each site including precise GPS coordinates, location maps depicting major roads and towns, detailed topographic maps of each site that show the entire collecting area and surrounding vicinity, a list and pictures of rocks and minerals to be found at each site, artistic photographs of mines and minerals, recommended tools and complete directions for their use, color photographs of all mineral specimens, an informative glossary of geological terms, a complete index of all sites and minerals and a listing of rock and mineral museums and dozens of rock and mineral clubs. Also included in the book are guidelines for safe and responsible collecting, a geologic history of western North Carolina and loads of information on the region's colorful mining history. This book is packed with useful information - an excellent resource and educational guide and the only North Carolina rockhounding guide that contains four full pages of accurate color photographs of authentic rocks and minerals collected at every location in the book.
I began rockhounding over 35 years ago as an "Air Force Brat". My passion for rocks and minerals inspired me to enter college where I obtained Bachelor's and Master's degrees in geology. I have been collecting in western North Carolina where I live and work as a licensed professional geologist for nearly 12 years. After about a decade of actual hands-on rockhounding experience at every site in this book and more, it took about two years to painstakingly research, write and edit this book. With many dozens of collecting sites to choose from, I carefully decided to include only "quality" and accessible sites in my book - only places where even a beginning rockhound would have an excellent chance of success and where permission to collect is not an issue or can be very easily obtained. This rockhounding guide is uniquely designed to appeal to rockhounds, history buffs, photography enthusiasts and nature lovers. Each book was printed on high quality paper, using state of the art digital technology for the sharpest and clearest text and most accurate, true to life maps and photographs possible. This book is complete - no additional maps, directions or information are necessary to find your way to loads of rocks and minerals.


TABLE OF CONTENTS

INTRODUCTION
Geologic History
Mining History HOW TO USE THE BOOK

ROCKHOUNDING TOOLS

CONDUCT IN THE FIELD

PERMISSION TO COLLECT

SAFETY

COLLECTION SITES BY COUNTY


Avery County
Cranberry Iron Mine

Buncombe County


Black Mountain Kyanite
Goldsmith Mine

Cherokee County


Hitchcock Mine
Murphy Limonite after Pyrite
Vengeance Creek

Clay County


Behr Corundum Mine
Buck Creek
Corundum Knob

Haywood County


Chambers Mountain Kyanite
Wood Creek
Old Pressley Sapphire Mine
Redmond Prospect

Jackson County


Ruby City
Sheepcliff Mine

Macon County
Madison County


Little Pine Garnet Mine
Shut-in Creek Unakite
Stackhouse Mines McDowell County
Woodlawn Limestone Quarry

Mitchell County


Abernathy Mine
Bandana Dolomite Marble
Sinkhole Mine
Chalk Mountain Mine
Crabtree Emerald Mine
Deer Park Mine
Hootowl Mine

Swain County


Nantahala Talc & Limestone Mine

Transylvania County


Grimshawe Mine

Yancey County


Mas-Celo Mine
Ray (Wray) Mine APPENDIX

GLOSSARY

RESOURCES


Area Rock and Mineral Museums
Selected list of Rock and Mineral Clubs


REFERENCES

INDEX OF MINERALS AND SITES

FIELD NOTES

COLOR ROCK AND MINERAL PHOTOS




FEATURED IN
ROCK & GEM MAGAZINE
(January 2004 - page 54) "The variety of mineral species described in this work is almost astounding."

"Easy to read, with directions just as easy to follow, this handy guide
belongs in every collector's library and backpack."

Click on the little miner dude below for the entire R&G review
Notice

Due mostly to permanent closures of some of the book's collecting locations, a decision was made in 2011 to limit the total number of books for the 3rd printing to much fewer than previous printings. Although the book was specifically designed to contain a wealth of useful information other than rockhounding locations, I believe the primary reason for its purchase is as a guidebook and with so many of its locations being closed, I will no longer be offering it for sale on this web site. However, the book continues to be available at select museums, bookstores and online at

Barnes and Noble

,

Amazon.com

or direct from the publisher

MilestonePress

. Despite the inevitable loss of more and more rockhounding locations, it is my belief that A Rockhounding Guide to North Carolina's Blue Ridge Mountains will always be an excellent and timeless resource that belongs on any rockhound's bookshelf, so don't hesitate to add it to yours.