Hi Everyone,
Each Winter, while most are huddled around heaters and are worried about un-thawing the car, down south, in Tucson, the wind blows warm and welcoming. Even during the harshest Winter, in Tucson, the sun shines bright and strong and more often than not, a t-shirt and a light jacket will more than suffice. While January and February are misery's for many, for those of us attending the World's largest gem, mineral and fossil show, this is our favorite, most special time of the year. Yes, I think it's safe to say, while attending the mineral extravaganza that is Tucson, never a cold wind blows!
But, getting to Tucson, ah-ha, that can be an entirely different story!
This year, as I traveled I-5 south from Washington down to California, everything was wonderful until I crossed over into California. That's when everything changed and the incessant rain that had haunted me ramped up and turned into howling wind-driven snow. Around Weed, things were especially hairy and these conditions continued all the way to Red Bluff. The California Dept. of Transportation closed I-5 north-bound as I was traveling through this section and then like a death-blow, right behind me, they closed I-5 south-bound too. I'd gotten lucky, I'd made it through!
The next morning, I was up early and was back on the road again, this time heading straight for Los Angeles where I was anticipating a wonderful stay with my friends, Justin and Brandy of Vug.com. Unfortunately, that gosh-darned pesky storm once again reared its ugly head and once again, I-5 was shut down. This time just before L.A. in a notoriously weather-prone section of interstate called the Grapevine. Not wanting to do the huge side-trip necessary to detour around and back to L.A., I continued on, turning east around Bakersfield and headed towards Las Vegas to hang with my friend Keith for a day. This effort was successful and I made it through this time. All around me the highways and by-ways suffered from the effects of the storm. If a road wasn't snowed out, it was flooded. This was a oft-repeated theme for this storm and many were those who suffered outrageous detours to make the show.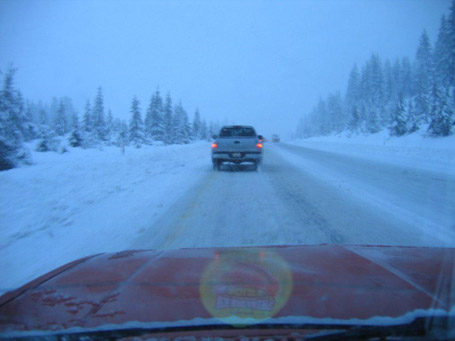 Several days later, with all my detours behind me, I'd made it and was finally pulling into the parking spot before my room at the former Inn Suites, now renamed clumsily, the Hotel Tucson City Center. I'd arrived in the area the day before, but rather than checking-in, I opted to accept the gracious invitation of my friends John and Lyn to stay the night at their place. We had a wonderful evening and talked for hours. I had a great time. In the morning, early, quiet as I could be, I slipped out the door and soon traveled those last few miles into town...
Once I'd checked in, the fun truly began and I set about stripping the room, preparing for my big show. As I did so, I called Brian and Karen at Tucson Store Fixtures and told them I was in and that I was ready to receive my three, six-foot glass display cases. Soon thereafter, TSF arrived with same and we were positioning them into place. With my cases in, I closed the door and took a long refreshing shower. This would be a busy day and I had hours and hours of work to complete prior to my opening, two days later for sales... My set-up went flawlessly and on the 25th of January, I opened my room and the fun began!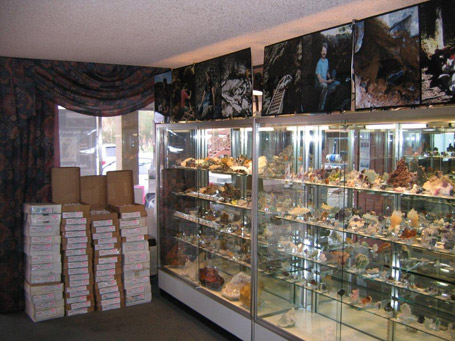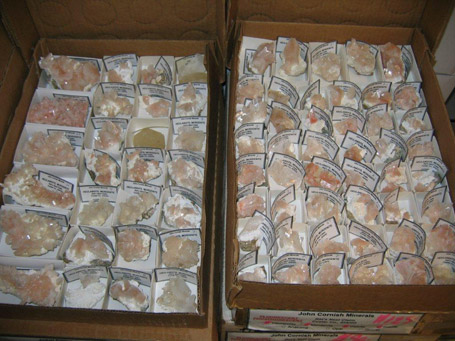 The room looked terrific and I was thrilled when others voiced the same opinion! Over the next several weeks, many friends came by as did many new folks visiting for the first time. There was always a smile to be shared and I had a great time entertaining and assisting. As per usual, I ran my show alone. As ever, this made getting out especially difficult and as always, I missed way more then ever I had the chance to see.
Of those rooms I did visit, the room of Spain's, Luis Burillo Minerals truly stood out above all the others. Luis has a wonderful way of consistently offering the most beautiful specimens and this year was no exception! Offered were fantastic large, sharp octahedral fluorites in pleasing soft-pastel-colored greens and pinks to four or more inches perched magnificently on flowing carpets of translucent milky quartz crystals in specimens up to a foot across. Exquisite, they took my breathe away and to this day, continue to haunt my mineral fantasy's! As fantastic, were dark, near-black appearing crystals of hubnerite in monstrous plank-like crystals an inch wide by four long arrayed as spectacular bursts of crystals erupting from matrix's of clear prismatic quartz crystals. Together, these two lots, for me, represented the finest new minerals I saw at the show!
Below you'll find a random selection of specimens seen during my show which I found especially beautiful or noteworthy and wanted to share...